Third Anniversary Convention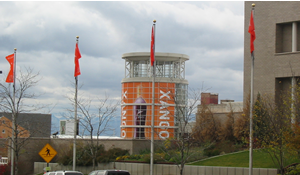 Salt Lake City was the location of the XanGo celebration...over 6,000 people desecended upon the city and filled the Salt Palace for 3 days of fun, learning, inspiration and celebrations.
Hollywood Dance Party

Everyone dressed in their favorite hollywood celebrity costume, and came together for a night of wild dancing, music, food, and of course, free-flowing XanGo everywhere!
Steve Dacri provided guests with Xtreme Close-up Magic throughout the evening, and a grand time was had by all...
Here are some pictures from the unforgettable event... Page 2 | 3 |
Hollywood Dance Party - Friday Nov. 4, 2005
Salt Palace

Can you spot the founders of XanGo?

That's Joe Morton (aka Tarzan)and his wife, enjoying a little close-up magic...

XanGo co-founder and president of XanGo by day...crime fighter by night...it's Aaron Garrity with Steve...
top
And Aaron's wife, aka Batgirl joins in the magic

Is it Wyatt Earp? Doc Holliday? Jesse James?

No, it's XanGo co-founder Kent Wood trying to figure out the magic...

Mr. & Mrs. Kent Wood enjoying more magic...
MORE PHOTOS>>
top
"Studies are showing that xanthones have positive effects on nearly all the body's systems, from increased energy to protection from free radical damage, xanthones delivers a wide range of benefits." - Fred Templeman, M.D