Tim Mannix
[email protected]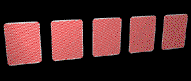 1203 N. Genesee Ave.
Los Angeles, CA 90046
(310) 966-5708
Member of IBM

Biography:
Seven-year-old Tim Mannix was instantly smitten with magic after
receiving a magic kit on Christmas Day. After a long absence from
performing, Tim has taken his previous years' experience in magic to
contribute in creating a wonderfully interactive magic show, incorporating
animated performances of illusion, comedy & ad-lib.
Description of Act:
Primarily a comedy magician, Tim's experience includes performing for adults
and children with his stand-up comedy-magic show. Seasoned in strolling
with close-up sleight of hand magic in more intimate settings as well, Tim
involves his audiences in his shows, whether up-close or from stage. A
clever speaker and magician, he can customize his show for your theme
or group, giving you a show that perfectly fits your event! Adults and
children are equally amazed and delighted. Corporate, trade, family
& children's shows.
© 2001 MagicWebChannel.com