Danny Archer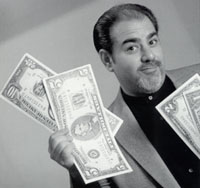 www.dannyarcher.com
Professional Magician
Member of Magic Circle, SAM, and IBM
303 S. Broadway B-392
Denver
CO, 80209-1511
303-321-6267

Biography:
Danny Archer started doing magic as a hobby in 1979. In 1987, he left
his job as salesman with Apple Computer and started to work at the
Philadelphia Magic Company. Here Danny learned a lot about magic and
magicians, and it was a great starting point until the company folded in
1991. In March of 1994, Danny relocated to Denver, CO to raise his family in a
healthy environment.
He was working in sales when he suffered a heart attack. In the recovery
room he realized that he was not doing what he wanted with his life, and he
decided to give magic one more chance. To supplement his performing career,
he formed the Magicians Lecture Network, which is a nationwide lecture
booking organization that has been wildly successful. The MLN has booked
over 2,500 lectures worldwide! Danny also marketed his first trick called
Eye Exam, that has been a popular card trick right from the start. Spurred
on by the success of Eye Exam, he released more and more tricks to the magic
community - Birthday Banner, Grandpa's Deck, Animental and more.
Danny's own lecture has taken him around the world and all over the US. He
has lectured in Canada, England, Scotland, Wales, New Zealand, Australia and
upcoming tours will take place in Germany, Sweden, Finland, France, Italy
and Spain. In addition, he has performed at a number of convention
including A1 Convention at the Capital, Magic Spectram in Montreal, at the
prestigious Blackpool Convention, FFFF in Buffalo and many, many more. His
material has appeared in publications like MAGIC, Linking Ring, Channel
One, Infinity and several international magic publications.
In Denver, Danny performs in front of many different types of groups,
specializing in the corporate marketplace. Danny creates his own original
magic effects and performs both close-up and stand-up magic. His magic is
visual, dynamic and created to be performed in real world situations. He
uses props like ropes, silks, coins, bills, ESP tricks and more to present
magic effects that most people have never seen before (and of course, a card
trick or two.) Danny has performed thousands of shows for all ages and types
of groups, and he looks forward to performing for your group or event. For
more info www.dannyarcher.com
Description of Act:
I have different acts for different occasions ...
from close-up slight of hand to stand-up comedy, magic and mentalism. For
more info www.dannyarcher.com
© 2001 MagicWebChannel.com