Mark Farrar
[email protected]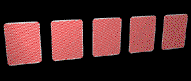 Member of IBM, Northamptonshire Magicians' Club, and The Magic Circle
16 Chewton Close
Northampton, Northamptonshire NN5 6AW
United Kingdom
07092 095312303


Biography:
I have been interested in magic since I was sixteen.
My interests include close-up card magic, mentalism, mnemonics
and magic squares, about which I have written a book. I have been
a member of the British Ring of the IBM since the mid-1970s, a
member of the Northamptonshire Magicians' Club since 1993, and a
member of The Magic Circle since 1996.
Description of Act:
I don't have an act as such, as I am amateur who doesn't perform regularly for "real people".

© 2001 MagicWebChannel.com