I know, I know. It's only rock and roll...but I like it!
The Stones are magic. If you have ever seen one of their concerts LIVE, you know what I mean. Therefor, we are proud to add this section to the magicWebChannel site. Along with the Paul McCartney section, we wear our musical tastes on our sleeves, and salute them for the magic they have provided for our lives...
---
Stones leave fans hanging after marathon world tour By Dean Goodman
Sun A


The Rolling Stones ended their two-year world tour in their home town of London on Sunday, leaving fans wondering if it would be their last ever show.
Such speculation has dogged the veteran rock band since the 1960s, but it intensifies each tour to the point where it is now a running joke between the group and journalists.
Predictably, frontman Mick Jagger made no grand announcements during the band's two-hour show at the O2 arena, in Greenwich, southeast London. The venue is just eight miles from where they performed their first ever show, at the Marquee Club, in July 1962.
Instead, the 64-year-old singer, who barely broke sweat as he jumped around the stage, thanked fans for sticking with the band amid "fire and ice and storms and trees, and God knows what."
The "trees" comment related to a mishap in April 2006 when guitarist Keith Richards slipped while on a break in Fiji. He required head surgery, which forced the band to reschedule its European tour set for that summer. At the time, it was reported that he fell from a palm tree, though he later denied that.
Since the "Bigger Bang" world tour began in Boston on August 21, 2005, observers have wondered about the health of the death-defying guitarist, who has been friends with Jagger since childhood.
To the consternation of fans in Helsinki earlier this month, Richards actually toppled over on stage a few times. But the 63-year-old played with vigor on Sunday on such classic tunes as "Brown Sugar" and "Jumpin' Jack Flash."
Richards said in the latest issue of the British music magazine Mojo that he is taking the anti-seizure medication Dilantin because of the head injury, and had abstained from cocaine for about 18 months. He continues to drink and smoke heavily.
For perhaps the first time, Richards and fellow guitarist Ronnie Wood did not smoke on stage on Sunday, following new anti-smoking regulations. But Richards could be seen taking a few hurried puffs off-stage.
TRIUMPH, TRAGEDY
The marathon tour comprised 146 performances in 31 countries and Puerto Rico. First-time stops included mainland China, Montenegro, Romania and Serbia, as well as last year's Super Bowl in Detroit.
Along the way, Jagger and Richards each lost a parent, and Wood his older brother. Last October their former record label boss, Atlantic Records co-founder Ahmet Ertegun, slipped backstage during their concert in New York, fell into a coma and died seven weeks later.
The North American shows, which accounted for just over half the performances, grossed $300 million and attracted 2.2 million people, according to Pollstar, a concert trade publication. Their well-reviewed album, "A Bigger Bang," did not fare as well, slipping off the charts soon after its September 2005 release, a victim of the depressed state of the music industry.
Next on the band's agenda is the April 2008 release of Martin Scorsese's concert documentary, "Shine a Light." Some fans hope that will be a good excuse for the Stones to tour again, but the band is not saying anything

The Rolling Stones' A Bigger Bang
The world tour has grossed $437 million worldwide since its fall 2005 launch, and is now the top-grossing tour of all time, according to Billboard. Rock on...

Billboard also quotes Stones tour producer Michael Cohl as saying that the Stones' tour may resume next year. "There are still a lot of cancellations in Europe that the band feel obligated to try and make up," he said. Look for more dates in 2007 throughout a number of European and US cities...you can't always get what you want, but you get what you need...
TOP
---
Fox rolls with Scorsese Rolls the Stones in a New Film

Twentieth Century Fox is rolling with the Stones after snapping up distribution rights on Tuesday for Britain, Australia and New Zealand to Martin Scorsese's documentary on the Rolling Stones.

The studio picked up the trio of territories after sealing a deal with international sales and financier Fortissimo Films on the eve of this year's European Film Market in Berlin.
Paramount Pictures already has U.S. rights to yet-to-be-titled film, with a late 2007 release planned.
The documentary began filming in October at the Beacon Theater in New York, where the Stones performed during their "Bigger Bang" tour to an audience that included former President Bill Clinton.
Scorsese is in post-production, working with a team of editors to assemble the film, which also will feature historical and current behind-the-scenes footage and interviews.
Fox Filmed Entertainment chairman and CEO Jim Gianopulos said in a statement that working with Scorsese and the Stones was "a dream come true."
"Many years ago, in film class in college, I watched Robert De Niro saunter into a bar to the tune of 'Jumping Jack Flash' in a movie called 'Mean Streets,' made by some guy named Martin Scorsese. It blew me away, and both Marty and the Stones have done that to me for decades since," he said.
Financed by Steve Bing's Shangri-La Entertainment and longtime Stones tour promoter Michael Cohl's Concert Promotions International, the documentary is executive-produced by band members Mick Jagger, Keith Richards, Charlie Watts and Ronnie Wood.
More to follow...
---
STONES TOUR IS THE BIGGEST FOR 2006


The Rolling Stones' A Bigger Bang trek was the top grossing tour of the year, according to numbers reported to Billboard Boxscore.
The Stones, who began the tour in August 2005, played North America, Brazil, Argentina, Mexico, Japan, China, Australia, New Zealand and Europe before calling it a year on November 25 with total ticket sales of about $437 million.
That total is "not bad," longtime Stones tour producer Michael Cohl told Billboard.com. "And not done, eh?," the Canadian added. "There are still a lot of cancellations in Europe that the band feels obligated to try and make up. So I wouldn't be surprised if it keeps going next year."
(The band's summer trek was delayed by guitarist Keith Richards' head injury, and two Spain shows were scuttled when Mick Jagger went down with laryngitis.)
Second to the Stones in 2006 was Madonna, whose global Confessions run became the top-grossing tour ever by a female artist with sales of just under $195 million.
Stones dates go on after death of Jagger's father

November 12, 2006

The show must go on, and so it does for Mick and the boys. Mick Jagger buried his grief and went forward with the Rolling Stones' sold-out performance in Las Vegas Saturday (11/11) after getting word that his father died. He ripped the crowd apart with a blistering performance that was full of energy from the first notes of Keith's guitar all the way through to the encore.

Joe Jagger, a former school teacher who Mick regarded as a great influence in his life, died of pneumonia in a hospital outside of London, according to the Associated Press. He was 93.
Mick, who has been in the US on the Stones' "Bigger Bang" tour, traveled to Britain Friday (11/10) to see his father but returned to Las Vegas later the same day after being told Joe's condition was improving, according to the Daily Mail.
But hours after his son left his bedside, Joe Jagger's condition rapidly deteriorated. Mick took the stage at the MGM Grand five hours after getting the phone call, with friends saying it was what Joe would have wanted, the Daily Mail said.
A statement on the Rolling Stones' website said, "There will be no further comment from the family at this stage and arrangements for a private funeral will be made at a later date."
A band spokesperson confirmed that the few dates left on the Stones' tour itinerary will not be affected.

Remaining TOUR dates -
November 2006
14 - Nampa, ID - Idaho Center
17 - Atlantic City, NJ - Boardwalk Hall
22 - Los Angeles, CA - Dodger Stadium
25 - Vancouver, British Columbia - B.C. Place Stadium
---
Previously...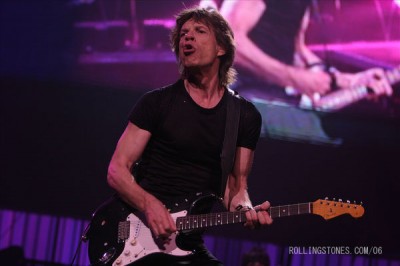 July 26, 2006 Today is Mick Jagger's Birthday! Mick turns 63 today and we wish him the best.

?
(NOTE: This month, I attended my 33rd Rolling Stones concert, it had all of the energy and excitement of all of the others. Looking forward to number 34, which will be March 4 when they return to the MGM Garden Arena. - SD)
PERSONAL UPDATE: I attended the March 4th show, then a few days later, drove to Los Angeles where I was treated to front row seats and a greet with the band, at the famous FORUM in Los Angeles. That was number 35...we plan to hit at least 3 of the cocerts in the latest tour schedule...
07.25.06 The Rolling Stones Return To North America With 'A Bigger Bang' Tour

The tour Kicks Off September 20th in Boston at Gillette Stadium -Tickets On Sale Beginning July 31st
New York - July 25, 2006 - The Rolling Stones will be back on tour this fall for the North American encore of their multi-continent 'A Bigger Bang' tour. It will launch on Sept. 20 at Boston's Gillette Stadium, recreating the magic of their historic Fenway Park kick-off one year earlier. The Rolling Stones hold the record for the most successful U.S. and world tour in 2005 and have already been named the number #1 touring band in the world for the first half of 2006 by Billboard. The U.S. tour dates will be sponsored by RadioShack.
The Rolling Stones who have already played to over four and a half million fans on 'A Bigger Bang' tour will once again perform for fans in cities including New York, Boston, Chicago, Seattle, Los Angeles, Phoenix and Las Vegas. This time around, playing primarily stadiums with a select number of arenas, they will also travel to many new markets to give fans an opportunity to experience the band at their best. The stadium shows will bring back the awe-inspiring production and grand scale excitement with the intimacy of the famed b-stage that brings the band up close to the fans.
"We're very excited about coming back to the U.S. and Canada. Most of the shows are going to be on the big stadium stage with fans in the balconies behind us. We're going to play many cities we didn't get to before and also return to some of our favorite places," said Mick Jagger. "There is plenty of time for rehearsals and to be able to make some set changes - we'll have a variety of material ready so we can keep it fresh." Jagger adds, "Keith's fine, his heads better, he's playing well and enjoying himself so we're all looking forward to this leg of the tour."
"I thought we left too soon you know, so that's the reason we're coming back. I'm really happy that we got some more gigs in America and Canada," said Keith Richards. "I'm feeling great and can't wait to get there. We're going to have the b-stage to get that very close thing happening with the band and the fans."
The Rolling Stones will bring young, contemporary opening acts to the stage for this leg of the tour. Artists to be announced shortly.
"The return to North America is a celebration of the fact that the most enduring rock n' roll band of all time is feeling and sounding better than ever before and are ready to rock," said Michael Cohl, tour promoter. "The response from fans and reviewers to the recent shows in Europe has been amazing. To give more fans an opportunity to see the band we're lowering the ticket prices on average 10-15% and taking an additional off tickets for students."
"The Rolling Stones are icons of the music world, and we at RadioShack are excited to join with them as they return to the U.S. for their fall tour," said Tori Binau, senior vice president, marketing for RadioShack Corporation. "Many loyal RadioShack customers are also fans of The Rolling Stones, so what better way to thank them than by offering special opportunities tied to the tour in the U.S. And with more than 6,000 stores in virtually every neighborhood in America, everyone gets an opportunity to participate. There's no better way to start off the fall season than a "bigger bang" with The Stones & RadioShack."
There will be an American Express pre-sale beginning July 26 through July 30 in Boston, New York and Chicago.
Tickets for the public in New York, Chicago, Boston, Halifax and Regina will go on sale beginning Monday, July 31 and will be available at all usual outlets.
There will be a limited number of Gold Circle seats available while the remaining 90% of the house will average for stadiums and for arena shows. In most cities, students will receive an additional off tickets. (Current ID required). Buys will be limited to 12 tickets per person. Additionally, 200 fans will have the opportunity to be onstage with the Rolling Stones as part of the stadium set and share in the excitement. These seats will also be available at the time of the general ticket on-sale. For additional on-sale information check local listings.
Rolling Stones fan club pre-sale, hot seat and VIP packages for New York, Chicago, Boston, Halifax and Regina begins July 26 at 10am ending July 30 at 5pm. For Official Tour, Fan Club Presales, Exclusive Merchandise and more, visit www.rollingstones.com.
Every ticket sold for the tour will include a Virtual Ticket membership to RollingStones.com. 'A Bigger Bang' ticket purchasers are invited to enjoy unprecedented, behind-the-scenes content with the return of Virtual Ticket, the on-line tour companion the band introduced in 2002. Virtual Ticket allows fans to intimately experience the band on the road via streaming video and audio, exclusive photographs and concert set lists.
The U.S.dates for 'A Bigger Bang' tour will be sponsored by RadioShack . The North American leg of the tour will be presented by Concert Productions International and The Next Adventure and produced by WPC Piecemeal Inc.

The Rolling Stones announce world tour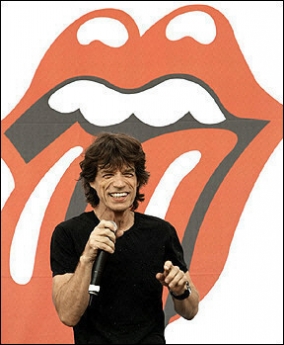 The Rolling Stones, on Tuesday announced a global tour that will stretch into next year. Mick and Keith laughed off suggestions that it would be a farewell tour. "Far from it, man!" screamed Keith. Charlie said this would be his last, but the other band members laughed that remark off...
"We never say this is going to be our last tour. We never think about it. We take each tour as it comes," Mick Jagger told a news conference at Lincoln Center for the Performing Arts in New York City, where the lads from London gave a surprise mini-concert in the morning, calling it the "Cornflakes concert" due to the early hour. Mick says they are usually sleeping at this hour, but chose to rock the Big Apple this morning as a way of announcing their upcoming world tour.
Reminding the cheering crowd that not only are they far from elderly but one of the greatest bands in rock 'n' roll, the Stones kicked off the event with live performances of "Start Me Up" and "Brown Sugar" and a new song Jagger called "Oh No, Not You Again."
The band sounded great, as usual, as they pranced in front of Lincoln Center's Juilliard School.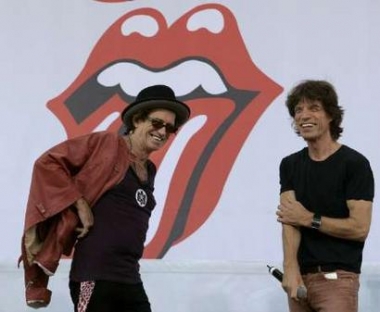 The Stones, who burst onto the rock scene in the early '60s in England, at the same time the Liverpool boys were popping along, are putting together a new studio album, that is "85 percent" finished, Jagger said.
"We tried to make it very wide-ranging and we tried to make it very hard-hitting, but it's got its sensitive moments," he said.
"It kicks some ass," Richards added.
The first tickets go on sale to the public beginning Saturday for the tour which opens August 21 at the home of the World Champion Red Sox, Fenway Park in Boston and continues in North America through early 2006, said tour director Michael Cohl.
Says Mick, "The stadium stage's got an odd thing in it -- for the first time, we got some of the audience in the stage. I am not going to tell you exactly where, but they will not be sitting on chairs. They will be part of the stage. We have room for about 400 people on the stadium stage. We will have you come and sit, and you will have great view of our bums -- so we will have to work on them a bit," said Jagger.
The Rolling Stones are scheduled to play Fenway on Sunday, Aug. 21 and Tuesday, Aug. 23. Total park capacity for the shows will be 30,000 with 400 or so seats on the stage.
In September 2003, Bruce Springsteen held the first major concert at Fenway. In September 2004, Jimmy Buffett played two sold-out shows there.
The tour travels to Mexico, Argentina, Brazil, Japan and even China before heading to Europe in the summer of 2006.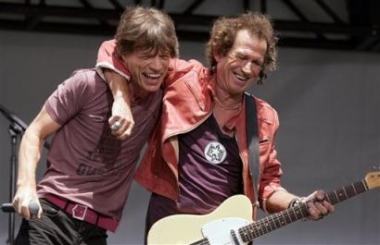 "There's a lot of other fantastic bands and a lot of old rubbish out there, and we hope it's going to be a wonderful summer of rock 'n' roll and we're going to be right in there," Jagger said.
"May God have mercy on your soul," added Richards.
Prices will average about $100 per ticket, and the shows will take place in stadiums, arenas and theaters, Cohl said. This is similar to the arrangement that the Stones did on their last tour, in 2002-2003...a tour I am happy to say Jan and I witnessed in many cities. We saw them in Boston, Toronto and Los Angeles and a city that shall remained nameless...
Asked how much they might make on the tour, Keith smiled and shouted out: "Millions!"
The band, whose shows can sell out in minutes, hold the record for the top two most attended North American tours, promoters said.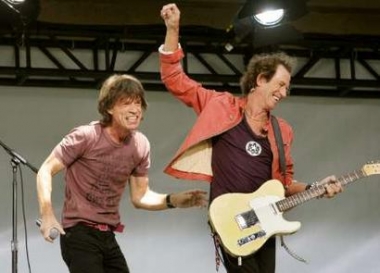 Jagger said the Stones are likely to choose old songs, new songs, blues and covers of other artists' work.
"Sometimes they choose themselves," Richards said.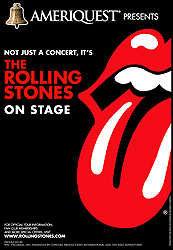 WORLD TOUR SCHEDULE (AS OFJULY 25, 2005)
2006 tour dates

Sept 20 Boston, MA Gillette Stadium
Sept 23 Halifax, NS Halifax Commons
Sept 27 E. Rutherford, NJ Giants Stadium
Oct 2 Wichita, KS Cessna Stadium Wichita University
Oct 6 Missoula, MT Grizzly Stadium
Oct 8 Regina, SK Mosaic Stadium at Taylor Field
Oct 11 Soldier Field Chicago, IL
Oct 17 Seattle, WA Qwest Field
Oct 20 El Paso, TX Sun Bowl
Oct 22 Austin, TX Zilker Park
Oct 27 Atlantic City, NJ Boardwalk Hall
Nov 3 Vancouver, BC BC Place Stadium
Nov 5 Oakland, CA McAfee Coliseum
Nov 8 Phoenix, AZ Cardinals Stadium
Nov 11 Las Vegas, NV MGM Grand
Nov 14 Boise, ID Idaho Center
Nov 18 Los Angeles, CA Dodger Stadium
2005
08-21 Boston MA Fenway Park - Sunday in the park in front of the Green Monster
08-23 Boston MA Fenway Park
08-26 Hartford CT Rentschler Field
08-28 Ottawa ON Frank Clair Stadium
08-31 Detroit MI Comerica Park
09-03 Moncton NB Magnetic Hill
09-06 Minneapolis MN Xcel Energy Center
09-08 Milwaukee WI Bradley Center
09-10 Chicago IL Soldier Field
09-15 E. Rutherford NJ Giants Stadium
09-24 Columbus OH Nationwide Arena
09-26 Toronto ON Rogers Centre
09-28 Pittsburgh PA PNC Park
10-01 Hershey PA Hersheypark Stadium
10-03 Washington DC MCI Center
10-06 Charlottesville VA Scott Stadium
10-10 Philadelphia PA Wachovia Center
10-15 Atlanta GA Philips Arena
10-17 Miami FL American Airlines Arena
10-19 Tampa FL St. Pete Times Forum
10-21 Charlotte NC New Charlotte Arena
10-28 Calgary AB Pengrowth Saddledome
10-30 Seattle WA Key Arena
11-01 Portland OR Rose Garden
11-04 Anaheim CA Angel Stadium of Anaheim
11-11 San Diego CA Petco Park
11-20 Fresno CA Save Mart Center
11-24 Denver CO Pepsi Center
11-29 Dallas TX American Airlines Center
11-22 Salt Lake City UT Delta Arena
12-01 Houston TX Toyota Center
[back to top]

McCARTNEY RETURNS TO ROCK WITH 'US'
---
PREVIOUS NEWS

Rolling Stones announce Super Bowl gig, European dates

Rolling Stones add new Las Vegas gig to tour and announce the performance at the Super Bowl in Detroit on Feb 5.
"We are thrilled to perform for millions of fans at one of the most exciting and highly anticipated sporting events of the year," the band said in a press release. The game--and the Stones' performance--will be seen by a potential worldwide of audience of more than one billion viewers, according to the NFL.

In a separate announcement, the Stones also unveiled concert dates for their 2006 European tour, slated to kick off May 26 in Barcelona's Olympic Stadium
Opening duties will be divvied up between a mix of veteran artists, newcomers and lesser-knowns from multiple genres. A trio of Canadian acts gets things started, with French-speaking female artist Anik Jean (tickets | music) opening the Stones' 2006 tour kick-off in Montreal, rock quartet Sloan (tickets | music) taking over for Boston shows on Jan 13-15, and Metric (tickets | music), also a rock quartet, filling the slot at New York City's Madison Square Garden on Jan. 18 and Jan. 20.

Female rock quintet Antigone Rising (tickets | music) takes over Jan. 23 and 25 in Chicago and Feb. 1 in Baltimore, followed by groove-jazz outfit Soulive Jan. 27 in St. Louis, and country duo Brooks & Dunn Jan. 29 in Omaha, NE.
High-profile rockers Queens of the Stone Age enter the fray March 4 in Las Vegas and March 6 in Los Angeles, then yield to country legend Merle Haggard, who does the honors March 9 in Little Rock, AR. New Orleans-based funk veterans The Meters will prime the crowd at the March 12 show in Ft. Lauderdale, which currently caps the Stones' confirmed North American dates. Details are included below.
The Stones are touring behind their latest album, this year's "A Bigger Bang." "Rarities: 1971-2003"--a set that consists of 16 remixes, rare b-sides and hard-to-find live recordings--surfaced last month, and is available at traditional retailers as well as Starbucks outlets.have announced that they'll return to the same venue next March for another show.

In other news, the Stones' previously announced March 7 appearance at San Antonio, TX's SBC Center has dropped off of the band's latest itinerary; a new date is expected. The group has also moved its March appearance at The Forum in the Los Angeles area from March 2 to March 6.
The Stones are currently touring North America in support of the recently released CD "A Bigger Bang." On Nov. 11, the band will release "Rarities: 1971-2003," a set that consists of 16 remixes, rare b-sides and hard-to-find live recordings. The archival release will be available at traditional retailers as well as Starbucks outlets.
2006 Tour Dates
January 2006
10 - Montreal, Quebec - Bell Centre
13, 15 - Boston, MA - TD Banknorth Garden
18, 20 - New York, NY - Madison Square Garden
23, 25 - Chicago, IL - United Center
27 - St Louis, MO - Savvis Center
29 - Omaha, NE - Qwest Center
February 2006
1 - Baltimore, MD - 1st Mariner's Arena
5 - Detroit, MI - SUPER BOWL HALFTIME SHOW PERFORMANCE
11 - San Juan, Puerto Rico - Coliseo de Puerto Rico (on sale 11/2)
26 - Mexico City, Mexico - Foro Sol
March 2006
4 - Las Vegas, NV - MGM Grand Garden (on sale 11/12)
6 - Inglewood, CA - The Forum
9 - N. Little Rock, AR - Alltel Center
12 - Ft. Lauderdale, FL - Bank Atlantic CenterAlk

[back to top]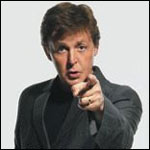 Visit Paul McCartney here