WEEKLY COLUMN, posts Thursday or Friday,(we think). Follow Steve's performing and travel adventures, rumors, facts, gossip, lyrics to bad show tunes, newsworthy events, product reviews, sometimes blunt opinions and rants...and progress reports on the magic web channel...
Remember: The opinions expressed in this or any of our columns represent the opinions of the writers, and do not necessarily reflect the opinion of the Magic Web Channel or it's Esteemed Panel of Magic Advisors. (The lawyers made me say that.)
SAVING THE BIG CATS...BIRTHDAY BASH...AWARDS SHOW
(Hollywood, California) STILL Sunny & Cool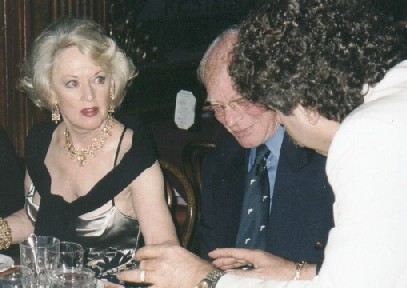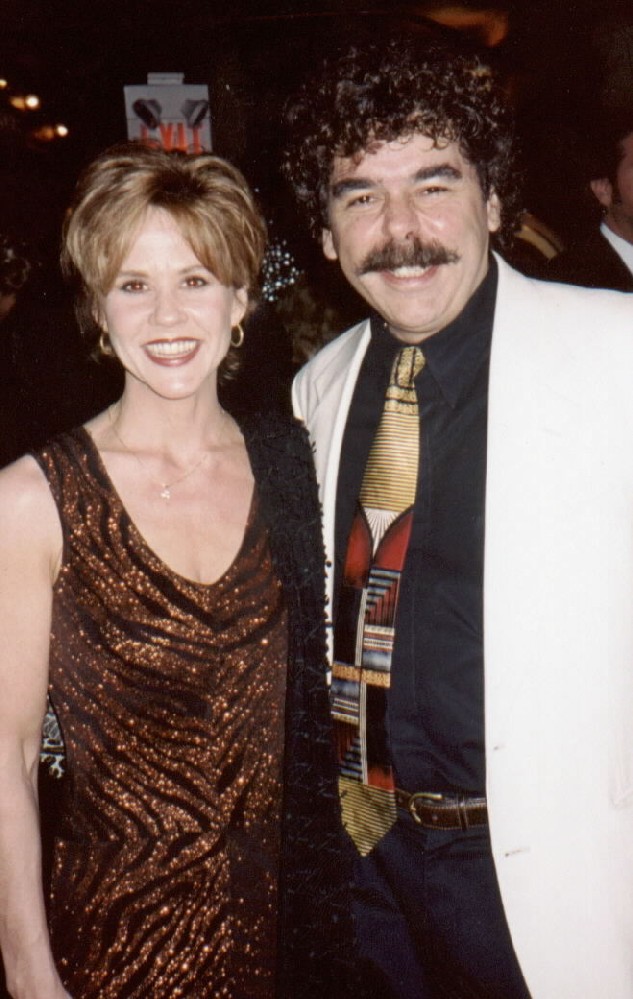 April 18, 2001 As I promised, here's a few pictures from the wonderful fund raiser held at The Magic Castle for the SHAMBALA wildlife spot that Tippi Hedren started and still runs. That's Tippi watching closely, and Linda Blair who is a huge supporter of Shambaba. A huge crowd gathered at The Magic Castle for food, drink, magic, music and a silent auction to raise funds for The ROAR Foundation at Shambala Preserve. It was a fantastic night, and lots of greenbacks were raised for this very special organization. For further information on Shambala and to DONATE something, click HERE.
Speaking of Birthdays, the gala 70th celebration for one of magic's TOP innovators took place April 9th at The Magic Castle and we were there. Milt Larsen celebrated his birthday with a small gathering of over 400 people, and what a time was had by all! Carl Ballantine remarked, "I didn't think he had this many friends". The place was jammed, the love was in the air, and Milt was in fine form, dancing, laughing and greeting the many friends who stopped by to wish him well. There was plenty of food and drink as well as surprise guests, singing and dancing, and the worlds largest magic birthday card was on display…comprised of hundreds of photos that were sent in for inclusion by an impressive number of show-biz luminaries from around the globe. Magic Matt Alan and I closed the place, smoking Cuban cigars and trading card moves until the lights came up and we were thrown out. Happy Birthday Milt Larsen!
Then there's the 33rd Annual Academy of Magical Arts Awards Show, which happens tomorrow, Friday April 20, 2001 at the beautiful Wilshire Ebell Theater in downtown Los Angeles. This promises to be a great show, according to producer Mark Nelson (Mark claims this will be his last awards show, he's not very happy with the board, who he claims ties his hands in his efforts to produce a slick event…hey, maybe he should get together with TG and plot a way to remove all of the board so they can rule the magic world themselves…Only kidding, Mark does a great job and gets very little thanks for his efforts. I'm directing the video shoot, which includes the large screen projection elements for the audience to watch, plus collecting footage for the documentary we are producing. More details are available on the Magic Castle web site, so click on over and get the scoop. Tickets are only $25. For loge or balcony, or $40 for the main floor. There are still a few good seats left, so call now and dress nice. Tickets are only available at the Wilshire Ebell box office and Ticketmaster outlets. The Magic Web Channel cameras will be there to capture the fun, as well as at the private reception before and private party afterwards back at the Magic Castle. We will have a complete report right here April 21…the day AFTER the awards, with all the winners included, long before any of the magic publications get printed. . In order to be eligible, nominees must complete an entire week of shows at The Magic Castle, which means, if you walk off in the middle of a show and do not complete your week, you don't get to be eligible, no matter how much you complain or threaten legal action.
April 21 & 22 brings us the first ever Magicians Worlds Fair, a 2 day event in Hollywood that the organizers claim will be a huge success. I'm hoping they are right, but from the word of mouth going around, the event may have a lot less people that they first estimated. April 20-22 is also the dates for Hank Lee's Cape Cod Cavalcade, which boasts another terrific line-up. If anyone out there is attending and wants to share your comments on the event, drop Tony Brook an email and he'll make room for you.
NEW FEATURES
Our message board is finally up an running again. Give it a try, post a message or statement about anything (keep it clean, please) and let the world see your comments.
NEXT WEEK
A full report on my visit to OUTLAW RADIO on the Magic Matt Mister Cigar Radio and Internet Show. Also, I fly off to Boston for Pizza and Chowdah, and visits to the Boston Science Center and the Aquarium with Jesse. Thene we head to Florida to begin shooting the new Magic Secrets TV Show, which is really an infomercial. I'll have more on this later.
After that, it's across the pond to beautiful London to begin our lecture tour. I'll be filing reports from the UK whenever I get to one of those cybercafe locations.
Good luck to all the nominees…Magically Yours,
Steve
February 21, 2001, Progress & Other News
February 15, 2001, Controversy is good
February 13, 2001, White House Story Scoops the Magic World!
January 12, 2001, New Stuff Coming!
January 6, 2001, Magical New Years Eve
December 31,2000, The Final Weekly Column of the Old Millennium
December 13,2000, It was a Good Year
November 28, 2000,Timing is Everything
November 12, 2000, A WILD WEEK!
October 20, 2000, "Magic Spotlight" Gets Green Light
October 8, 2000, Boston, Massachusetts
September 26, 2000, Los Angeles, California
September 8, 2000, Boston Massachusetts
August 30, 2000, cruising at 35,000 feet
August 25, 2000, Boston, Massachusetts
August 10, 2000, Las Vegas, Nevada
July 28, 2000, Los Angeles, California
July 21, 2000, Los Angeles, California
June 27, 2000, Los Angeles, California