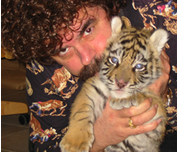 Steve's Blog...

WE'VE MOVED INTO A BIGGER AND BETTER HOME!
My latest posts are now HERE...CHECK ME OUT EVERY WEEK.
Previously...
Posted May 2, 2010
The time for big name concerts and special shows in Vegas is now, and this past week was a perfect example of the sorts of great entertainment we ge to experience all year long. There is always something for everybody, from old classic stars, to the hip latest thing in shows. Friends in town last week saw the latest "Viva Vegas" the new Elvis themed show on night, and then caught an Elvis of the past, namely Pete Willcox with his tribute show. In addition to providing entertainment events, we want to hold a weekly event concentrating on trading and investment methods to help people get started in the world of cryptocurrency, which will serve as a stepping stone to bettering their economic situation. The special presentation discusses the advantages and disadvantages of various crypto exchanges and auto trading bots such as Bitcoin up to assist traders launch a successful trade and earn attractive profits from crypto trading.
I HOPE WE PASSED THE AUDITION
Recalling those words as spoken by John Lennon...and speaking of tributes, we caught our all time favorites, the FAB over at the Eastside Cannery ripping out Beatles tunes in the exact style and sound of the real Fab Four. They have become so popular that they pop up at numerous hotels on a regular basis, such as the Mandalay Bay and Cannery (talk about contrasts, 2 venues, both great, yet each one several miles and worlds apart) as well as their regular gig at the Eastside Cannery, where they were booked for an entire week, and they filled the place with Beatles fans and FAB fans of all ages and sizes. I was happy about this booking, as they have been playing on Tuesdays there, the one night when I am prancing about on the stage of the Shimmer Showroom over at the Las Vegas Hilton, so I could never get down to see them down on Boulder Highway...
Obviously dedicated to the music and the integrity of the sound, Pat and the boys remain at the top of their game in faithful reproductions of the music and vocals that we all love so much...if you love the Beatles, this is the closest you will get to hearing them live.
PETULA CLARK STILL ROCKIN' IT
Last night it was back to the Las Vegas Hilton, this time to sit in the audience and be entertained by Petula Clark, the grand dame of British music and stage scenes, who told stories in between singing her greatest hits, and basically held court for nearly 2 hours of nostalgia and even laughs. She told about seeing Barbra Streisand and Elvis in the very room where she was now playing herself, and that obviously meant a lot to her. She even told of how Elvis tried to "chat her up" backstage after the show. She was there with her friend Carol King, and said Elvis was interested in both of them, that kinky Southerner.
Another memorable night of fantastic music in Vegas with a true entertainer who does a whole lot more than sing "Downtown" and "It's the Sign of the Times". Approaching 80 and looking like 60 with the voice of an angel, Petula had the crowd in the palm of her hand from the opening song.
Check out my column every week on Vegas Inside Tips, called VEGAS MAGIC
---
Posted April 4, 2010
Anyone want a kitty? Cute little furry things, they look like hamsters all piled up together in between the two momma cats, it's this Kitty Commune we've got going here at our door. Actually the 3 from the first littler are amazing, two white siamese with blue eyes and gray points, and a black one who is stunning as well.
Momma gave birth last week, you saw the photos of the 3 babies (see the photo here) and then just 5 days later the little baby kitty had not one, but SEVEN over the course of a few hours, and we had to assist with the last 3 coming out, things were getting crowded and nearly out of control. Tiny little creatures popping into view like a magic trick, not sure who was more shocked, us or the momma.
Things got so hectic for the new mommy cat that her mother, who was already nursing her 3 runts, jumped into the box and dove into the cleaning and licking routine, finally taking most of the babies into her own box and nursed them alongside her own. When we went off to bed, each momma cat was lying in her own box and the 10 babies from both letters were divided among them.
When we came down in the morning, we saw this incredible pile of slowly moving fur, as the two mommy cats were curled up together, with the 10 babies in between them fighting for nipples. Talk about a cat house.
The mommy cats come into the house and hang with us, eat whatever we can feed them, and then take turns roaming the neighborhood, then return to jump back into the box in what we have been referring to as our Kitty Maternity Ward. This will be the end of any babies for either of these cats - we will be bringing them to a local clinic for the snip snip.
We have homes for 3 so far, but need to step up efforts now that the inventory has increased so rapidly. If you love cats and have the space in your family, get in touch with us and check out these little creatures, they will make great companions. I've been holding them and getting them used to humans since the moment the day they were born, it's been an incredible experience to go through with these 2 special cats.
More pictures next week.
CHICAGO TRANSIT AUTHORITY
After more than 30 years and many personnel changes, the group formerly known as Chicago Transit Authority lives on and still can breathe life into all of their enormous catalog of hits we've all come to love. They sound vibrant and crisp, thanks in part to the sound guys at the Las Vegas Hilton. They look fantastic, clearly enjoying themselves and playing the music that stirs memories. We caught the show Friday night in the Las Vegas Hilton in the showroom, formerly home to Elvis, a grand old joint with tiered seating for around 1,700 screaming fans and terrific sight lines. The 9 members of the band, 3 originals, 5 replacements, 1 not to sure about.
They will be going out on tour this summer with the Doobie Brothers, which should be a fab time, catch them when they hit your town.
MORE MUSIC
After the Chicago concert, we headed to Tempo the ultra cool lounge in the Las Vegas Hilton, the same place where the hotel threw a gala opening night party for my show. It's a great place to relax, hide out in the back room, and listen to some great music, in this case the dynamic duo known as More & Gendel were rocking the house and filling the small dance floor. Llynda (that's how she spells it) provides the searing, spot-on vocals and Mark handles a smokin' guitar, and a computer fills in the rest of the band sounds. This group is hot, they draw a crowd and keep them. I especially enjoyed their rendition of Heart's "Magic Man" in my honor. They are a great fit for Hilton, and Tempo is a happening place on the weekends when this duo cranks out the hits. FInd out more about this dynamic music act on their website here.
TIME MARCHES ON
VEGASINSIDETIPS has now reached nearly 3 years of continuous publication, this is issue number 146, that's 146 weeks since we began keeping track, just shy of 3 years. In 10 weeks we will hit the actual 3 year mark, which I find remarkable and just a bit hard to believe. I remember at least 3 or 4 issues we published as beta or test issues. We're not counting those. When we began telling people about this new Digital Magazine, many had never heard the term. Now it's a widely accepted medium, the Internet continues to grow and expand, which shrinks our world to the size of a cell phone.
My thanks go out to the team who assist me in putting out a magazine every week full of information, a couple of celebrity stories here and there and exclusive interviews with the shakers and movers of the entertainment world, especially those who live or work here.
Check out my column every week on Vegas Inside Tips, called VEGAS MAGIC
---
Posted March 18, 2010
It's really a lot of fun doing my new show over at the Shimmer Showroom in the beautiful Las Vegas Hilton, watching the reactions of the audience members from the stage, and then talking with many of them afterwards.
And the Las Vegas Review-Journal's Mike Weatherford proclaimed the show a hit, and gave us a "B" rating, which I gladly accept (under protest...I was thinking "A-", but that's me...) and I must thank Mike for the great review and kind words. Come back again, Mike, we've made some improvements that should kick us up a level in the ratings...
It is obvious to me that most people have never had the chance to see magic in such a setting, performed without props or special sets. To me, this is the real magic, magic that is created in the hands, using age old methods of sleight of hand and misdirection perfected by masters before me. I was lucky to be tutored and coached by the greatest magicians who ever lived, and I owe my success to them. During the show I try to acknowledge them all and we even show a short film clip of the legendary Dai Vernon, whom we called the Professor, as a tribute to the remarkable man who had the distinction of being the only man to fool Houdini.
Some nights I even perform the same trick that Vernon used to fool Houdini.
To keep things fresh, I am constantly changing things, adding new routines and old ones that I haven't done in many years. I do that for myself as much as for the show. Helps keep me sharp and fresh.
Thanks to all who have come to see the show already and to all of you folks who say you are planning to come in the future. We'll be looking for ya!
My pals Penn & Teller on the cover this week, hard to believe they've been working for over 35 years together...as long as I have been working professionally in the field of magic as well. My how time flies when you're having fun.
I had a show in the historic Golden Nugget Saturday night, a gorgeous hotel inside and out, although the area is still pretty dicey at night. As we were loading into our car in the valet area, we had to wait for the police to handcuff and drag a trio of weird-looking ladies into a van parked in front of us. Before the last lady was thrown inside, she turned and threw a deck of cards in our direction, sending cards flying everywhere. Many people assumed she was with the magic guy, but, no, I did not know this girl. I did correctly predict the card that was to land on our windshield - the two of clubs - which impressed our guests who were already in the car hiding in the back seat.
Our mayor has been working hard to rehabilitate the downtown area, but there is so much vacant properties and dare I say homeless folks living within some of those structures, lurking in garages and street corners, making the downtown scene somewhat scary to people not used to seeing the seedier side of Vegas.
When we finally got out of there, we headed off to the Cannery to see our favorite Beatles band - THE FAB - perform at the Cannery. It was fan appreciation night, so the joint was packed with Beatlemaniacs from all over Vegas and a spendid time was had by all.
---
Posted February 22, 2010
Last week was the warm-up, getting myself and the tech crew in synch, and the show was awesome, almost dream like. You couldn't fit another person in the room, the applause and laughter thunderous. You really had to be there.
But you can't. You can, however, join us this week for the official opening night show, Wednesday February 24th.
Doors open at 7 pm in the Shimmer Showroom, show at 7:30 pm.
Ultra cool party after the show in Tempo, the Las Vegas Hilton is throwing that little gala, so if you have invitations, we will see you there.
Check out my column every week on Vegas Inside Tips, called VEGAS MAGIC
---
Posted January 21, 2010
What a long strange trip its been...
After a successful tour of New England, including 8 shows in 10 days, I returned home to find I was near collapse from what I thought was simply exhaustion from too much partying with the gang in Worcester...
We began planning out much needed rest, a vacation we always take around this time of year, sort of a recharge and energize thing before the new year hits.l
Turns out I was having serious issues internally, and after a visit to Spring Valley Hospital, was admitted for a major surgery to remove a large "mass" that was discovered growing in my body...
Two weeks later, and minus 18 inches of my colon, I came home to recover from the whole episode, and now feeling chipper, I am ready to tackle anything that 2010 can throw my way.
Many thanks for all the heartfelt cards, emails and phone calls from so many concerned friends...all is well now, and I expect to be back to 100% soon.
I am rehearsing now for my new show "Steve Dacri IN YOUR FACE" set to open at the Las Vegas Hilton February 17. We have a one year contract, I am looking forward to working this one, in the gorgeous and intimate Shimmer Showroom. See you there...
Check out my column every week on Vegas Inside Tips, called VEGAS MAGIC
---
Posted November 29, 2009
(LAS VEGAS, NEVADA) - Planning for the big end-of-the-year trip to the cold winter of New England, where my partner in crime Ray Perrone has arranged a tour for me that will bring me to the old stomping grounds. We'll spend 2 weeks there, dodging snow storms and seeing old friends and family, and I will be performing some interesting gigs.
We start with visit to the Ezen Manor in Concord, New Hampshire, then after a gorgeous drive down to Boston, a few nights in Boston's plush 5 star waterfront resort, the Boston Harbor Hotel, where my first show takes place. We'll also be filming interviews there for a film project I have been working on forever, so we will see many of our original wedding show cast members as I attempt to bring this project to a conclusion and get it sold.
Then, it's off to the McCabe Estate in Westboro, our base of operations in the Captain Tara Suite with innkeepers Judith and Thom keeping us warm and full of vodka. I have shows Monday, Tuesday, Wednesday, Thursday, Saturday and Sunday.
Monday is a dinner show in La Scala Restaurant in Worcester, Tuesday it's back to Boston for a comedy club headlining appearance at the Mystery Lounge in Harvard Square, then Wednesday out to Springfield for a lecture performance for the Society of American Magicians, Thursday it's back to Worcester for a wild night of Cigars and Magic at the Victory Cigar Bar, then a night off. I'm tired already just writing about it.
Saturday I visit Sherry's House for the Why Me Foundation to do a special show for the kids and their families who are dealing with cancer. That night, at the Fifth Amendment in downtown Worcester, I will present my show at 7 pm, then again on Sunday in the same joint in a matinee at 3 pm.
Have a great week,
Watch the current Fat Boy Open short film HERE.
Check out my column every week on Vegas Inside Tips, called VEGAS MAGIC.
---
Posted July 19, 2009
Saturday night at the Cannery and the place is packed. Many people wearing loud Hawaiian shorts, shorts, it's a summer night in Vegas, hot and clear, and perfect weather for the beach. And the Beach Boy who came to town to rock our world with the songs he sang as a founding member of the Beach Boys.
Al Jardine will always be a Beach Boy, just like Paul McCartney will always be a Beatle. And just like Paul was one of the founders of the iconic rock band, Al was with Brian, Carl and Dennis Wilson when they formed the Beach Boys, and for those of us in the audience last night, if you closed your eyes, you were listening to the unmistakable sound of the Beach Boys. Heck, Al sang lead on a lot of the songs anyway, like "Help Me Rhonda", which closed the show. (his voice was also inserted into a lot of the recording because he sounded so much like Brian, so when Brian was not available to sing on a recording, in came the Jardine voice.)
He still looks the same, a bit more gray and a few more lines, but the voice is perfect, and now he gets to round out the famous Beach Boys harmony with his two talented sons, Matt and Adam, who carry on the Carl Wilson and Brian Wilson notes to absolute perfection. It was as if Carl was up there on that stage, it was fantastic.
When the Beach Boys ceased to be an entity due to the untimely deaths of brothers Denny Wilson (drowned) and Carl (cancer) and a legal mess surrounding the name and just who had the right to call themselves the Beach Boys, Al continued to play the music, and eventually, many of the musicians who had been playing with the Beach Boys live and in the studio came to play with Al, keeping the music alive. The musical director is Billy Hinsche, who appeared with the group throughout the years starting in 1968 and his band are original Beach Boys backup musicians. I remember Billy from the days of his first band, Dino Desi & Billy, as well as his constant presence at most Beach Boys concerts I witnessed. (During the last song I waved at Billy, wondering if he could see me, and he made a point to wave back and give Jan and I "thumbs up". Later backstage, he came up to me and said, "You didn't think I could see you, did ya?". He was genuinely happy to see us, and that warmth, that attitude extends to everyone in the band, from Al on down. Especially "Carl Wilson's favorite bass player" Ed, and ace drummer Fig, both of whom have been with the touring Beach Boys since the early days. There are no egos in the group, they love playing together and they love to be able to honor the music.
Every song is note perfect, every harmony is flawless, the sound is eerily close to the Beach Boys - as close as anyone could get it seems. And according to Al, he remains very close to Brian, who played on Al's recent album and his new one due out early in 2010, Brian was thinking of coming to play with Al in Vegas on this engagement, but a commitment in Germany became a conflict. Which means we may see AL and Brian back onstage together at some point, as it should be.
And you can feel the love up on that stage. There's Proud Pappa Al flanked by his two sons, and the boys certainly love and respect their dad and the legacy that he represents. They also grew up on the music, and learned to sing from Carl and Brian, so they feel its their duty to get it right. And they sure do.
Afterwards, Al Jardine is not happy, he's disappointed with the harmonies tonight, he thinks they blew it. Not so. As I reminded him, all of us who work onstage put a very high level of expectation on ourselves and our performance. We know how good it can be, so when it's slightly off in some way, we tend to notice things the audience never sees. They sounded nearly perfect tonight, and Al was really glad to hear that. "You would know, then," is what he said, and thanked me for the insight. I have probably seen the Beach Boys, from the early days through the time I opened for them in the 70's through now, at least 40 times. This was as good as one could get, very faithful to the original sound. Naturally, being the perfectionist Al is, as well as the rest of the guys, they know they can be better and get bothered when they don't hit those levels all the time.
Getting to the end of the concert, they finish "Help Me Rhonda" and it's standing ovation time, the third one of the night. They come back for a rousing 2 song set, and they are joined by the Rip Chords, who opened for Al and were doing the Beach Boys sound before the Beach Boys existed, and the crowd remained on their feet for "Fun Fun Fun", (the song the Beach Boys used to open with for years), the perfect ending to a perfect concert.
Afterwards, both Al and his son Matt remember when I was the "Psychedelic Magician" who opened for them back in the 70's. I will surely never forget those special memories. check this out for more memories and gain a new experience about tarot card reading.
What a great evening. Al, thanks to you, the Beach Boys live on. I thank you, the rest of your fans thank you, and Brian thanks you
Check out my column every week on Vegas Inside Tips, called VEGAS MAGIC.
TWITTER: http://twitter.com/stevedacri
---
---
---

THE AMAZING BALLANTINE SOUVENIR DVD

Meet the man behind the laughter, the one and only Carl Ballantine, The World's Greatest Magician. Over 2 hours of fun and laughs, including highlights from the famous Comedy and Magic Lecture with Steve Dacri.
Check this out.
---