Ashton's Virgin Sun Grown is one of the finest non-Cuban cigar on the market...

---
LAS VEGAS and CIGARS - An Update
Well, for cigar smokers here in Vegas, there's good news and bad news. Many places have had to stop serving food, or make their joints non-smoking, so there are many victims here. Casualties of the new no-smoking-and-eating-in-the-same-place legislation include Ruth's Chris on Paradise, which has turned its humidor into a wine case and stopped serving food at the bar, and the Monkey Bar at Piero's, which has banned all smoking. Havana Dee's, the cigar lounge at Del Frisco's Double Eagle Steakhouse, has also been forced to ban all smoking, but they informed us that they've hired an attorney to fight for their cause, since they were specifically a venue for cigar smokers. (They're not too hopeful for their cause, however.) Casa Fuente in the Forum Shops is still very much cigar-friendly inside, but can't permit smoking on the "outdoor" patio until they've enclosed it. And Napoleon's at Paris has had to discontinue its appetizers, but still welcomes smokers.
That's the bad news.
The good news is that it's business as usual at many places, including, of course, all of the casinos, and these will ALWAYS be smoker-friendly, I promise you. Then there's a lot of specialty spots, such as André's (Monte Carlo), Chicago Brewing Company (Four Queens), Cuba Libre (Hard Rock), Gustav Mauler (Rampart), Havana Cigar Company (Paradise Rd.), La Havana (Casino MonteLago), Petrossian Bar (Bellagio), Platinum Lounge (Boulder Station), and the Whisky Attic (S. Maryland Pkwy.). Also, the Cigar Lounge (W. Sahara, in the Burlington Coat Factory Center) and the Spirit of Cuba Supper Club and Cigar Lounge (2540 S. Decatur Blvd.).
For those who would like to have a bit of a cigar/bar crawl, here are some suggestions:
Depending on what day of the week you're planning your excursion for, you could start out at the Don Pablo Cigar Company (3049 Las Vegas Blvd.), which is hidden upstairs in a little mall across the street from what's left of the Stardust. It's a Vegas institution where a lot of the old-time poker players, including the late Puggy Pearson, used to buy their smokes. Monday through Thursday 9 am-3 pm, you can see genuine Cuban rollers at work and take an up-close look at the whole fabricating process. It's not exactly a "factory tour," but it's interesting and free. And you could purchase some cigars while you're there. Pklease remember, though, that if you buy a newly rolled cigar, it is best to wait before smoking it. It should be put away in your humidor for at least a full day, which allows the moisture to settle, and the glue to dry completely.
For your next stop, why not call in at the Havana Cigar Company (3900 Paradise Rd.)? You could check out their big walk-in humidor and maybe have a coffee, or a deli sandwich and glass of wine in their wine bar, and enjoy one of your cigars in their small but comfortable lounge area. (Alternatively, you could leave this venue for the evening -- they have live music Wednesday-Saturday 8-11 pm).
Want to combine your cigar crawl with a little retail therapy? Then head over to Casa Fuente in the Forum Shops at Caesars. It sells only its own Fuente brand cigars, which start at under $10 and go up to $125 each, and has a bar featuring cocktails, wine, and cognac, with average prices in the $10-$12 range and a happy hour 4-7 pm Monday to Thursday.
Getting hungry? You mentioned not being averse to venturing off the beaten path, so you could head west up Sahara Avenue to The Spirit of Cuba (at the Decatur intersection), where you can sample some dishes from their extensive menu of Cuban cuisine and perhaps enjoy one of the house mojitos, on which they pride themselves. Fridays and Saturdays, there's a live Cuban band from 8 pm. The cigar lounge -- an area of leather chairs and sofas next to the bar -- is small and "VIP" only, i.e., regulars get priority. But if there's an open table, we're told the bartender will happily seat you and once you're in, your spot is yours for the night.
Having been thoroughly fed and watered, not to mention fairly well-traveled, you'll probably be in the mood to relax to some of that piano music you mentioned. If you're Strip-bound, may we suggest Napoleon's (Paris), which offers cocktails and live pianist 5-8 pm nightly, with dueling pianos from 8 pm to midnight Tuesday through Thursday (and Sunday), and 9 pm-1 am on Friday and Saturday.
If you feel like heading downtown, however, check out the sidebar, which is one of the venues on the newly remodeled 3rd Street, next door to the Triple George Grill (and owned by the same people). You can kill many birds with one stone here: If you didn't eat earlier, you can grab a bite at the Triple George, which is now non-smoking, then head next door to the plush sidebar lounge, where you can enjoy a nightcap or coffee and live piano. And a cigar, if you so wish. There's free valet parking outside, too.
---

Don't miss the greatest radio show about cigars...actually about so much more, as celebrities from the world of movies, television, music and sports come together every Saturday in the hills of Encino, California for the weekly OUTLAW RADIO show, hosted by none other than Magic Matt Alan. With over 25 million listeners, this show is a hoot.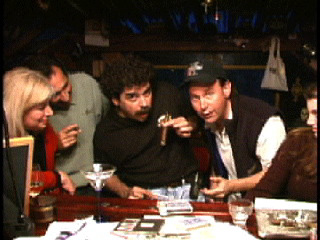 The motto is, "We Drink...we Smoke...we Interupt". I am honored to be a regular on the program, which means I trek across the desert each week to be there in the studio, which is an authentic replica of an 1876 Nevada saloon, along with the crazies and special guests. Either that, or I call in from some remote location of Nevada and put up with the abuse over the phone lines.
Log on to Mr. Cigar for the schedule in your neck of the woods. You will also find great photos from past shows (like this one, with Magic Matt watching a magic trick by you know who), and articles there.
The show is heard on the Sirrius Satellite Network, as well as local radio, and on the cable radio network, which can be heard right here on your computer. The show broadcasts live every Saturday from 3 pm to 6 pm (Pacific Coast Time), and one never knows what will happen, or who might show up!