Vegas' New Magic Show a Winner
sesby Robert Shaughnessy, Special Correspondent to Las Vegas InsideTips, MagicWebChannel.com
Highlights of additional show reviews
"A refreshing, delightful show...laugh, be amazed. Smile for the rest of the evening."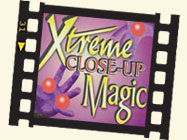 Xtreme Close-Up Magic starring Steve Dacri
Kabuki Lounge, Imperial Palace, on the Las Vegas Strip, broke all records for this showroom, with 2 sold shows per night for over 10 months!!!
Reviewed: Saturday, Sept. 27, 2003
The first thing I noticed when walking into the showroom is the size. It's small, but that's what the appeal was for me to begin with. I have seen every magic show in Las Vegas (some more than once) and I was always seated somewhere around the fifty yeard line. Never close-enough to appreciate the magic. Advertised as the only close-up magic show in Las Vegas (it is) I was anxious to see this newest addition to the entertainment scene in the town that has seen it all.
top
I was in the VIP seats, which means, I was in the front row. There are no bad seats in the room, plus a large screen and video cameras add additional sight lines to the action. . During the show, a roving camera, operated by head bunnycam operator Jan, with slinky outfit, tail and bunny ears, followed the action and projecting vivid up-close images of the sleight of hand. The walls are decorated with magic posters and vintage photos of the world's greatest sleight of hand entertainers, many of whom Steve Dacri studied with.

top
A fine performer named Scott Hitchcock welcomed us, and proceeded to demonstrate baffling feats of magic, as rings penetrated ropes, watches vanished from the wrists of some audience members and pens disappeared up his nose. Scott worked with Steve for nearly six years over at Caesars Magical Empire before it closed last year. A delightfully-skilled entertainer with an infectious smile, he keeps the action going at a fast pace and gets the room ready for the star.
A huge screen drops from the ceiling and a live remote from another room begins. A guy with enormous hair (think: Don King on a good day) introduces a film clip of Steve Dacri career highlights. A funny bit. Then, Steve is introduced.
Steve Dacri is no stranger to Vegas. His first appearance here was in the seventies, as the opening act for a singer from Wales named Jones. Tom Jones. He has since performed at nearly every hotel in Vegas, opening for Don Rickles, Rodney Dangerfield, Bob Hope, Tony Orlando and many others. When Caesars Magical Empire opened, Steve was on the short list of regular magicians there, headlining in the Secret Pagoda Showroom, where my wife and I first saw him perform live. We'd seen him years ago on the Tonight Show, and on Merv Griffin a number of times. His act was the highlight of our evening at Caesars. He does things with cards and coins that are not possible. Poker chips vanished and changed colors within his hands. It was an unforgettable performance.
top
When Steve walked into the Sazio showroom, he casually smiled and produced a huge bowling ball. The place was stunned. Where the heck did that ball come from? Where was he hiding it? I've seen him do this several times, and it never fails to blow the audience away. He waited for the applause to die down, then he asked the audience if they would like to see that trick again. Heck, yeah. He stated that he was not allowed to repeat the trick, something about the code of ethics that magicians have to live by. He brought forth another briefcase, and stated he would try to repeat the trick with another type of ball. He opened this thin briefcase and pulled out a ping pong ball to mild laughter. Then without any false moves, and completely away from any tables or chairs, he reached into the briefcase and pulled out a regulation NBA basketball. He bounced it and twirled it, then suddenly he was holding two basketballs! It was wild!
I think he gave the balls away, I don't remember. I'm still trying to determine where these balls might have been hidden. At this point, only two minutes into his act, it is apparent to the audience that we are watching a true master of magic at work here.
Next he invited a lady from the audience to join him at his table. Steve performs the most mind-blowing magic I have ever seen while seated at a table in front of everyone and close enough to touch. It doesn't matter how close you are, you cannot see a thing. Dacri even defies the crowd to "try and catch me". But they never do. It's easy to see why so many magicians flock to this show to witness Steve's talents. He manipulates cards and rings and balls and coins with smooth elegance, and his quick wit keeps you in stitches in between the sleight of hand.
top
His assistant from the audience placed her ring on the table. Dacri picked it up and it vanished in a micro-second. A moment later it was seen trapped on the stem of a wine glass. The glass had to be broken to return the ring to her. Dice vanished, balls appeared, cards changed color and appeared inside someone's wallet. World class magic, all done without the aid of special props. Performed by Dacri with flair and charm. He grabs the crowd from the first trick and holds them in amazement for nearly an hour. I won't spoil the surprise of his "big finish", but I will say that in involves a wild drum solo (Dacri is a fantastic drummer), and a surprise ending to a previous trick.
The way he handles his assistants from the audience is a study in perfection. He never insults or embarrasses, he makes them feel special and fools them badly.
His magic skills are matched by his engaging personality and winning smile. His 30-plus years of experience onstage give him a vast array of one-liners and comebacks to draw from. He is relaxed and totally in control as he fools the crowd over and over. . I looked around and saw many heads shaking and fist pounding guests mumbling something like, "that was impossible", and "this guy is freaky." I've never seen anyone captivate a crowd with only a deck of cards and a few coins like this. It was the best magic show we had ever seen.
There were many families in the audience, and the young ones were enthralled right along with the adults. There is something for everyone at "Xtreme Close-Up Magic". Highly recommended. Be prepared to laugh and be amazed. You'll smile for the rest of the evening. - RLS