Review Highlights: This Show is a HIT!
ses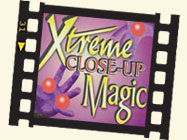 Xtreme Close-Up Magic starring Steve Dacri
in the Kabuki Lounge at the IMPERIAL PALACE
in the middle of the fabulous Las Vegas Strip
"Dacri offers a real change of pace…plenty of tricks up his sleeve…small showroom perfect for showcasing sleight of hand… …genuinely perplexing trickery."
- MIKE WEATHERFORD
NEON, Las Vegas Review-Journal
(Friday December 12, 2003)
---

"His uncanny magic defies belief and has earned him numerous awards and accolades worldwide. This is a wonderful show filled with tricks, laughs, surprises, audience participation and just plain fun for ages 8-98."
Norm Johnson, It's the Norm…Las Vegas Leisure Guide August 2003
---
"Steve Dacri, the "Xtreme close-up" magician who was so popular at Caesars Magical Empire -- is packing them in these days at The Imperial Palace."
- Timothy McDarrah , Vegas Beat, Las Vegas Sun
---
top
"…Steve Dacri…does an altogether different type of magic…
pure sleight of hand
, rather than the cabinet-style illusions of most Las Vegas stage shows.
- Mike Weatherford, Las Vegas Review-Journal

(August 1, 2003)
---

"Wow… masterful performances…a magical treat... What fun this is! Dacri certainly lives up to his billing with dizzying close-up shenanigans that even the "bunny-cam" can't catch, and he does it all in a context of great comfortable fun that plays especially well in this venue."
- Barbara Nosek, Info Las Vegas
---
top
"Steve performs the most
mind-blowing magic
I have ever seen. It doesn't matter how close you are, you cannot see a thing. Dacri even defies the crowd to "try and catch me". But they never do. He manipulates cards and rings and balls and coins with smooth elegance, and his
quick wit
keeps you in stitches in between the sleight of hand.

- RLS, Magic Web Guide
---
"...Outstanding! Brilliant! Don't miss this show, Steve is the best I have ever seen."
- Robin Leach, Lifestyles of the Rich and Famous
---
top
"His magic skills are matched by his engaging personality and winning smile. His 30-plus years of experience onstage give him a vast array of one-liners and comebacks to draw from. He is relaxed and totally in control as he fools the crowd over and over. It was the best magic show we had ever seen."
- Las Vegas InsideTips
---

"Xtreme Close-up Magic, focuses sharply on the high-energy sleight of hand skills of Steve Dacri. For a solid hour, he assaults and astounds the senses of the audience..."
- John Moehring, MAGIC - November 2003
---
top

"Xtreme Close-Up Magic" is magic like you've never seen it performed. Refreshing." - Gambing Times
---

"… only two minutes into his act, it is apparent to the audience that we are watching a true master of magic at work here.
- Las Vegas InsideTips
---

"Brilliant show…a must see for all ages." - Les Kincaid's Las Vegas Lifestyles
---

Anyone remember Steve Dacri's "Magical Mystery Tour" TV series from 1975-1976? Steve is still at it, now fracturing people's senses with his impressive new show in Las Vegas at the Imperial Palace. It's a must-see production in a small venue, with magic in your face by the king of close-up magic." - Boston Radio Digest
---
top
MM