All About Xtreme CloseUp Magic
Read a review of a recent performance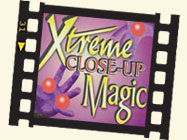 "Don't Blink!"
- What's On Magazine, Las Vegass
What is it"?
Las Vegas' ONLY Close-Up Magic Show is a rare opportunity to witness in your face, under your nose, mind-blowing magic for all ages, in an intimate setting.
Why is this show different from other magic shows?
You'll see the world's finest performance of Prestidigitation! Magic like you've never seen it before, performed by Steve Dacri (and guest magicians from around the world). The magic happens up close, while a roving video camera projects ultra-close-up views onto a large screen above the stage. Very limited seating provides the atmosphere of an exclusive, private show. Full of laughs, surprises, audience participation, and fun for ages 6-96.
Who is the Star of "Xtreme Close-up Magic"?
He's the magician that Johnny Carson called, "outstanding", and Regis Philbin nicknamed "The Fastest Hands in the World". Bob Hope said Steve was, "my favorite magician" and The Boston Globe reported that his performance was "an unforgettable experience". Steve Dacri, is an International stage and television performer, seen frequently on TV for over 25 years, and in various Las Vegas showrooms since the early 1970's. A regular at the famous Magic Castle in Hollywood, considered to be the world's greatest sleight of hand entertainer by his fellow magicians. Dacri's uncanny magic defies belief and has earned him numerous awards and accolades worldwide. His quick wit and humor will keep you smiling long after the show is over. For more info, check out www.STEVEDACRI.com.
[back to top]
Where is it?
"Xtreme Close-Up Magic" is presented in a very intimate showroom called the Kabuki Lounge on the Imperial Palace. Located on the fabulous Las Vegas Strip, directly across from Caesars Palace.

When?
Steve is currently on tour. Watch for announcement of a new Las Vegas location.