TOP 10 LIST

"Steve performs the most mind-blowing magic I have ever seen. It doesn't matter how close you are, you cannot see a thing. Dacri even defies the crowd to "try and catch me". But they never do. He manipulates cards and rings and balls and coins with smooth elegance, and his quick wit keeps you in stitches in between the sleight of hand.
- RLS, Magic Web Guide - read the entire review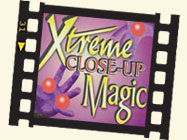 Xtreme Close-Up Magic
starring Steve Dacri
Imperial Palace in the Kabuki Lounge,
Las Vegas Strip
(across from Caesars Palace)
Evening Performances at 9pm and 11pm
(dark Sundays)
David Letterman's Top Ten Reasons to see this show:

• 10. The ONLY Close-Up Magic Show in Las Vegas.
• 9. Magic, like you've never seen before; up SO close, you can sometimes touch the props!
• 8. "You won't believe your eyes!"
• 7. A roving camera follows the magician's hands for even closer views on the big video wall. Try and catch him!
• 6. Starring renowned, award-winning magician, Steve Dacri (as seen on TV and all over the world). He's Xtremely funny too!
• 5. Small, intimate showroom, (Kabuki Lounge) with interactive action. You, your friends, and/or family might even become a part of the show!
• 4. Easier to get into than Celine's show (and a lot cheaper)
• 3. Great Drinks!
• 2. Cool prizes to randomly selected audience members.
• 1. Amazing entertainment for all ages. Mind-blowing Magic you will never forget!