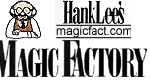 OUR PANEL OF MAGIC ADVISORS
AND THE GOALS OF
The MagicWebChannel
(Updated July 1, 2001) Our Esteemed Panel of Magic Advisors is made up of a very special, well-respected group of magic notables. We consider them the "Royalty" of the magic world, and I'm sure most in the community would agree. This is not a closed group in any sense, but rather a constantly growing assembly of magic's luminaries, who, together with future additions, are forever locked together in a common love and respect for the Art of Magic. We are very proud of their support and enthusiasm for the goals of The Magic Web Channel. (Click here to see the updated list of Magic Advisors).
Our MISSION, to become center of the magic universe on the Web, is becoming a reality due to the support and wisdom of our Magic Advisors, and the years of Internet knowledge and experience of our technical team. They recognize that the magic world needs an entity such as this in order to grow and survive into the future.
MEET BEV BERGERON
Each month we will introduce you to one of the members of our Esteemed Panel of Magic Advisors. This month, meet the one and only Bev Bergeron, one of the most creative minds in the world of magic. A professional magician since the age of 14, Bev is a Past International President of the International Brotherhood of Magicians and a member of the Society of American Magicians Hall of Fame. He performed for over 15 years in Walt Disney World, and for nearly 5 years at Sea World. For 5 years, he was the writer and performer (as Rebo the Clown) on television in "The Magic Land of Allakazam". Bev actually invented many of the illusions on that television show. He has appeared with Red Skelton, Lucille Ball, Merv Griffin, Andy WIlliams, Johnny Carson and many other top stars, and in the magic world, he is sought after by magicians for his inventive lectures and performance teaching. It is truly an honor to have Bev on board.
We are also very proud to have Bev as one of our first columnists, check out his latest installment of "Bev Speaks " and learn more about this guy. Welcome aboard, Bev.
Magic Secrets EXPOSED or PROTECTED?
The Internet makes information accessible to millions of people in a split second. If a person wanted to know how to levitate a lady, with a few clicks and a big checkbook, that person could be the proud owner of such a prop and its secret. There is an obvious danger to this sort of easily accessible knowledge. And it's a painful reality. Without guidelines and systems, and an organized approach, the magic world will suffer in many frightening ways.
THE GOAL of the Magic Web Channel has always been, and always will be, the same: To Provide for the advancement and protection of the Art of Magic on the World Wide Web. We intend to make magic accessible to anyone with an interest and a desire to read, watch or learn about magic. The MagicWebChannel provides a central "jumping off" platform for visitors to further their potential interest (and respect) in magic. Where to attend a magic club meeting, how to join an magic organization, subscribe to a magazine, link to a merchant or news site. All of magic will benefit from this.
The key is in the "magicians only" sections. True secrets and "inside information" will reside in double password protected areas, accessible only to those that are qualified to enter. Upon completion, we will become the primary source for magic information within the magic community, including professional resources (props, books, videos, classes, employment) for the professional as well as magic enthusiasts of all categories and age groups.
MAGICIANS FOR HIRE and HALL OF FAME
The Magic Web Channel is building the world's largest data base of magic performers which will link with talent buyers worldwide.
And Finally, we are building a permanent Internet exhibit (www.magicHallofFame.com) and digital library of magic content, to preserve and recognize the accomplishments of the people of magic, both the past and present.
The many years of experience in, and knowledge of our craft that our Panel of Magic Advisors bring together will provide the input for the these and other important issues, to assure that the the future of all things magic on the Internet is bright and secure for future generations.