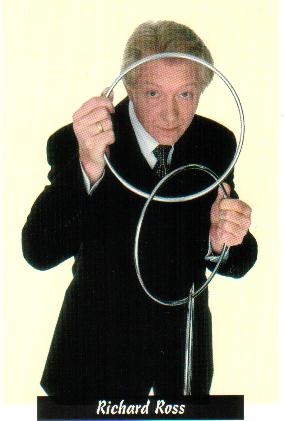 Before Richard Ross passed away (suddenly, of a heart attack), he was a guest performer at the Academy of Magical Arts (The Magic Castle) awards show, where we was receiving a Fellowship Award.
I got to spend time with him the days before the show, and as a director of the video shoot of the awards show, I had the pleasure of watching him run through his amazing Linking Ring routine, dressed in his jeans, and casually, yet flawlessly causing the rings to literally melt together and apart. It was a life-changing experience. I filmed this rehearsal.
Little did we know that it would end up being the final footage of the man in rehearsal, as he passed away suddenly only a couple of months later.
He was full of life, lots of fun, and was always joking and pulling tricks on the other peformers. We also have footage of him clowning around backstage in the dressing room with Shimada and Ayala.
He was a legend in every sense of the word, both onstage and off. I cherish the fond memories of spending that time with him. - Steve Dacri
Richard Ross was born Henk Rozenboom in Gdansk, Poland in 1946. Unlike other performers, Richard was a relatively late-comer to magic, purchasing his first trick when he was sixteen years old. Continuing a trend that would set him apart from other performers and masters of magic, Richard also didn't fall in love magic from the beginning. Instead, magic was nothing more than a leisurely pastime, just barely above a hobby.
In time, however, young Richard threw himself totally into magic, buying trick after trick, spending his entire allowance on magic. As could be expected, his school studies suffered as a result of his new-found love. "I didn't care about anything except magic," he said in an interview once. His parents, once indifferent to their son's hobby, began to notice that Richard's magic was much more than a hobby for him and didn't stand in his way as he began perfecting his skills.
In his youth, Ross was captivated by a fellow Dutch magician, Fred Kaps. Ross had done well in choosing one of the finest magicians in the world to idolize, to be sure. However, Ross did not attempt to mimic his legendary countryman, something common in young magicians. Ross had enough sense of his own self and persona to know that he couldn't be "another Kaps";
Kaps was tall and dark and performed his manipulation routines with an elegant sense of humor, and Ross knew he did not fit this mold. However, he learned from Kaps' own stage work, and developed a stage presence, theatrical concepts, and effects that were all original with -- and pertinent only to -- himself.
Soon, Ross had developed his own unique style, and after years of constant practice and rehearsal, he was ready to show the world.. While still an amateur, Ross won top honors at the European FISM (Fédération International des Sociétés Magiques) congress three times. With his final victory in 1973, he believed himself qualified to become a professional. Up until this point in time, Richard spent his early time in magic performing for only his peers and used their accolades as a barometer of whether or not he was ready to become a working professional.
Ross said that performing for other magicians had been a stimulating and challenging audience, but work in television and in cabarets altered that opinion. "At first, I preferred to perform for magicians," he said. "I liked to be able to fool them. But the more I performed, the more I focused on the audience instead of the tricks. Now I prefer a lay audience; I appreciate their reactions. I enjoy entertaining them."
The name "Richard Ross" is synonomous with "Linking Rings". Ross was the undisputed master of the ancient classic, even bringing it back from disfavor into many a magician's working repertroire. The Linking Rings routine, in Ross' expert hands, was a thing of beauty in which the rings seemed to plainly and visibly melt through each other with no more effort than just holding them. It was this classic -- given new life by Ross -- that served as his singular reputation-maker and was a cornerstone of his manipulation act, which also featured a beautifully rendered Miser's Dream and a gorgeous Multiplying Clocks.
In addition to performing, Richard was very much involved in helping young magicians. A fun-loving, friendly, and outgoing man, Ross never tired of giving advice to both beginners and professionals. As the owner of the Magic Art Center, a sixty-seat theatre in Bennebroek, Holland, he used the Center for monthly gatherings for magicians of all skills from all over the country. The Center also was the focal point of lectures and parties. Along with his wife, Veronique (thought of fondly as the "Mother of Dutch Magicians"), Richard used the Center to advance magic in virtually every way he could, and himself was instrumental in organizing the 1988 FISM gathering in The Hague.
Unfortunately, FISM 2003 will have to proceed without the legendary master.
Richard Ross passed away from a sudden and unexpected heart attack at the age of 55. Approximately a month before his passing, he received a Performing Fellowship from the Academy of Magic Arts and Sciences in California, a last recognition for an incredible performer. Richard Ross leaves behind a legacy of magic for an entire country, and will serve as he always did -- as an inspiration to young magicians everywhere.