Whit Haydn Department
Whether on stage or performing close-up magic at The Magic Castle or a corporate function, Whit combines his magic with the wit and charm of the consumate con artist and the deftness of a pickpocket. Whit is a class act in every sense of the word. A terrific performer, a brilliant creative mind, and a popular inventor among magicians.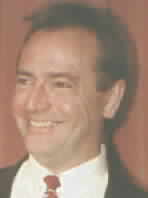 Whit Haydn

A frequent television performer, a multiple award winner, and a regular Magic Castle performer, Whit has consulted for David Copperfield and many TV and movie productions, and he lectures for magicians worldwide.

I have always loved the color changing knives. I own several sets. My good friend Whit Haydn floored me with this remarkable routine. The simplicity and the thinking that went into it make this the ultimate routine for any close-up performing situation. Since the early 70's, Whit has been working this routine, for audiences in Las Vegas, The Magic Castle and on countless trade show and private party engagements.
The routine involves the disappearance and reappearance of a knife, followed by the introduction of a second knife, the 2 knives changing places several times, then the final vanish of the knife. The logic behind every sequence is brilliant.

The knives, a set of 3, are perfect, real looking (they are real!) and they feature 2 different textures, so you can always tell which side is up just by feeling the knives in the pocket.

Comes complete with the custom made set of knives (made by the one and only Joe Mogar), cool carrying bag and photo illustrated 12- page manuscript.
Price: $90.
Whit Haydn Knife Set
3 special knives made by Joe Mugar, in a cool carrying bag. No routine, this is the knife set only (as featured in "Intricate Web of Distraction"). If you have your own routine, you can just buy this set of knives.
Price: $75.
Intricate Web of Distraction Video
by Whit Haydn
First Whit performs the routine, then he teaches you every phase of the routine. VHS format.
Price: $30.