SOME OF OUR FAVORITE TIGERS AND BIG CAT PHOTOS
--------------------------------------------------------------------------------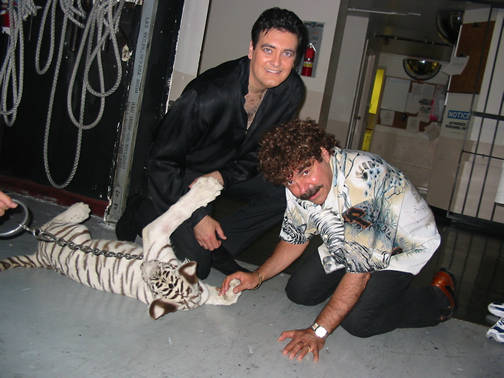 Here is one of my favorite cats - This is STAR, and she is a Siberian White Tiger. This is backstage with Rick Thomas. This cute little lady is one of the stars of Rick's show here in Las Vegas. Star is now over 300 pounds, and a lot bigger than she was in this photo taken almost 2 years ago.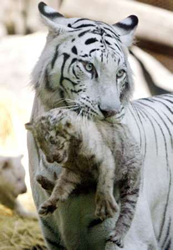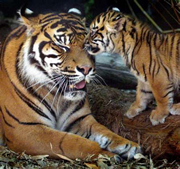 LEFT: A Sumatra Tiger with her baby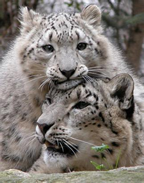 RIGHT: Siberian White tiger and her new baby cub.
ABOVE: This is the mom and baby snow leopard in Big Cat Rescue in Tampa, Florida that I fell in love with a few years back.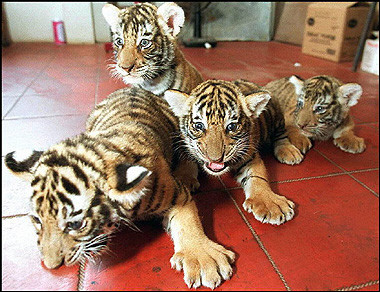 It's sad to think that MAN has been responsible for the near extinction of so many of these great cats. Hunting, poaching, and encroachment of living spaces have reduced their numbers to the point where many have already disappeared, and still other species are close to disappearing forever in our lifetime.
We hope to educate as many people as possible. We would like to see these great cats survive and grow in numbers again, so that our children and grandchildren (and THEIR grandchildren) can enjoy and love these creatures as well..
We urge you to support sanctuaries, such as Big Cat Rescue, so they may continue to work towards these goals. Check them out here...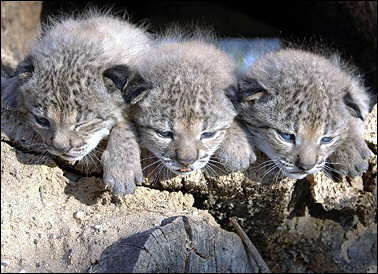 Brecina, Brezo and Brisa : This picture released by the Donana National Park(DNP) shows three baby lynx who were born in captivity one month ago at the park in southwestern Spain. (AFP/DNP-HO)

TOP
LINKS
CAT SITTING SERVICE - Nationwide