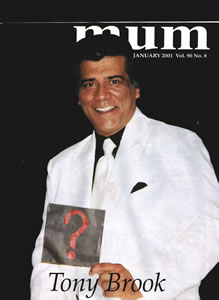 Comments and Reflections About The Past and Future
In keeping with the policy of innovation on The Magic Web Channel this section will be devoted to Conventions and Magical happenings from, quite literally, around the world. This is an open forum, so to speak, and your contributions are welcome.
The Magic Web Channel is about sharing and expanding frontiers. Every once in a while, (hard to pin us down) we will add another article from one of our contributors. Maybe even YOU! Do you have something to say about a past event, performance or convention? We'd love to hear from you, and share it with the rest of the world of Magic.

WELCOME SCOTT WELLS:
Scott Wells, the former Conventions Editor of MAGIC and President of TAOM 2000 will be adding his own unique style to this section. Both he and I will work together to bring you news, views and even a critique or two. Well-known names in magic will also be contributing their news and views on Conventions /Events they attended. If you want to send me something, i.e.,your news and views on a convention or event (either upcoming, from the distant past, or last week), contact me: [email protected].
Enjoy and be enriched by sharing your magic.

Upcoming Conventions & Events Listings
Magic on the Beach | Tony Brook Interviews MARS Chief | World Magic Summitt | IBM 47th San Diego |
---
The First International Magic Convention in Israel
September 25th - 27th, 2005
The MARS (Magic At the Red Sea) convention took place in Eilat, Israel.
For the interview with Roei Zaltsman - MARS Convention Producer, click here.
Headliners (pictured above): Menny Lindenfeld, Anthony Darkstone, FL!P, Duane Laflin, Charles Brook, Pit Hartling & Max Maven
Eilat is located at the southernmost tip of the country. It is blessed with everything that makes a perfect vacation - beautiful mirror-like sea, lively beaches, seafront bars and restaurants, first-rate hotels, all kinds of water sports, a spectacular underwater world and coral reefs, diving clubs, desert treks, camel tours and even swimming with dolphins.
Magic At The Red Sea - Convention Review
By: Tony Brook
Having a dream is a good thing. Fulfilling a dream and making it come true is a better thing. And that is exactly what Roei Zaltsman did. Producing a good Magic Convention is a daunting and time-consuming task and it certainly is even harder if you do it independently and not as a Magic Club or organization. Roei had a dream of Producing the first ever International Magic Convention in Israel and achieved it splendidly. If there was an award for sheer excellence in Producing a magic Convention, I would wholeheartedly endorse the fact that the award should be given to Roei Zaltsman accompanied by a standing ovation.
If it seems that I am heaping masses of praise on Roei Zaltsman, it is well deserved. Along with everyone else who attended the MARS Convention I am full of admiration for the excellent way in which he brought all the elements together in superb co-ordination to achieve one of the most interesting Magic conventions I have attended. When I wrote my pre-Convention interview article, it was evident that he had worked hard to make it a success but now that it is over, I can personally vouch for the fact that everyone who attended had a wonderful time. They all truly made magical history.
Interestingly, he chose one of the best locations for a magic Convention. He chose his home town of Eilat in Israel. To state that Eilat is a truly magical place would be an understatement. It is literally on the shores of The Red Sea and its natural beauty leaves every visitor spellbound. The entire Convention was at the Queen of Sheba Hilton and was a very good choice for the convention. Friendly efficient staff, great views, excellent rooms, first-class facilities and spacious enough to house a 500 seat theater.
Roei Zaltsman assembled a great cast of headliners: Max Maven, Flip, Pit Hartling, Menny Lindenfeld, Charles Brook and Dr. Anthony Darkstone all shared their talents at this Convention. Other things kept me busy and the only lecture I managed to catch was Flip. Most interesting, informative and a pleasure to attend. I was also reliably informed that Max Maven, Menny Lindenfeld, Charles Brook, Pit Hartling, Harry Allen and Anthony Darkstone also provided the attendees with great lectures.
Pit Hartling, Menny Lindenfeld and Charles Brook were the Headliners in the Close-Up show and judging by the audience reactions completely blew everyone away. These excellent performers treated us to some truly awesome magic. Pit Hartling's use of Orange juice as memory aid has to be seen to be believed. His card work is just extraordinary. Menny Lindenfeld's divination involving a borrowed ring and several matchboxes brought stunned gasps of astonishment. Charles Brook's Color Change Deck and the use of a pet mouse that he had been given by Dan Garrett to find a chosen card created much mirth and laughter.
The gala show was attended not only by Conventioneers but was also opened to the public. An excellent idea to help defray some of the costs of the Convention. The gala Headliners were Dr. Anthony Darkstone, Charles Brook, Flip and Max Maven. Also included were Israeli magicians. Darkstone mesmerized by creating simultaneous thought patterns involving audience members and concluded his act by introducing a new concept he referred to as TSP- Tactile Sensory Perception. Charles Brook despite being beset with a few technical sound problems wowed the audience with some highly original card magic including an effect that allowed cards to morph into different backs and fronts. Flip was his usual wonderful self. I always enjoy watching him perform. He creates flawless magic with great skill that he hides so well within his comical antics. Any serious magician who has seen Flip perform will know exactly what I mean when I refer to him as a Master magician. Max Maven did what Max Maven does best and that is being Max Maven. Max Maven was magnificent. To add any more accolades for this excellent performer would be superfluous.
It was a brave thing and a massive leap of faith to include some welterweight Israeli magicians within the gala show that featured such heavyweight talent but in a curious way the mix actually worked quite well and the audience totally lapped it up and provided all the gala performers with rapturous and appreciative applause. At the end of the gala Darkstone called for a round of applause for Harry Allen, who did an outstanding job as Emcee and took a well-deserved bow. I have had the honor to work with some of the best Emcees and on occasion have done a little Emceeing myself and so without any reservations I will gladly applaud Harry for a truly great job of Emceeing and maintaining the rhythm of the show.

At most Conventions there are things that stand out and are appreciated by the attendees. This convention had quite a few highlights but I was told that heading the list was the Talk Show that I conducted with Max Maven. It may appear somewhat boastful to rate this highly as I was the Talk Show Host but all the praise goes to Max Maven who enlightened us with his in-depth observations on magic. Everyone who attended the show rated it exceedingly well and commented that they had all learnt of ways to perceive magic differently and furthermore, also learnt of ways to improve their individual presentations of the art.
Interestingly, some months prior to the convention, Roei and I had many conversations and indeed some doubts as to how well this would be received. At one time, we even thought of leaving it out of the program. Nevertheless, with hindsight, it was a very good thing that we followed our magical intuition and decided to include it as part of the main program. By the way, we are already in discussion with a major Las Vegas star magician as next year's Talk Show guest and Star Headliner.
After this year's Talk Show, I was especially deeply moved when Dahlia Palled, President of The Israeli Society of Magicians publicly acknowledged my part and asked for a round of applause for me in which Max graciously joined in as well. Just when I thought it couldn't get any better, it did. Later that evening, I was totally taken by surprise, overwhelmed and just blown away when Roei Zaltsman publicly presented me with an engraved plaque for my services to magic. It is moments such as these that make me so delighted to be part of the wonderful International world of magic.
On personal note, another very pleasant surprise was to meet up with Galina & Sonny Hayes. It was wonderful to see them again. I had no idea they were Headlining in an amazing show called WOW! right in the center of Eilat. Great show, I highly recommend it. I loved it. And I am happy to say they included two of my favorite effects. Galina with her floating ball and then with Sonny they did my favorite routine involving buckets and Galina's head. It had me and the rest of the audience roaring with laughter. No words of mine can do it justice. It just has to be seen first hand. It was great hanging out with them over dinner and late night sessions. Whenever they had time to spare, they graciously attended the Convention and mixed with everyone.
The Dealers' Room was well located and easily accessible. It housed just seven dealers but each one provided the attendees with a very fine range of products including many new items that I personally had not seen anywhere else or even advertised in the Magic media.
Although I didn't personally attend the Kid's Magic show held in the open-air on the grounds of the King's City Theme Park, it was very highly praised and covered by Israeli TV.
Generally, at Conventions of this nature there are always the little hiccups that inevitably occur but apart from some very minor glitches ( most of which went unnoticed) the Convention was, in its own unique way, very magical . Everyone I spoke to, comments that I overheard, the general atmosphere and the overall feel of the three days, ( September 25, 26 +27) was one of very real magic fellowship. At this point, a very special thanks and tribute must go to Mrs. Zaltsman (Senior), Gallia and Uncle Moshe who worked very efficiently behind the scenes taking care of a hundred logistics. A special thank you must also go to Dana who worked extremely hard taking care of all the Israeli Public Relations.
Several Israeli magicians have already made their mark on the International Magic scene and indeed continue to do so. Nevertheless, I have to admit that I was pleasantly surprised by the very genuine love that Israelis, both magicians and lay people, have for magic. I deliberately spent time eavesdropping on public comments after the shows and I was quite impressed just how much the Israeli public enjoy watching magic. In conversation with Max and Flip on the flight back to Tel Aviv and later over dinner, that same evening, at a mutual friend's home we concluded that all the Israeli magicians we had met had a very genuine passion for the performance of magic and indeed also had a great deal of respect for our Art.
I am delighted to inform the International Magic community that the Art of Magic is alive, well and flourishing in Israel. Take my word for it. If you want to attend a great Magic Convention in a unique setting with another great line-up of Headliners stayed tuned for news about the 2006 MARS Convention. L'Chaim - To Life.

A Brief Conversation with Roei Zaltsman - MARS Convention Producer.

Intro
Our thanks go to one of our Headliners Menny Lindenfeld who contacted his good friend Tony Brook and asked him to do a brief article on Roei. The aim was to elaborate on Roei's background and provide an insight into the thinking behind the forthcoming MARS convention.
Tony Brook is well known Internationally for his work on Magic. He is The International Operations Director of the Magic Web Channel, which is headed by the magical Superstar, Steve Dacri. Tony Brook is a Member of The Panel of Advisors, which includes such illustrious names as Steve Dacri, Lance Burton, Paul Daniels, Dan Garrett and Mark Wilson to name but a few.
Tony Brook and Dan Garrett are the Hosts of World Class Magic in M-U-M, The Society of American Magicians International publication and they have featured many leading International names from the world of Magic. The impressive list of featured performers have included the highly acclaimed Simon Lovell, Jon Racherbaumer, and Eugene Burger along with several FISM winners, Silver Wand winners and Grand Prix winners.
As a result of his interesting "In Conversation With ……." articles with many of Magic's leading names, Tony has also acquired a reputation as The Larry King of Magic. Included in this highly acclaimed series were Dan Garrett, Jon Racherbaumer, Eugene Burger, Walter 'Zaney' Blaney, Scott Wells, Bob Blau, George Saterial, Mike Stratman, Bob Kniggne, Ayala and, more recently, Las Vegas' leading Close-Up Magician, Steve Dacri

--------------------------------------------------------------------------------

TB: Hello Roei, let's begin with a little background. Tell us a bit about yourself and how you got lured into our world of magic?
RZ: I guess like everyone else I was fascinated by it as a child. I began performing at around 15 years old and over the years it just grew and grew. I knew intuitively that was what I was destined to do. I live and breathe magic all the time; even when I am sleeping, I dream about magic. I am totally in love with the art. I suppose I was born to do magic. Actually, I was born in Eilat and there must have been something in the air that blew in from The Red Sea that stirred my soul to do magic. I have had some truly remarkable things happen to me that even I as a magician I cannot explain.

TB: That's interesting, what sort of things?

RZ: Things that have occurred in my personal life and also in my Professional life. When I was in the Israeli Air Force, I dreamt that my favorite Aunt who was living in Ra'anana gave me a hug and then faded away. Two days later she died.

I had always sensed that I would move to Ra'anana when I left Eilat and the strange thing is that when I eventually did so I moved into an apartment across from my late Aunt's apartment and the even stranger thing was that I could see clearly from my window into her apartment.
Sheer chance. Coincidence. Karma. Kismet. I don't know.

Another intensely personal experience for me was when I fell asleep at the wheel and crashed. Almost immediately, after it had happened, my mother called my cell-phone to ask if anything had happened to me.
Luckily, no one was hurt and I miraculously walked away without even a scratch. Even more outstanding was that during my show later that night three people in the audience whom I had never met before choose a random set of numbers that matched the seven digits on the license plate of my wrecked car.

TB: That is indeed quite remarkable. How do you explain these things?

RZ: Well, actually Tony, I don't. Sincerely, I have no explanation for these things. I know you yourself have done a massive amount of serious study into Coincidence, Cosmic Consciousness, the paranormal and many esoteric matters. I'll be very interested in your views on my experiences.
TB: And I'll be happy to talk to you about them but let's leave that for another time. Let's focus on what made you decide to hold an International Convention in Israel?

RZ: In my role as an official at one of Israel's magic clubs, I was involved in helping to bring over many International stars for our Conventions. To date, we have brought over to perform and lecture: Aldo Colombini, Danny Archer, Oz Pearlman, Gerry Kurtz, Juan Tamariz, Joel Bauer, Nick Einhorn, Juan Mayoral, Patrick Page, Tommy Wonder, Yves Domerque and many more. They all had very good time.

TB: Seems to me that there is a lot going on in Israel in terms of magic and of course, Israel has given the International magic community many great Israeli magicians. My pals Yuval Keren, Guy Bavli and Menny Lindenfeld spring readily to mind. Of course, there are many more like Guy who have settled in the USA and others in the UK. You yourself have been to the USA and lectured at some Conventions there. But, tell me why the need to have an International Convention in Israel?

RZ: Two reasons really. Primarily, I think the time is now right for Israel to have its first ever International Convention. Secondly, my intuition had been working overtime and pushing me into getting it started. I have always had the dream of Producing an International Magic Convention in Israel and now my dream is fast becoming a reality.
TB: Sounds like two excellent reasons to hold a Convention. But why Eilat and is it safe? Many magicians who would like to attend may have security concerns because of various religious and political happenings. What is your reaction to that?

RZ: I understand those concerns. We all live, unfortunately, in a violent world as events in New York, Madrid, Bali and, more recently, the events in July in London have shown. In that sense, none of us are immune from danger wherever we may be.

We have had our problems here for almost 60 years yet we all manage to live, work, raise families, enjoy great night-life, have fun and go about our normal daily lives in relative peace and security.

Eilat is a sea-side resort town on the Southern tip and well away from the major cities. All of the major hotel chains have invested huge sums of money here, as have many other International businesses and investors. The only thing lacking here was magic ..so, I decided to have MARS …Magic At the Red Sea.

I am used to making predictions and I can predict that the only problem any MARS attendee will have is not wanting to leave after the Convention is over.
TB: Right, I see what you mean. Thanks for clearing that up. I see you have contracted an impressive list of International and Israeli performers plus all attendees will have the cost of their rooms included within the registration fee and all this at one of the best hotels in Eilat. How have you managed all that for such a reasonable registration fee?

RZ: Yes, I know it does sound almost too good to be true but I have been planning and working on this for a long time and I have a major airline, tourist organizations, government agencies and others who have invested in helping me to put magic on the map in Eilat. We all are joined together in a very business-like way to create a truly powerful impact with Israel's first ever International Convention.

TB: I heard somewhere that you intend to make this an annual event. Is that so?

RZ: Yes Tony, that's right. I want to Produce a MARS convention every year; that is why it is so important to all of us to get the first one just right. We have got one of the best locations in the world, one of the best list of headliners and everyone involved is full of positive energy and enthusiasm. I am sure we have all the ingredients for a successful Convention.

Eilat, as I mentioned, lies literally on the shores of the Red Sea; red mountains surround it like a huge crown. It has the best diving, water sports, bars, discos, restaurants and lots of attractions. It seems silly to me that magicians would prefer to spend their yearly vacation at a convention somewhere else whilst here they can get a tan, enjoy cool activities, awesome nightlife and the best weather. The average temperature for late September is 28º Centigrade. (82.5F)

Oh! and by the way, did I mention three days of outstanding magical experiences.
We have lots of very positive things going for us. Talent, location and great value for money. We have also decided to give away absolutely FREE another registration to any group of magicians who book a block of five registrations at the same time.

MARS has already been advertised in MAGIC, GENII and THE MAGIC CAFÉ and the response has been great.

Plus some of the best Israeli magicians are also on the bill and they will perform magic that hasnever been seen outside Israel.

Two magic contests are also planned: Street and Close up. 1st Prize money is 1000 Euros for each. That's about $1250 US Dollars at current rates. We are looking forward to having a lot of contestants from outside Israel as well. Full registration and contest details at: www.mars.org.il
TB: What influenced your thinking regarding the headliners?

RZ: Lots of things really, but in the main I wanted to make sure that the convention would cater to all tastes and to also make sure that everyone has the best time possible. I was very selective in putting together an interesting mix of headliners who would not only perform but also share their knowledge via lectures and workshops.

There are two great mentalists, Max Maven whose reputation speaks volumes and the intriguing Anthony Darkstone.

The close up specialist, Pit Hartling.

Israel's leading magic inventor, Menny Lindenfeld, to whom, in a recent article you referred to as "The Da Vinci of Magic".

The great stage and parlor magician, Flip.

A young International Award winning magician, Charles Brook who opened for Steve Dacri in Vegas in 2003 and also headlined in The Palace of Magic in 2004.

Last, but not least, one of the best children's magicians and Emcees, the inimitable Duane Laflin.
In addition, the Israeli winners of the 2004 and 2005 stage competitions will perform at the Gala show. With such a line up this convention will Rock!
TB: Yes indeed! Absolutely! I'm willingly to bet that with such a location and line-up it will rock. Thanks for taking the time to talk about yourself and MARS. I am really looking forward to being there.
RZ: Thank you, Tony. I appreciate it. Also I'm glad you said that you are looking forward to joining us because we are looking forward to having you here too and in all likelihood we may ask you to run a couple of your highly entertaining live interviews with our headliners.
TB: Well, that could be fun and interesting, we can discuss that later but I can tell you right now I won't do it unless you give me lots of Falafel and Hummus and plenty of Goldstar and Maccabi beer to wash it all down with …….!!!!! L'Chaim!!!! Cheers!!!!
The members of Syd Bergson IBM Ring 45 of Miami wish to invite you to Magic on the Beach XI. On September 2, 3 & 4, 2005 (Labor Day Weekend) we will meet at the famous Fontainebleau Resort & Spa on Miami Beach. This luxurious hotel has a beautiful pool and Water Park, fantastic restaurants, live entertainment, spa, fitness center and twenty lush tropical acres of Miami Beach Ocean. Plus they're located just minutes from South Beach and the Bal Harbor Shoppes. PLEASE NOTE: Our special rates for this hotel will "Vanish" after the cut off date of August 19, 2005. These rates are extremely good for this Infamous Luxury Hotel, especially for Labor Day Weekend. The rates after the August 19th cut off maybe $189.00 per night or higher. So please reserve your room early.
The same group which brought you the FMA Convention is working hard to make this year's Magic on the Beach a memorable one. We have a great line-up of talent.
Carl Cloutier: In 1994 Carl took First Place in Close-up Magic at F.I.S.M. (Federation Internationale Societes of Magic), also referred to as the Olympics of Magic. Since then Carl has entertained thousands with his award winning magic and comedy. He's starred on NBC TV's "World's Greatest Magic" and has a full evening stage show in Canada where he continues to receive standing ovations from the happily entertained audience.
Aldo Colombini: This two time recipient of the Magic Castle's "Parlor Magician of the Year" Award, has amazed audiences in over 45 countries. He was a featured performer at Caesar's Magical Empire in the Caesar's Palace Hotel, Las Vegas and star of PAX-TV's television special, Master's of Illusion.
Quique Marduk: This magical Pick Pocket from Argentina will be making his first Florida appearance at Magic on the Beach. Marduk is also Co-Owner of Bazar de Magia. This world traveler has amazed audiences with his skillful Comedy Pick Pocket act. Be prepared to be entertained…but watch your pockets!
Mirco Menegatti: This Master Manipulator from Italy was a Stage contest winner at the World Magic Seminar in Las Vegas. Mirco will also make his Florida debut at Magic on the Beach. His elegant and exciting style will amaze and entertain.
Phil Schwartz: Thayer Collector, Historian
Since he joined Ring 45 in 1961, Phil Schwartz has passionately pursued his interest in magic and magic history. Somewhere along the way, his fascination for clever concepts and quality made apparatus lead him to Thayer magic. Now 103 years old, Thayer is America's oldest magic maker producing the finest magic tricks and illusions often using their own original methods. Today, Thayer does business as Owen Magic Supreme. With
over 500 pieces, Phil's Thayer collection is the largest in the world. He has lectured and written papers for the Los Angeles Conference on Magic History, the Magic Collectors' Association, the New England Magic Collectors Association's Yankee Gathering and the Florida State Magic Convention. He is a member of the IBM (Order of Merlin), SAM, Magic Collectors' Association and the Magic Circle (A.I.M.C. - Associate of the Inner Magic Circle).
Jose "Pepe" Sousa: Born in Havana, Cuba when the Dead Sea only had a cold and the rainbow was black and white. His love for magic started when he was eight years old and was fooled watching a performance by Fu Man Chu. He made the decision to fool some people too and studied to become an advertising man. He had the good fortune of
meeting Dai Vernon, Slydini, Jimmy Grippo, Fantasio, Derek Dingle, Ascanio, Tamariz and dozens of excellent magicians, learning a little bit from each of these masters. Pepe is a "regular" each year at the famed 4 "F's", (Fechters Finger Flicking Frolic). He
has given lectures and performed in Cuba, Mexico, Puerto Rico, Venezuela,
Brazil, Argentina and USA. However, he can't fool his wife, Teresita.
Dennis Friebe: Dennis has won numerous awards for both his stage and close-up magic.
In 2003 he received Two Magic Matrix Awards, 2004 Gold Medal in Close-up Magic & 2005 Silver Medal in Stage Magic. Dennis will amaze you and teach you his methods during his lecture.
Mickey Silver: Mickey Silver comes to us from Boston. Doc Horowitz introduced me to Mickey in Reno at the IBM Convention. His coin work is amazing. Mickey is known as "The Human Slot Machine". Trust me you've never seen coin magic like this before! He'll absolutely amaze you!
In addition to the Close-up, Stage Show, Lectures, Junior Event, Spouse Event & Dealers Room, we will have Contests. PLEASE encourage your Ring or Assembly members to enter the contests. Today's contestants are tomorrow's STARS. So encourage your Senior and Junior members to compete. There will be Cash awards in excess of $1000.00. But we need to have contestants. The Stage Contest will be Friday evening at 8:30PM
*FREE Poster offer: Register by August 19th and buy an MOB XI Poster Shirt (Golf Shirt), for $25.00 and receive this year's poster FREE! That's a $10.00 value. Just send in this letter with your registration form, plus payment for shirt and registration.
I hope to see you there. Thank you.
Rick Del Vecchio
Chairman
305.992.0703
[email protected]
PS. You may register online at: www.Ring45.com
Check there for updates and Schedule of Events:
--------------------------------------------------------------------------------

Reports from IBM 74th Annual Convention
San Diego, California July 3 - 6, 2002
Be sure to read Bev Bergeron's personal view of the convention. Click here.
TOP

Covering the convention, our very own Steve Dacri:
Click here for photos.
Day 1: Tuesday, July 2:
Here we are, sunny Southern California. We travelled all the way from Los Angeles this morning along with Carl "The Amazing" Ballantine. Jan is following behind us in the Jeep, loaded with Buster (magicwebchannel mascot) and a load of junk, plus her usual 4 suitcases of wardrobe and one suitcase of shoes and one for hair and make-up products. I want to find the pool, Jan is looking for the jacuzzi and Carl is looking for an off track betting station.
All week we will bring you some sort of reports and photos if the computers cooperate, we brought two with us and our scanner and official Magic Photographer (Magic George) who will be capturing everything on digital photography, and Jan will be covering things from the digital video side of things. And in our booth, we will be meeting friends, old and new, and taping interviews and impromptu magic performances. Should be a lot of fun, with over 1,300 magicians expected to descend upon the Town and Country Hotel for the convention which actually starts today with a night before thing. Not sure what that is, but I'll find out...I'm sure there are clues out at the pool...look there's IBM Prez Bob Escher at the bar...I'm off to begin my research.


The night before party was a blast. When it ended, the dealers room opened for the first attack. I didn't see much as I was trapped inside the MagicWebChannel booth greeting people. Obie O'Brien had this mike connected to the house system, and so when he wanted to get our attention, well...you know Obie. He did a great job of keeping the dealers room running and open, until it was time to close, when he would make several announcements, each one a little more threatening, until he dispatched five members of the San Diego Chargers football team to throw us all out.. Wine, beer and other adult beverages enticed the early arrivals. Everyone obviously came to party. David Sandy, (the new President-Elect in just a few days) was very upbeat with his prediction that this would be a very special, fun convention. It sure is starting out fine.
I walk into the hall, the dealers room, and there is Obie O'Brien, who is in charge of the dealers room, and we talk about how things are going. Lots of people registered (over 1,300 so far) and the dealers spaces have been sold out for months. He is happy, and so is the IBM. We bump into Mike Gancia and Elizabeth Warlock, they have just arrived from London, they are jet lagged, and they are on their way to their room to change into bathing suits and then jump into the pool, while drinking their California Merlot, and singing "God Save the Queen". We have great photos of them basking in the pool and singing, but they have forbidden us from running the photos, so we will have to put them on a secret web site and we will make them available to those that request to see them.

The place is jumping. Lots of people have arrived for the night before festivities. As of today, we find out that the attendance has reached 1400 people and steadily rising. A party starts the night off, followed by an open night in the dealers room. The party is wild, booze is pouring from many outlets, people are munching on cheese and crackers and shrimp, and Rachel Wild is dancing on top of the center table next to the ice sculptures.
Bev Bergeron walks in, he's dressed in California Cool, and he is doing hand stands on the diving board, yelling "allakazam" as he tumbles into the pool. I told you, the place is wild.
Abb Dickson is walking around, in matching shorts and socks, scoping out the merchandise in the dealers room, and Richard Stupple is looking for the best fish and chips in the area. Ballantine is smoking Cuban cigars as he wanders around the grounds, looking for a rubber chicken, which he still hasn't found in 2 days of checking out the dealers.
The night time show is a classic show which begins with one of the top manipulation acts in the business, James Dimmare, followed by several other acts and Chuck Jones and company( I cannot read my program while sitting here in the jacuzzi.). We skip out after the show, heading back to our massive Presidential Suite at the hotel, and logging on to the Internet to upload photos and reports.
Tomorrow I meet Ballantine in the coffee shop and plan our day, going over our intended lecture and performance. We go on at 11 am, and I suppose we will have a wild crowd for this once in a lifetime lecture with the magic legend, Carl "The Amazing" Balantine.
This has already been regarded as a hot ticket event. I can tell it will be a fun filled capacity crowd for our lecture. We look forward to seeing you over the next couple of days. Meanwhile, good luck and happy electrodes.
Tomorrow I lecture for the young magicians party, (Check out the post of my report}
So far, the energy is great the place is hopping, and San Diego is the place to be for magic, or so it seems. More tomorrow….
>TOP<

Day 2: Wednesday, July 3

Yesterday was the first official day, and it was full of stuff. At 8:30 the stage contest began, and although I know that there is a time in the morning before 10 AM, I have not been able to experience it. I hear the competition was very strong. I personally know two of the contestants, and they are hot. At 10 AM the dealers opened and the mad rush for the latest wallet, coin trick, silk effect, close-up table, tuxedo or floating device was on. A medical team stood by with oxygen for those that became overwhelmed by the activity.
Danny Archer did his lecture, less than half the hall was filled, but it was a very big hall. A giant projection screen provided close-up coverage with a camera operator on stage, shooting the moves and explanations. Next, my first lecture, and I enjoyed the energy of this enormous room. Nothing like the other lectures I have been doing on my UK and USA tours, meaning the lectures up until now have had less than 100 people. Heck, most of them had less than 60 people. Here, I counted about one thousand. A few hundred books, videos and bunnies later, I was off to the pool. Besides, the next lecture was David Stone, from Paris, my favorite coin magician, whom I have seen at least three times already. And, his coin work is so good I want to punch him.


Mike Gancia and Elizabeth Warlock were demonstrating triple back flips off the diving board (they love the pool) and Milt Larsen was teaching the bartenders how to make a proper martini. James Swoger was dressed in his bright green suit, and he was easy to spot zipping around on his magic kart. James Dimmare was sipping a cool one as he tried to decide which act to do tonight. Past Prez Jack Greenberg was demonstrating a card trick while floating on a raft in the middle of the pool. Mindy Burden, the convention boss lady was counting change for a group of magicians from China that had just arrived and proceeded to the pool while she went looking for change for a five thousand dollar bill. Phil Willmarth, the long time editor of THE LINKING RING, was my introduction person. For each event, the local IBM Ring provided people to announce, and they were all great. I hadn't seen Phil in decades, so it was wonderful to have him there to watch my lecture.
Dr. Dale Salwak does a mean backstroke, he was passing out contracts and checking details with his office from a cell phone in the middle of an inner tube by the waterfall. He was all smiles because all of the talent had shown up already and the buzz from the the first morning was very positive. At 4PM I performed a short set for the Welcome party (or "WELOME PARTY" as the sign on the door stated) for the MYI (Magic Youth International) for a modest fee that was wired to my Swiss numbered accoount.
The first show was called "Stars of Magic Premiere", and it was held, as all of the evening shows were, at the truly gorgeous San Diego Civic Center Theatre. A perfect place for a magic show, with state of the art lights and sound and comfy seats. Stephen Bargatze was the Master of Ceremonies, he started strong, and ended less than strong, partially due to the length of the show, and his overly long straight jacket segment. The show needed to be about thirty minutes shorter, snoring could be detetected in the first balcony sections and a lady next to me was talking in her sleep for the last twenty minutes. I poured a bag of popcorn on her, she woke up and I told her she had gotten sick. She thanked me and rushed out of the theatre. But not before we all were entertained by one of the finest manipulation act in the business...

James Dimmare is the epitome of class, his charm and skills in rare form tonight, as he danced across the stage in top hat and tails. His steals are flawless, the moves are never unnecessary, it is the perfect presentation of a classic magic act, updated with moves and music that frame the action. The audience awarded him with a well-deserved standing ovation, and I don't believe he paid any of them to stand. . Well done, James, as always.
I just looked at my watch and realized I have a meeting with Ballantine in the cigar lounge downtown in a few minutes, so I'll rush through the rest of this - there was Danny Cole, Todd Charles, The U.S. Marine Corp Band, and it ended with Chuck Jones and Company, or should I say it ended with a standing ovation for Chuck Jones. A well-rounded act, always a favorite, with wonderfully blended illusion sequences and a warm, friendly style. A great end to the show. Music provided by Michael Close is the glue that keeps the show together, and I look forward to his keyboard and computer playing for the rest of the shows...maybe a little solo action, Mike?
Next Tom Jones and Rachel Wild presented their innovative lecture, a late night happening that was well attended and very informative. They both have lots of energy and very clever material that magicians will use.
The night ended, or began...in the dealers room for another frenzied buying period, followed by late night sessions in the bars, halls and rooms. I saw a great routine in the elevator - an unknown lady had a card selected, then she threw the cards out of the door to the elevator as they were closing shut. One card remained stuck in the doors. Yep, it was the selected card.



Day 3 - Thursday, July 4

I've looked at the photos Magic George is shooting. Man, you won't believe what they look like. Some priceless moments captured on digital, and we will be bringing them to you after the convention is over, but we are selecting a few to include now. Check them out in the Magic George Photo Gallery.
It was a special day. I was anxious to see how the Ballantine-Dacri comedy lecture was going to be received. I met Carl for breakfast and we joked about the lecture. We were ready, bring on the people. By 11 AM, the entire room, that big lecture room I mentioned before? Well, every seat was filled. A row of cameras lined the stage. We set the stage with a single round, draped table. A large ashtray sat in the middle of it. On either side of it were arm chairs. Looking like a talk show setting. That's how I introduced it.
One of my fellow trade show magi and friend Dick Stoner introduced me, and I explained the format, a talk show, which Jan filmed, and I was the host. My special guest was Carl "The Amazing" Ballantine, and this was the first time this historic lecture was about to be presented. The energy in the room was wild. I introduced Ballantine, he walked in through the crowd, they went beserk, and as he hopped up the stairs to the stage, he casually flipped his baseball cap in the air, drank in the applause, and took a seat next to me. We were both smoking Cuban Cohibas that somehow ended up in our hands - must have been an illusion.

First I asked him those questions that I felt everyone would want to ask him, if they had the opportunity. His answers were hilarious, and sometimes even insightful. I felt like I was driving a big truck down a fast highway that twisted in every direction...like some video game, racing against the clock. Then, after he did a couple of magic effects to demonstrate the difference between comedy magic and satire, he explained his act was not a comedy magic act and why. The final segment consists of my running around in the audience to allow for questions. Most of them allowed for Carl to ad-lib some rib-splitting answers. Others reminded me of some of the incredible stories that Carl has told me over the years. The hour rushed by, with a few vintage TV clips from the career of Ballantine, including one with Milton Berle who in later years became a big fan (and friend) of Carl.
Carl loved this, the standing ovation was wonderful, and we sat for almost 40 minutes signing pictures and posing for photos. Carl had these great photos done, just a couple of weeks ago, and they were a huge hit at the convention. He says we can show these collector's photos next week, and you will be able to buy autographed ones right here as soon as we can get the ad finished. When we went back to our Presidential Suite in the hotel to enjoy a victory smoke Carl wanted to know, "When are we gonna do this turkey again?". We are already making plans for that.
Far be it for me to evaluate this event, but as I look back, the comments were "through the roof" and many people mentioned it as the highlight of the convention. All I can say is, you will no doubt read about it in the magazines. It was magical. Ballantine was a scream.
John Carney presented his excellent lecture in the afternoon, then the Big Three Close-Up Magic Show began. Some of the people went to the Close-Up Shows while others attended either the Bob Fitch lecture or the Bev Bergeron One Man Show, a wonderfully entertaining event you should catch whenever you can. He rarely does this, so, if you see him, he will gladly come to your hotel room or house and do it for you and your neighbors for a small fee and a meal. This man has more experience in his little finger than many will ever have. He's forgotten more tips and practical advice than most will ever get in their lifetime. A true master showman, and a very special entertainer. This same format repeats for ther next 3 days, so everyone gets to see everything, and in very intimate settings.

The Close-Up Shows
feature six performers, Steve Bargatze, Aldo Colombini, Steve Dacri, Lupe, Alan Shaxon and David Stone. We worked in four different rooms, some with not exactly ideal conditions for close-up, but the audiences overlooked any flaws and really got into the shows. I personally enjoyed these shows and the energetic responses. So great to see so many friendly faces. And friends like Ed Rosenthal from Arizona. Last time I saw Ed was in Boston where he ran all the conventions. Here's a guy who really knew how to throw a convention. It helps that his personal friend Slydini was usually a part of them. We had a chance to talk about the old days and our mutual master of misdirection pal. Lots of memories.
Gay Blackstone brought a lot of her goodies to be on display in the temporary museum, which also featured a display of tables of the greats from yesterday, historic costumes, and some posters that were the size of several doors.

International Stars of Magic Show
Master of Ceremonies Aldo Colombini did a masterful job of keeping things going, with jokes and tricks to fill the gaps. Jay Scott Berry opened with a great manipulation act featuring many uses for silks, tips and gimmicks no magician should ever be without. Next Gaeton Bloom from Paris, with a wildly funny, and very magical presentation that is a hit worldwide. In one sequence, he accidently cuts the microphone cord, the mike stops working, of course, then he tries to put it back together, with the scissors ending up threaded on the cord, then on the mike stand, it's one surprise after another, until he finally restores the mike cord and the mike works again. The bit with his shoe, which is removed, played with and manipulated, is a riot. The shoe eventually disappears and ends up back on his foot. You had to be there. Big "Crazy Horse" laughs.
Alan Shaxon then presented his favorite routines, one which we don't often see, the fishing routine. He effortlessly caught live goldfish from the air, and even from inside a spectator's beer. This was a big surprise to the guy with the beer, who refused to drink any more of his brew after Alan plucked a slithering fish from the glass. Lots of charm and sophistication from the English conjurer. Next up, in place of John Carney, his pal Mister Mysto was announced, and this wacky character proceeded to present a text book comedy magic act. Lots of laughs again.
The funny stuff continued with Aldo's comedy mind reading demonstration, aided by his wife Andie. A good bit, but at this point, we've seen a lot of comedy magic and the audience was ready for more magic. This came with the closing act, the amazing Omar Pasha, the second or third generation version of this black art act from India. Heads were decapitated, tables and props appeared and floated all over the stage, and just when you think you have seen it all, the performers make themselves disappear to huge applause. A well-produced show.

>TOP<

Day 4 - Friday, July 5

Jan asks me, "When do we get to sleep?" I say, "Sunday". Everybody knows that sleep is the one thing that is not on the agendar at these things. We drag ourselves to the Davy Marlin-Jones Lecture, another not to be missed happening. All I have to say is this is a special man, very talented and full of more ideas than any room full of chimps could ever come up with in a lifetime. A gifted man.
Close-up competition (finals) begins, and there were some really good acts, as you can imagine. The close-up shows and lectures schedule repeats, followed by more dealers room madness. Jan is piling up books by the box load. Every time she sells one of mine, she seems to be buying someone else's. She's a shopper, what can I tell ya?
A women's forum is conducted with Anne White and a Panel of Lupe, Rachel Wild and several street walkers from the Gaslight District. I wasn't allowed in because I'm not a girl, but I heard great things about this event.
The dealers room raged on...about 25 dealers filled the place with the latest, the oldest, the most collectible, the ugliest, etc. Gary Frank and Fantastic Magic displayed his well-made plastic and wood items, and some rare collector's pieces like the Thurston Poster I tried to backpalm. Actually, many of the hotel rooms we stayed in on this tour have been smaller than this gigantic poster. He has three, by the way, and they are very reasonably priced, and in great condition. If you are interested, he still has two left, drop me a line, we'll get you a real deal.

The legendary John Booth came by to talk magic for a while. John was busy signing some of his 14 books and posing for photos. Speaking photos, Anne White was shooting a photo of magicians floating on the cover of The Linking Ring, and Brad Burt was pushing tricks and videos just a stone's throw from his San Diego shop. Brad is a great demonstrator and always has some fabulous stuff you just can't live without. Dean Dill was selling his box and other new items. Dean is a master showman, and he takes great delight in fooling the magicians who think they know it all. A perfect entertainer. Nick Ruggiero was there introducing his new company "Signature Pieces", that produces fine, museum-quality magic apparatus for the collector. Limited edition wood and brass items were very popular with the crowd, and Nick will not be able to go outside for the next three years filling the orders he took during the convention. Each piece is hand crafted and takes months to complete. After years of experience and bulding props for some of the greats, it good to see he is doing so well in his new venture.
Because the convention was happening on the same days as the SAM in New York, many dealers had to choose where to go. Only one company attended both. Daytona Magic sent a team to sell their wares while Harry Allen went to New York with the rest of his store. Joe Mogar was there with his beautifully made knives and his new book on thimbles. I have been using his products for many years and it was a pleasure to finally meet the man. He told me he attended my lecture in Philly, but did not want to impose by introducing himself at the conclusion! We had a great chat, he gave me a specially-made prop which I have already used a few times, and invited Jan & I to visit his farm back in New Jersey where he raises miniature horses. Are they pocket size? We shall soon see, as we will be in his neck of the woods (Jersey) later in the year.
Gold Medal Competition and Show
Rich Bloch hosted this show, and did a great job. The high point was a bit involving an audience member (Davey Marlin-Jones)...impossible to describe, but very funny. The low point was a seemingly endless "talking" routine with a jumbo deck of cards and an improvised (?) story using the shuffled deck. But all in all, he did a fine job of holding the thing together, not an easy task with so many acts and unexpected stage waits. Bravo, Rich.
Once again, the top entrants in the IBM Stage Contest compete for the top prizes, the biggest award at stake is the IBM Gold Medal Award of Excellence, presented only five times since the very first competition in 1980, when it was won by Lance Burton. The six acts were all very good, but none of them were Gold Medal acts yet. I say "yet" because they all have the potential to win with refinement. Two of the acts are almost there now.

The results were shocking to everyone, the judges blew it if you ask me. Many people commented that some contestants were "robbed" or other less-kind words. I am so angry at the results that I refuse to publish the results here. You will be able to read them in the magazines if you care to see how the judges ruled. They certainly didn't judge on skill. Maybe my friend Johnny Ace Palmer, one of the few winners of the Gold Medal in the past, and also one of the judges here, will explain to me how the results came about. It's just not possible that the judges saw the same acts that the audience saw. They clearly did not award the best act with the proper award. This generated a lot of heated conversation. You will be hearing a lot more about this later, I guarantee. Another stupid move involved the Gold Cups for the Close-Up competition. The judges decided NOT to award them this year. Why? Who knows? The whole system is flawed, and hopefully the new officers will look into this mess and fix things before the next convention brings another embarrassing moment.
The last half of the show was the amazing Rick Thomas and Company. What a charmer. A fantasic performer, reminds me of what it would be like if Elvis was around and he became a magician. And learned how to dance. If you are in Vegas, you have to catch his show, which plays twice a day, at the Tropicana. Rick is one of the top shows in the business. An up-to-date, fast, flashy, non-stop presentation with great looking props and unique sequences. Easy to see why his show has been piling up rave reviews in the six years he has been headlining in Vegas. Jan & I plan to visit Rick next week. Can't wait to see the complete show.
After the show, we all ended up in the Robert and Sandy Escher farewell celebration party. How did all those people fit into that rooftop room? Only a Louisville slugger like Bob could pull this off. His friends came to wish him and Sandy well. They also came to drink as much of the free booze as they could. And the food vanished as well, but not before everyone had as much as they wanted. Among the crowd was of course, Mike Stratman, the incoming IBM president and another all-round great guy. I'll tell you, this organization has been in great hands, and with Mike will continue to flourish, I have no doubt.

Day 5 - Saturday, July 6
Gaeton Bloom lectured to a packed house. Rightfully so. Everyone wanted to see just how bad his English would be. They were not disappointed. His magic and ideas? Wonderful. A very smart entertainer, and his experience shows.
I skipped out of the autograph session when I noticed that there were tables outside the entrance to the convention center under the hot sun. Didn't seem like fun to me. Many people hunted me down later for that ellusive signature on the program. Next up was England's Alan Shaxon, a fellow member of The Magic Circle and an MIMC as well. Alan has nice ideas and lots of clever material for those that do actual magic shows. I spotted a few actual performers in the crowd. Alan then gave away the goldfish from his act a few nights ago.
Gay Blackstone presented her fine lecture, another well attended event. Gay is fun to listen to, she has so many stories and experiences...it was a chance to hear about the great Harry Blackstone, Jr. and his exploits. It always makes me sad, thinking about my dear friend who is no longer with us. I can only imagine what it feels like for Gay. She is one of the sweetest people in the world.
Stars of Magic Gala
The anticipation level was off the charts for the final evening show. In the afternoon, we arranged for Magic George to pull out the 1963 Red Corvette convertible to ferry Carl Ballantine down to the theatre for the rehearsal and sound check.
Carl refused to rehearse, as he says, "because nothing goes right in my act anyhow, why should I rehearse?" But he walked through the act and tested his mike and gave Dale Hindman a headache, so...mission accomplished.
The surprise Emcee turned out to be the one and only Milt Larsen, who handled the chores professionally, filling the time in between acts with clever bits and entertaining stories about the Magic Castle and his other pet project, Caesars Magical Empire. The show opened with the dynamic, high energy performance of my friend Joaquin Ayala and Tanya. The stage was filled with smoke, and the music was dramatic, their costumes of leather and masks...perfect coreography, and split second timing. What a great beginning to the night. The final illusion, his signature piece, finds Ayala chained into a pyramid shaped box with his hands clearly visible, and two giant blades set to rip him apart if he cannot escape before the flames burn the ropes that hold the blades from cutting into the box. At the last minute, he yells from within the box..."I can't get out, stop the trick". But it is too late, the blades smash into the box, there are screams, a flash, and instantly Ayala is standing on the seat next to me, in the middle of the crowd, waving and pumping his fists into the air. A great crowd pleaser.
A surprise guest followed...it was our friend Darren Romeo, "The Voice of Magic", from Vegas. I bumped into Darren backstage before the show while sitting in Carl's dressing room. He ran up to me, hugged me and whispered "Don't let the secret out". It was great to see him, and the mood backstage was fantastic. Jan was wandering around with the MagicWebChannel camera, capturing priceless moments with the stars. Darren came out and sang a song from Phantom, and his voice filled the place. What a great talent. His show, at the Mirage, plays every day at 3 pm in the Siegfried and Roy Theatre. His show consists of magic and music woven together, a very unique and hard to pull off feat. But Darren does it effortlessly. We will visit Vegas later this week and be his guest at the show, and I will give a full report.
Finally the moment everyone had been waiting for: The Amazing Ballantine. The legend was in rare form. As I put his mike on and walked with him to the wings, he asked where his check was, and if we were going to be able to catch the races the next day! Then he danced out onto the stage and blew the place apart with the act that has played all over the world for over 50 years. Such a delight, with the energy of someone half his age (he's 84), Carl got laughs and more laughs, and of course, a standing "O" as he returned for his bows. For many in the crowd, this was the highlight of the show. Hard to top his professionalism and poise, and incredible, unmatched timing.
The closing act was the classic magic of Norm Nielsen, who did his signature pieces: the coin ladder, the floating violin, and the rarely seen floating piano. A true study in sleight of hand manipulation, such a treat to watch all these masters at work on the same stage.
Personally, I felt as if the energy of the show was wrong, though. The show should have ended with Ayala, and perhaps opened with Norm. Norm's act is strong, but the energy is low, and in direct contrast to the high energy, pounding flash of Ayala and Tanya...but what do I know, I'm just a close-up guy.
Dale Hindman calls the show backstage, and he again turned in a very professional, tight, error-free production. Mark Nelson added his voice admirably. Michael Close again provided the music, and despite some problems with his equipment, he did a fine job all around, and yes, before the show, he treated us to a great, lively solo piece to start the program. After the show, he sold his CD's, and Carl sold his jams and jellies to the departing crowd.

>TOP<

The Afterglow party
raged into the night. In President-Elect David Sandy's room, the performers and friends and newly appointed International President David Stratman, unemployed Bob Escher and other IBM officers laughed and sampled all the latest libations (we had to finish off all the booze or the convention could not officially end) in a wild get together. Out on the balcony, the cigars were filling the air with smoke. Greg Wilson had just flew in from China and he had some wonderful photos to show. Down in the pool, which we could see from the balcony, Bev Bergeron was seen doing the backstroke, and ...yep, you guessed it - Elizabeth Warlock and Mike Gancia were enjoying their final chance for a late night dip in the pool before heading back to the UK.
When the police arrived, most of the guests felt it was time to go. Everyone agreed it was a great convention, and all vowed to return to the next great IBM gathering, which will NOT be held on the same weekend as the SAM event. See you all next year in Kansas City July 1-5, 2003. Be there or be square. These folks sure know how to throw a party.

--------------------------------------------------------------------------------
A report from The Amazing Ballantine:
WORLD MAGIC SUMMIT
We asked Carl to tell us how things went at the Las Vegas convention, where he was presented with an award. Like his acceptance speech, short and to the point.
Off to Vegas I went. Love this town. I go often to visit my money. I played a lot of slots, bet on many horses, smoked quite a few hand rolled cigars, then I got up onstage and received my award. I gave a brilliant acceptance speech. I was very honored. The award looks nice. No money changed hands. Guys doing card tricks everywhere you looked. Doesn't anybody ever sleep anymore? Lots of walking, and for what? To see more guys doing more card tricks.

They asked me to perform but they couldn't afford me. So, I played the horses instead. Made a few hundred. Saw a drunk on the street. He walked over to a parking meter, put a coin in and the meter goes to sixty. He says, "this is amazing, I lost 200 pounds."

Upcoming Conventions & Events Listings