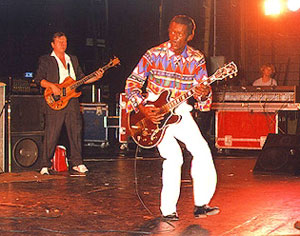 (Pictured here, Chuck Berry at the Paris Cinema in Worcester a very long time ago...)

(April 19, 2004) LAS VEGAS - I just got off the phone with my friend Billy Maykel, a doctor in Worcester, Massachusetts, my hometown, and he reminded me of a show that I did back in the seventies...he was there and we shared a huge laugh about it. Now, I'll share it with you.
There was this great, old movie theater in downtown, called the Paris Cinema. When I was very young, still in grammar school, I used to go there with my friends on Saturdays to watch movies, usually horror flicks and science fiction stuff. Years later, when I was in college, the manager of the place used to book rock and roll shows there. The joint had a large stage in front of the screen, and there was plenty of space backstage, so it was a great venue for music, a classic old theater with about 700 seats.
The manager of the place was also my first manager. His name was Kramer J. Stiff. What a character. He booked me in night clubs and strip joints all around New England, valuable experience (in more ways than one!) and unforgettable times. Well, he booked a number of big time rock acts in the Paris Cinema, and he hired me as the opening act for many of them. I appeared there with the Beach Boys, Johnny Winter, and many others. Those events are stories in themselves that maybe I'll tell at another time.
This time, it was the rock and roll legend, Chuck Berry. Boy, was I excited. I met him at the sound check that afternoon. He was moody and aloof, but he loved magic, so he sat and watched me perform a few tricks while they adjusted the sound and lights. When I came off the stage, he was wildly applauding and laughing. We shared a dresing room backstage, and he insisted that I show him a card trick.
For the next two hours we sat in that dressing room, along with his manager and entourage and a few of the girls that worked in the movie theater, and I went through my "A" material, plucking cards from my mounth, my shoe, my fly, etc. Lots of fun, and the king of rock guitarists was amused and relaxed. He pulled me aside at one point and asked me about one of the girls there. She happened to be my girlfriend at the time, but he was VERY interested in her. I explained who she was and he backed off, and we all headed out for a meal before the show.
He insisted on more magic tricks during the meal, we had a lot of laughs, then we headed back to the theater. I went on, did as best could be expected, considering the place was packed with screaming, partially drunk (and fully drunk) people, waiting for the star to come onstage. They put up with me, as I recall, and I did manage to get a huge round of applause when I walked offstage (probably because I was walking off stage!).
When I got to the dressing room, Chuck was in his fancy jacket and shiny boots, and he was surrounded by girls and his entourage. I said, "Okay, Chuck, they are waiting for ya!"
He looks up at me, smiles and says, "I need a minute...everyone clear out..."
So, everyone clears out, but he grabs one little girl - my girl pal, actually - and he asks her to stay with him. She looks at me, winks, then that was the last I saw of her as Chuck closed the door and I heard him lock it.
Now the audience is going wild, banging their feet and stomping about, yelling, "CHUCK" and assorted other things...the stage manager comes up to me and says, "Where's Chuck?"
Well, I explained he was locked inside the dressing room, and he begins to bang on the door. Chuck ignores him, he gets a bit nuts and says, "I'm going out to the sound booth, you go on and introduce him before this place erupts in a riot."
When he leaves, I try to get him to open the door, but nothing doing. I can hear laughter and moaning coming from inside. I wait, I get down on my knees and peer into the large keyhole (a very old theater, with very old doors, the kind that have big fat keys to open them. I can't believe what I see inside. Ther audience is waiting, the lights have been dimmed, and Chuck Berry is supposed to be standing in the wings and I am supposed to introduce him...but at this moment, Chuck Berry is completely naked, and so is my ex-girlfriend, and they are rolling around on the floor, doing the nasty.
I run up to the stage area, and inform the stage manager that Chuck is not quite ready to go on. The sounds coming from the audience are getting louder and more impatient. I go back down, and again peer into the room through the keyhole. Now ther are on the desk, thrashing about wildly, and completely oblivious to anything outside of the dressing room. It's a pretty good show, actually. There is his guitar, propped up against the wall, and there's Chuck, screaming and humping...
This went on for at least a half hour. No kidding. Finally, he opens the door, half-dressed and announces that he is ready to go on.
We hurry upstairs, and just before I am about to introduce him, he stops me and says, "Wait, I need a glass of cold milk before I go on."
Is he for real? Milk? DIdn't he have enough already? He was serious. We had to wait for someone to go out and find a carton of milk...another half hour delay. By now, I can feel the walls shaking as the crowd is in a frenzy. Finally, one of our tech crew arrives with the milk, Chuck drinks down a glass, smiles and says, "Let's rock and roll!"
I grabbed a mike and began..."Ladies and gentlemen, please welcome, the very insane Chuck Berry"... He smiled at me, casually walked onstage and the place went bananas...everyone was on their feet for the entire concert, which lasted about 90 minutes. He played every hit, drove the place wild, just as he had drove my ex-girlfriend wild earlier...two command performances by the legendary Chuck Berry. Not sure which one I enjoyed watching more.
Magically yours,
Steve