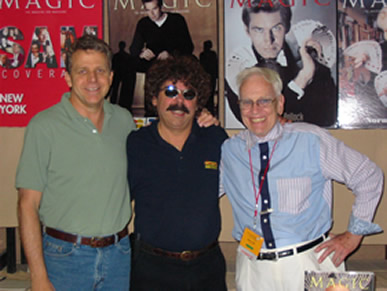 MAGIC Magazine publisher Stan Allen, Steve Dacri and legendary Bob Little

(August 10, 2004) LAS VEGAS - Yes, I know, late again. Hey, what can I say? Busy with out of town trips and nobody else seems to be capable of filling up this page without big money bribes...so here we are again, and all I can say is...BLAME NICKY McAllister.
SHOW UPDATES
MAGIC LIVE hits town Aug 22...Stan Allen promises another historic, magical event for readers of the magazine, currently the best in the world. (How's that for a shameless plug?). They asked me to be a part of the program, but I was working at the time, and not available to do this. SInce then, my show has closed, and so I am now available, but they don't have enough money left for me to be a part of it now. So, I will simply attend as a registered guest, and shout "CHEAPO" at Stan whenever I see him.
OVATIONS, the show set to open at the historic Lady Luck Hotel and Casino in downtown Las Vegas, has been pushed back to a Sept. 10th opening. The showroom is being reworked, and renamed, OVATION Showroom. How's that for support and confidence? . As I mentioned, eventually we will have special priced tickets available here on this site, and a contest or two connected with the show. I will be in the show for the first 2 weeks, and plan to leave after that for another show, which I cannot talk about right now. Again, give me another week and I will fill you in on things in this department.
Dirk Arthur, the S&R copycat magic act has now moved into the Riviera-based SPLASH show. If you never caught Siegfried & Roy do amazing things with exotic cats, Dirk attempts to do those same tricks, without flare, in his spot in this review show. Otherwise, the show is very good. Can you tell I'm not a big fan of Dirk? Hey, get some original material and a personality and I may change my opinion.
LA FEMME over at the New York New York now has a magic act in between the nudies. The line-up changes, so I cannot tell you who is there at the moment. It is a brief spot, about 7 minutes, so how bad can it be? I hope it's good, don't get me wrong. I will see the show next week and report back.
Caught a hypnotist a few nights ago, and it was so bad, neither Jan nor I can remember the guy's name. It was at the Palace Station in the comedy room. The room was beautiful, the show was...slow, and boring. The guy had a fairly engaging personality, but the show didn't really have anything special going, and there was no real climax...(until Jan & I got home). I wish I remember his name, but, maybe it's best that I don't.
Caught some great shows in town, but still wondering why there are so many BAD shows playing here in the Entertainment Capital of the World. Saw MAMMA MIA, a great smash hit musical over at Mandalay Bay, and must confess we were dancing in the aisles along with everyone else at this fun show. When in town, do NOT miss this one. Peter Reveen had said this would be a winner, and he was right. Over at the Las Vegas Hilton, THE FAB FOUR continue to rock with their amazing tribute to the Beatles. These guys truly have you believing that you are watching the real thing, they look and sound exactly like the four Beatles. What more to say? See this show, you will be blown away. I promise.
Spent some time with legendary DEBBIE REYNOLDS after her knock-out show at the Suncoast. She just keeps getting better. She sings, dances, and tells hilarious stoires from her wild and crazy career, and drinks more than ten guys afterwards. And she loved my sponge bunnies. (another story...maybe).
We rocked out with VAN HALEN this weekend, who were in town for two sold out shows at Mandalay Bay Events Center. The place will never be the same, these guys destroyed the joint. They told me they will be back in October at my favorite haunt, the Orleans, in the new arena, October 1st. Get your tickets before its too late. They are the real deal.
Caught a dinner show, and I use the term "show" lightly. Called "Dinner with Mamma", this could very well be the worst show in the history of Vegas. No talent, no show script, nothing. And terrible food. At the Royal Hotel. Never heard of it? Good, forget I mentioned it.You'll be glad you did. From the creator of BA-DA-BING, another historic moment in entertainment history, this one has no chance of survival. At least Ba-Da-Bing has some talented people in it, but this? These cast members need to find another line of work, and fast. There were about 6 paying guests on the night we attended, and the rest were either members of the aforementioned Ba-Da-Bing cast, or people who were paid to be there.
Show producers need to spend more time writing a show and casting professionals before subjecting the general public to such trash. There are far better things that tourists could do, like watch the grass grow out by the pool or dumping money into the nearest slot machine.
For a bit of relief, Jan & I left town and headed up to Zion National Park, one of our favorite getaways. While there we caught a show called "Twist the Night Away", which just happens to be produced by our pal Rick Thomas' brother, Rhett Thomas. Now this was a great show. We will bring you a complete review of this show and an interview with Rhett Thomas next week. Promise. Unless Nicky distracts us again.
Meanwhile, thanks for all the comments on the fab interview with Barbara...Blackstone's magical assistant. If you missed it, click here and check it out.
The Magic Circle has sent out ballots for this year's elections. Alan Shaxon is again up for President, and we all hope he will be re-elected, as he has done a great deal of GOOD for the organization, picking up where Michael Bailey left off. A number of newbies are running for Council, and we hope those that have the best interests of TMC at heart will get in, including James Fortune, Fay Presto, Ali Bongo for VP, , Rob Cox for Secretary, Michael Bailey, and...oops...have I been electioneering here?
Actually I can say whatever I please here, but I do not have the ballot in front of me so do not know all the names of those who are running. I will, next week, mention a few others that members of The Magic Circle should definitely vote FOR. Ruffle a few feathers. That's my job. And I like it.
Until next week,
Magically yours,
Steve