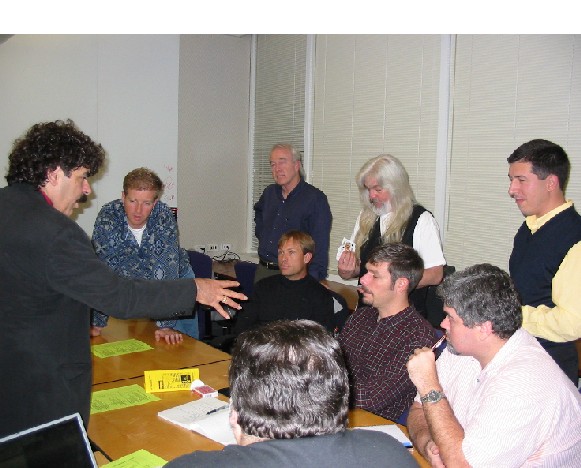 An Insider's Workshop held at World Headquarters of Apple Computer not very long ago...

(June 15, 2004) LAS VEGAS - Just back from Worcester, Massachusetts, and Boston, for a couple of shows, pizza, beer and a lot of crazy activities, some of which I can talk about. I must apologize for missing a week here, but the trip occupied my entire schedule, and I travelled for the first time without my computer, so I was completely out of touch, and enjoyed that very much...
THE TRIP TO NEW ENGLAND
I was invited to perform at WPI, my alma mater, for the reunion weekend, and somehow I said "yes". I imagined a giant hall full of drunkards, loud, boisterous, and oblivious to whatever was happening on the stage. But, the money they offered was so amazing, I couldn't say no. (And to my surprise, as you will soon read, the audience was one of the greatest in recent memory).
In addition, the Worcester Area Chamber of Commerce was having one of their gala "Breakfast Club" events, and this was happening the day before my scheduled appearance on the WPI campus. (That's Worcester Polytechnic Institute for all you non-Worcesterites).
The Chamber has been bugging me about appearibng as the special guest host for this event for 2 years, and I always politely say "no way", as they have no budget, and it is 3,000 miles from where I live. When they found out that I was doing the WPI Reunion weekend, they called and asked again...this time they begged, and they even threw in a dinner to make the offer more appealing. After a few martini-induced phone conversations with Mike Corby and John DiPietrpo, the organizers and strong arm men in the group, I agreed to do it, as they promised I could insult and embarass anyone and everyone from the podium.
I flew out of Vegas after my last show, on the "red eye" all nighter, promptly fell asleep somewhere over the Las Vegas Strip, and woke up the next morning in Boston.
I picked up my rental car, drove in to Worcester, meeting with the illustrious E. Thomas McCabe and Doctor Robert Shaughnessy for lunch and cocktails at world famous Tweed's. This was followed by cocktails at the McCabe estate and then it was on to my hotel. I decided to take a short nap, (pass out) before my evening dinner with the Chamber folks, so I called Jan and asked her to call me in an hour.
I proceeded to put the TV on, and lie down on the bed, but the cell phone was on the dresser, on VIBRATE, which means I would NEVER hear it ring. Smart move.
The next thing I remember, a man with a walkie-talkie is shaking me awake...it was the General Manager, along with a security guard. They had just broken down the door to my room, as I was not answering the phone, or the knocking at the door, and they figured I must be dead or something. When I fall asleep, a bomb could go off and I wouldn't hear it. I had put the lock chain on the door, so the only was into the room was to bash the thing in. There were wood chips, screws and hinges on the floor. I didn't even hear them bashing the door in, let alone the knocking or telephone calls.
It was 8 pm, which meant I had a fine FOUR HOUR nap, and the guys were waiting for me in the lobby for our planned dinner. I quickly jumped up, threw water on my face, thanked the General Manager, and headed for the lobby.
DInner was fun, old friends, lots of laughs, and not a bit of planning for the Breakfast Club show the next day. The event was a hit, I am told, and the local press covered it and gave me grand reviews for the performance. I succeeded in insulting just about every major political and business leader present, and managed to deliver several objectionable remarks while the Bishop sat to my left. You had to be there. It was a lot of fun. And I even got an award that now hangs in my office for my role as "Chief Greeter". Don Rickles would be proud.
REUNION SHOW
My class reunion was interesting. The campus has changed, the classmates I saw were looking so....OLD. The weekend was wild. My performance was in ALden Hall, an old, classic building, with great wooden walls, massive portraits of guys with beards, a big stage, and state of the art sound and lights, plus a giant screen on stage and a roving camera person who followed me around so everyone could experience Xtreme Close-Up Magic similar to what I am doing here in Vegas. Instead of the loud, uninterested drunks I anticipated, the crowd was warm, energetic, partially sober, and completely into the show. It was a hoot. After an hour of comedy, gags, sleight of hand, pickpocketing and card stabbing, the show ended and I was treated to a spontaneous seated ovation.
A lit up a big fat Cuban cigar, and wandered threw the place, which is smoke free...so I made sure to blow large smoke rings in every corner of the joint. I ended up at the old college watering hole, the Boynton, not far from campus, with a wild group of noisy alumni and friends for the obligatory cocktails, cigars and greasy pizza. A fitting end to a great night.
I don't remember much else of the reunion weekend, and what I do remember I cannot really talk about. Hey, I am a professional magician, and as such, I am entrusted with secrets. That's all I can say.
I boarded a plane for Vegas, and was treated to dancing stewardesses aboard Delta SONG, the new airline run by Delta. They do theings different, a JAZZ soundtrack goes on, the girls stand in the aisles and grovves to the beat, pointing out the safety features and exits...well done! Then a MARTINI CART rolls down the aisle, and special cocktails are shaken or stiired right at your seat. I was planning on sleeping, but between the cool music, the screen at my seat with games and movies, the SONG MARTINI girls and other distractions, I was wide awake. They even have a trivia game that all passengers play, and I just had to get into that. I won two tournaments, which means you get a cool gift from the airline (a new car) and nasty stares from all the pther passengers. Hey, it was only a game.
MOUNTAINS AND NATURE
By popular request, we are keeping the photos up for another week. Many of you asked to see photos from our trip to the Utah mountains, so check these out: a few pics from Zion National Park and our hiking expedition.
COMING NEXT WEEK
I will have some wonderful news about the magic scene here in Las Vegas. Also, we will have an exclusive interview with one of the original assistants from the famous Harry Blackstone Senior Tour.
Magically yours,
Steve