Written by Steve Dacri
I am honored and blessed to call Carl Ballantine my friend. We first met in New York, around 1983, at a Tannen's Jubilee Convention. I was the emcee of the stage show, and Carl was receiving an award, the "Louie", named after the founder of Tannen's, Louis Tannen. We became instant friends, and over the years, Carl has taught me many life lessons, both as a performer, and as a human beging. He also introduced me to cigars, and horse racing. We have spent countless days at the race track, picking winners and smoking Cuban stogies.
I can honestly say, that alongside some of the greats in show business that I have had the opportunity to know, like Bob Hope, Red Skelton, Jonathan Winters, Milton Berle and Red Buttons, Carl is naturally (and constantly) funny. He always has a joke, always has an observation that leaves me and everyone around him, in stitches. He has a great mind, and is generous in his advice and coaching.
Born in Chicago on September 27, 1922, Carl Ballantine has always been a natural comedian, and a brilliant entertainer on stage, TV and the big screen.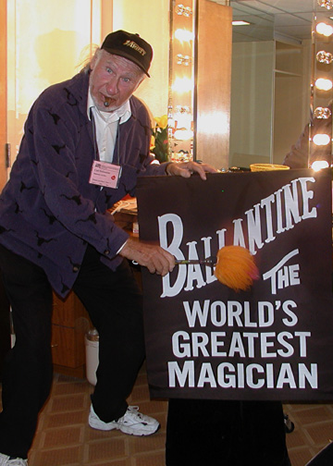 In addition to his magic act, which played all over the world, and was the first magic act to headline in Las Vegas, Ballantine was (and still is) an accomplished actor. He starred in, and is best remembered for his role of Lester Gruber, TV series McHale's Navy alongside Ernest Borgnine and Tim Conway. Before that, he was a regular on the comedy TV series, Car 54 Where Are You?
His movie roles include a memorable turn in Mel Brook's movie, The World's Greatest Lover, and Mr. Saturday Night with Billy Crystal. His voice can be heard in television and radio commercials throughout the U.S., and he is often a guest star in numerous TV series and films. (At left: Carl with the cast of the short-lived TV series, One in a Million. He was a regular, playing the part of Max.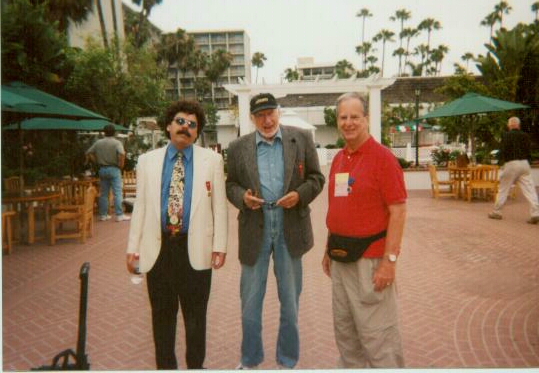 This is Carl and Steve Dacri before their first historic lecture entitled, "Ballantine & Dacri - Comedy and Magic" at the IBM International Magic Convention in San Diego in 2002. The event drew a standing room only crowd of over 1,000 people, and when it was over, they received a thunderous standing ovation.
By popular request, Carl and Steve presented "Part Two" of this historic lecture in Reno, Nevada at the IBM Convention in July 2005.
Ballantine DVD - An Appreciation
The IBM International Convention featured, in addition to this historic lecture, a performance of The Amazing Ballantine in the evening stage show. Carl presented the legendary act that he is known for, as seen on the Ed Sullivan Show and countless stage and TV appearances for over six decades. "Sullivan never could figure out what the heck I did", says Carl. "He just didn't get it". The madcap, high-energy, laugh-filled act, punctuated by tricks that always fail and props that get out of hand, was another highlight of the convention, and will go down in history as an often-copied, yet never duplicated performance. It was the last time he presented the act, which has now been officially retired (again).
He does, however, still consult with performers, and takes the occasional acting and voice jobs when he feels like it. He is still full of energy, smokes six cigars a day, studiest the Daily Racing Form and picks the horses for the day, and always has a new joke during our telephone conversations and get togethers. He is also a great cook. We share recipes, and we are always searching for great restaurants to try out.
On December 5, 2005, friends and fellow performers from the film, television and stage world gathered to pay tribute to the comic legend. Among them, Carl Reiner, Ernest Borgnine (via satellite) Steve Martin, Dick Van Patton, Jane Kean, Penn & Teller, and hundreds of other show business luminaries told jokes, performed some funny magic and roasted Ballantine, who frequently commented from the front row, puffing on a Cuban cigar, and cracking jokes. For more details and Ballantine Historic DVD...
Filmography as: Actor, Himself, Notable TV Guest Appearances:
Actor - filmography
Aimee Semple McPherson (2004).... Realtor in China

Farewell to Harry (2002) .... Hickey
Million Dollar Kid, The (2000) .... Lieutenant

Susan's Plan (1998) .... Harold Beyers
... aka Dying to Get Rich (2000) (USA: video title)
My Giant (1998) .... Rabbi
Oink (1995) .... The Doctor
Mr. Saturday Night (1992) .... Freddie

"Garfield and Friends" (1988) TV Series (voice) .... Al Swindler
Blacke's Magic (1986) (TV)
Best of Times, The (1986) .... Arturo
"One in a Million" (1980) TV Series .... Max Kellerman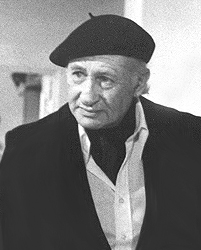 Just You and Me, Kid (1979) .... Reinhoff the Remarkable
North Avenue Irregulars, The (1979) .... Sam the Tailor
... aka Hill's Angels (1979) (UK)
World's Greatest Lover, The (1977) .... Uncle Harry
Revenge of the Cheerleaders (1977) .... Dr. Ivory
... aka H.O.T.S. III (1982) (UK: video title)
How to Break Up a Happy Divorce (1976) (TV) .... Conductor
Girl Most Likely to..., The (1973) (TV) .... Dr. Hankim
Saga of Sonora (1973) (TV)

"Queen and I, The" (1969) TV Series .... Becker
Shakiest Gun in the West, The (1968) .... Abel Swanson
Speedway (1968) .... Birdie Kebner
Penelope (1966) .... Boom Boom
top
McHale's Navy (1964) .... Torpedoman Lester Gruber
"McHale's Navy" (1962) TV Series .... Lester Gruber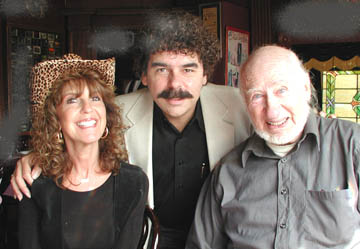 Here's The Amazing One with Jan & Steve Dacri during one of their many lunches at the Magic Castle, in Hollywood, California.
Photos from the historic Ballantine & Dacri Comedy and Magic Lecture in San Diego.

Below, Milt Larsen interviews the two friends before the lecture begins. Bottom Right, Carl and Steve with Official Magic Web Channel Photographer George

Photos by Jan Dacri
Filmography as: Actor, Himself, Notable TV Guest Appearances
Himself - filmography

Vaudeville: An 'American Masters' Special (1997) (TV) .... Himself

Magic of David Copperfield, The (1978) (TV) .... Himself ('The Great Ballantine')
Filmography as: Actor, Himself, Notable TV Guest Appearances
Notable TV Guest Appearances
"Spider-Man" (1994) playing "Lenny Lankowski" (voice) (as Carl Ballentine) in episode: "Sins of the Fathers Chapter 13: Goblin Wars" (episode # 3.13) 16 November 1996
"P.S.I. Luv U" (1991) playing "Mo Hornsby" in episode: "What's Up, Bugsy?" (episode # 1.7) 9 November 1991
"Cosby Show, The" (1984) playing "The Great Ballantine" in episode: "The Show Must Go On" (episode # 4.13) 17 December 1987
"What's Happening Now!" (1985) playing "Mr. Higgins" in episode: "Dwayne's Big Step" (episode # 3.5) 24 October 1987
"Night Court" (1984) playing "Fabulous Falconi" in episode: "Could This Be Magic?" (episode # 3.18) 27 February 1986
top
"Double Trouble" (1984) playing "Rollo the Great" in episode: "Do You Believe in Magic?" (episode # 2.2) 8 December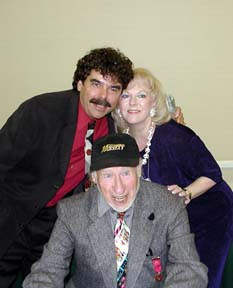 1984
(At Left: Carl with Steve Dacri and Gay Blackstone, 2003)
(Photo by Jan Dacri)

"Trapper John, M.D." (1979) playing "Roland Shulman" in episode: "My Son the Doctor" (episode # 6.2) 14 October 1984
"Alice" (1976) playing "Freddy" in episode: "Spell Mel's" (episode # 6.16) 7 February 1982
"Fantasy Island" (1978) playing "The Great Zachariah" in episode: "Delphine/The Unkillable" (episode # 4.20) 11 April 1981
"B.J. and the Bear" (1979) playing "Magician" in episode: "B.J. and the Seven Lady Truckers"
"CHiPs" (1977) playing "Stevens" in episode: "Rustling" (episode # 1.14) 12 January 1978
"Laverne & Shirley" (1976) in episode: "Two Weirdos" (episode # 2.9) 7 December 1976
"When Things Were Rotten" (1975) playing "Waiter" in episode: "Ding Dong, the Bell Is Dead" (episode # 1.7) 22 October 1975
"Love, American Style" (1969) playing "Chicken Little" in episode: "Love and the Newscasters" (episode # 3.22b) 25 February 1972
"Partridge Family, The" (1970) playing "Pitchman" in episode: "Partridge Up a Pair Tree" (episode # 1.21) 19 February 1971
"Virginian, The" (1962) playing "Matt" in episode: "The Politician" (episode # 9.15) 13 January 1971
"Love, American Style" (1969) in episode: "Love and the Shower" (episode # 1.10d) 1 December 1969
"I Dream of Jeannie" (1965) playing "Carl Tucker" in episode: "The Used Car Salesman" (episode # 4.5) 4 November 1968
"Mayberry R.F.D." (1968) playing "Ernie" in episode: "The Copy Machine" (episode # 1.5) 21 October 1968
"Dean Martin Show, The" (1965) playing "Himself" 15 February 1968
"Laredo" (1965) playing "Lemuel Beamish" in episode: "Hey Diddle Diddle" (episode # 2.21) 24 February 1967
"Monkees, The" (1966) playing "Hubbell Benson" in episode: "Find the Monkees" (episode # 1.19) 23 January 1967
"Andy Williams Show, The" (1962) 29 October 1963

"Car 54, Where Are You?" (1961) playing "Al" in episode: "Quiet! We're Thinking" (episode # 1.29) 8 April 1962
"Car 54, Where Are You?" (1961) playing "Al" in episode: "Christmas at the 53rd" (episode # 1.15) 24 December 1961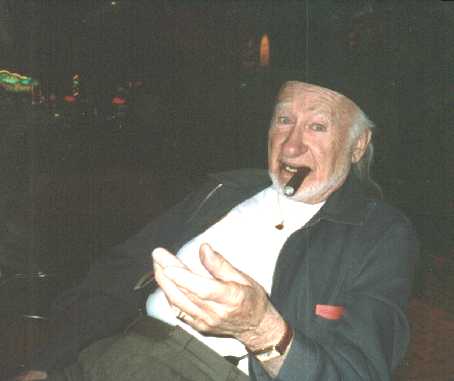 "Car 54, Where Are You?" (1961) playing "Al" in episode: "The Taming of Lucille" (episode # 1.12) 3 December 1961
"Shirley Temple's Storybook" (1958) playing "Gonzorgo" in episode: "Babes in Toyland" (episode # 2.14) 25 December 1960
"Startime" (1959) playing "Merlin" (as The Amazing Mr. Ballantine) in episode: "Tennessee Ernie Ford Meets King Arthur" (episode # 1.31) 10 May 1960
"Startime" (1959) playing "Himself" (as The Amazing Mr. Ballantine) in episode: "Fun Fair" (episode # 1.30) 3 May 1960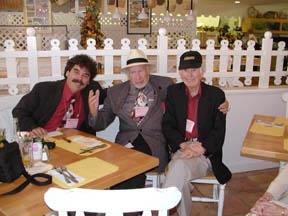 At Left: Carl is surrounded by Steve Dacri and the legendary Lee Grable in San Diego, 2003 (Photo by Peter Reveen)
back to hall of fame first page