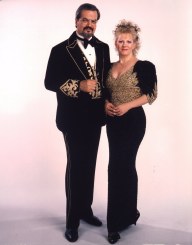 Blackstone's son, Harry Jr., was born on June 30, 1934, in Three Rivers, Michigan. At the tender age of 6 months he was introduced to the world of magic, mysteriously disappearing and reappearing on stage with his father. But in 1965, when the senior Blackstone died, Harry Jr. was working as a radio disc jockey and television host. (He had also earned a BA at the University of Southern California and served with the U.S. Army Security Agency.) It was only in 1971 that he began his career as a magician, carrying on the traditions of his father.
(At left: Harry and his devoted wife, Gay, at the height of his popularity)
Harry Jr. performed many of his father's signature tricks, including the Dancing Handkerchief and the Buzz-Saw. His version of the Floating Light Bulb is regarded by many magicians as perhaps the most beautiful illusion ever performed. He was also much admired for executing some of the largest in-theater illusions in the history of magic — like making an elephant disappear in a puff of smoke! He went on to create one of New York's longest running magic shows and brought the act to audiences in Europe, Asia and Australia. He was twice named "Magician of the Year" by the Academy of Magical Arts, and was awarded the academy's Star of Magic, making him one of only 11 magicians, including his father, to be so honored.
Every time Harry Blackstone stepped on stage for a performance, he brought with him the legacy of an American theatrical tradition that dates back for nearly a century. Harry Blackstone is the gifted son and professional heir of The Great Blackstone, America's legendary creative magical genius who led the art of stage magic and illusion to heights never achieved before his era. The son did a great deal more than merely follow in his father's footsteps. Harry Blackstone was an author; an actor; an inventor; a casino showroom headliner; a TV personality; a teacher; a father; and the creator and performer of the largest magic and illusion show ever to play Broadway.
No magician in history has been more honored by his peers than Harry Blackstone. Named "Magician of the Year" in 1979 and 1985 by the Academy of Magical Arts, Harry has also been named the Society of American Magician's "International Ambassador of Magic". He and his wife, Gay, have been made Honorary Life Members of the Academy of Magical Arts, the Hollywood Magic Castle. He is also the recipient of the coveted "Star of Magic", an honor bestowed to only 11 other magicians, including his father.
Born in Colon, Michigan, 'The Magic Capitol of the World,' Harry's career in magic began at age of six months, appearing - and disappearing - in his father's illusions. Under the master's watchful eye, young Harry grew up learning the elements of his exacting craft. He went on to perform such world-famous illusions as The Floating Lightbulb, The Vanishing Birdcage, The Dancing Handkerchief, and the frightening Buzzsaw, all of which he learned and perfected with his father's guidance and encouragement.
But far from satisfied with repeating the feats of his father, Harry strived in his own act to develop the art of magic into something both uniquely and arrestingly modern. As he said, "What I am undertaking is the challenging - but delightful - task of bringing this magnificent art to even higher levels, building on what has gone before, injecting a modern, innovative presentation that is very much of the present, of the future, and of my own creation."
Harry proved the popularity of this modern approach in 1980, when after touring the U.S. and setting box-office records in sixteen major cities, he arrived at the Majestic Theater on Broadway, where to unanimous rave reviews he presented the longest-running magic and illusion show in the history of the New York theatre. His show continues to recieve rave reviews and standing-room only audiences in its world-wide tours.
Harry then set his sights on television. He starred in three of his own magic specials (one for PBS and two for HBO). He has also appeared as a guest on numerous other television shows such as "Donahue," "The Today Show," "The Oprah Winfrey Show," "The Tonight Show with Johnny Carson," "The Arsenio Hall Show," "The Smothers Brothers Comedy Hour," "The New Mickey Mouse Club" and "Hart to Hart." Harry has also appeared on international television on BBC's "The Children's Royal Variety Gala" from London, "The Blackstone Family TV Special" for NTV-Japan, and Thames TV's "The Best of Magic." And in November, 1990 he hosted the "International Magic Awards", a 2 hour television special originating in 5 countries on 3 continents and seen by 1/2 billion people worldwide. But if you ask him which are his favorites, he'll mention two: his role as "Dr. Mephisto" on the NBC-TV daytime drama "Santa Barbara," and his recurring presence on the daily PBS series "Square One TV," where he teaches young people by combining conceptual mathematics with magic.
When it comes to performing live, Harry Blackstone's versatility and inventiveness allowed him to be equally comfortable in such diverse settings as China, appearing with the Shanghai Circus and on stage at the Tropicana Hotel in Atlantic City, where reviewers unanimously proclaimed his 90 minute magic review the "Show of the Year."
To unanimous critical acclaim, Blackstone continued to present his unique "Magic of Music and Music of Magic" in symphonic halls throughout the country. This performance is an examination of the four thousand year 'History of Mystery,' with live illusions, full stage graphics and an entire symphony orchestra.
Away from the bright lights, Harry continued to meet with success in a broad spectrum of entertainment-related careers. In 1985 he was honored as "Speaker of the Year" by the International Platform Association. He has co-authored three books ("The Blackstone Book of Magic and Illusion", "There's One Born Every Minute" and "My Life As A Magician", and re-edited his father's "Blackstone's Secrets of Magic." Blackstone designed and inaugurated a line of four magic kits, "The Magic World of Blackstone" which have become the largest-selling magic items in U.S. history. In 1990, blackstone designed and produced magic illusions and special effects for the New Kids on the Block "Magic Summer Tour" and subsequent "No More Games Tour."
(At left: a publicity photo from 1964 of the very handsome Harry)
In 1985, on the 100th anniversary of his father's birth, Harry donated to the Smithsonian Institution in Washington D.C. the original floating lightbulb - designed and built by Thomas Edison - and the original Casadega Cabinet, used in the aforementioned "Dancing Handkerchief" illusion. It was the first ever donation accepted by the Smithsonian in the field of magic.
On the rare occasions when he was not working, Harry and his wife, Gay, and daughter Bellamie would retreat to their Redlands, California home with three cats, two dogs, a Bengal tiger, several thousand small white rabbits, and an elephant!
On May 14, 1997, Harry Jr. died from a severe bacterial infection, complications from an aneurysm, and pneumonia. Remembered for his warmth, friendliness and good humor onstage and off, he is quoted as saying, "Nothing I do can't be done by a 10-year-old… with 15 years of practice."
back to hall of fame first page