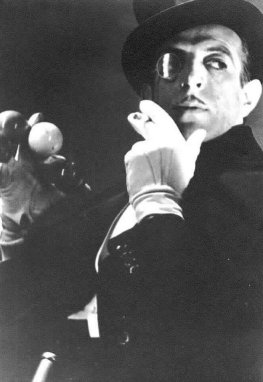 Richard V. Pitchford hailed from in a small Welsh village, began life in a packing house and later as a hotel bellboy at a very early age because of his family's financial straits. Like so many other children, he experimented with small conjuring tricks, and he liked to say, "i never stopped practing these silly tricks."
. It was in the British army, where he enlisted at the age of seventeen, that Pitchford made the fateful decision to take his sleight of hand seriously. In fact, he perfected his card fan productions in the European trenches during World War I. Because of the dreadful cold in the trenches, Pitchford found it necessary to practice while wearing gloves. Because of the difficulty of producing single cards while wearing the gloves, he produced them in packets instead.
A British officer remarked to him one day that he had never seen a magician produce fans of cards, and Pitchford saw the novelty of his effect and began working on the production of fans of cards. This British officer, aside from being the one who pointed out Pitchford's novelty effect, also was the role model that Pitchford would base the character of Cardini on: an aloof, monocled, smoking, respectable gentleman. His trademark also included the fact that he would seem just as surprised as the audience by the magical happenings that took plae in his hands. It was a great stage personna which helped make Cardini a legend in the world of magic.
In 1916, a bomb exploded near Pitchford. He was believed dead, but another soldier detected faint breathing, and Pitchford was rushed to an army hospital. His recovery was long and slow. To break the monotony and boredom, Pitchford began working on his magic. When he asked the nurses for a deck of cards, they were understanding; they sent him to a mental ward when he asked for a pair of gloves. The psychiatrists there found that he wasn't insane, and Pitchford began performing for the other patients. Somewhere in the eighteen months it took for him to recuperate from his injuries, Pitchford made the decision to become a professional magician.
Pitchford was not immediately successful, and in 1918 he was working behind a magic counter in a store in London, demonstrating tricks. He decided to travel to Australia for his health. In Sydney, his act was a hit at the Tivoli, one of the largest theaters in the city. At this time, Pitchford (now known as Val Raymond on stage) performed a routine featuring cards, silks, and thimbles. Most importantly, he was speaking and talking during these routines, something that he would drop later. However, "Val Raymond" was short-lived; there was an American competitor performing in Australia at the time who billed himself as The Great Raymond. Pitchford's agent suggested that he choose another stage name, and Pitchford became Cardini. He told friends that he chose the name as a play on the Houdini name, along with his focus on card magic. Interesting to note, though, is when Cardini was at the peak of his popularity, he abandoned the playing cards altogether.

Cardini arrived in the United States in 1926. He performed on the West Coast, doing the same act he had performed in Australia. Things changed for the better when he ran into a charming and lovely woman, Swan Walker. Swan had seen Cardini while they were both working at the same hotel. Some weeks later, she encountered him by chance during a vacation. Swan was taken by the handsome performer, went backstage, and introduced herself. The two had a whirlwind month-long courtship and were married. They remained married for 47 years, until Cardini's death in 1973.
Shortly after the wedding, Swan joined Cardini's act as an assistant. However, Cardini changed little of the act itself. Swan was on-stage for little more than window-dressing. But when other magicians began performing silk and thimble manipulations, Cardini dropped them from the act entirely, replacing them with cigarettes and billiard balls. He decided to stop talking during the routine, favoring pantomiming instead. Swan began dressing in the costume of a hotel page boy.
The new act began with Swan calling out "Paging Mr. Cardini! Paging Mr. Cardini!" Cardini would enter from the back of the room, reading a newspaper, dressing perfectly in top hat, tails, cape, and gloves. With him were his cane and his trademark monocle. He walked among the audience, semmingly oblivious to the people around him as he walked in. Cardini, the character, was extremely aloof, extremely dignified, and struck quite a figure. As Cardini read through the newspaper, he was surprised and a bit annoyed when a card fan appeared at his fingertips. He threw handful after handful into the newspaper as the cards continued to appear over and over again.
Finally, Cardini liberated himself from the playing cards, but now they were replaced by billiard balls. He was constantly surprised as he found his hands continually filled with billiard balls. Sometimes their appearance was so shocking that his monocle would fall from his eye. He threw ball after ball from his fingers, only to have more appear.
At last, the balls stopped coming. Cardini, spent from the aggravation of the appearance of cards and coins, would settle down and relax with a cigarette. Even that was not to work as planned. Lighted cigarettes began appearing in droves. He would take a puff of one and watched with no small amount of disgust as more cigarettes appeared from nowhere. No sooner than he would through one batch down and stamp it out than another would appear. As they appeared quicker and quicker, something surprising happened: the cigarettes vanished, and a smoking cigar appeared. The cigar vanished, leaving in its place a pipe. Cardini took the pipe and left the stage smoking it.
Cardini's character was perfect for such a routine. He remained cool, composed, and every bit the gentleman. A bit bored at first, maybe a bit tipsy. His tall, slim look aided him in conveying the character of an unflappable English gentleman and also gave him the look and appeal of a movie star.
Richard and Swan entertained throughout the United States and Europe, and they were a smash. In London, they worked at the Palladium for ten straight months and gave command performances before British royalty. In New York they were booked for repeat performances at the Radio City Music Hall. Cardini had the distinction of being one of the few magicians to headline a variety bill at the Palace Theater.
Eventually, the Cardinis bought a home in Jamaica, New York, where they raised two children, a boy and a girl. In 1966, the couple retired to a home in northern New York. Cardini died in 1973. But his legend remains and his accomplishments will be talked about and marveled for decades to come. We salute this true gentleman of magic here in the Internet Magic Hall of Fame as one of the first, and highest vote-getters since its inception. At this writing, John Fisher is completing a book on Cardini's life. We urge you to get ahold of this exhaustive look at the life of Cardini, due to be published in 2005.