.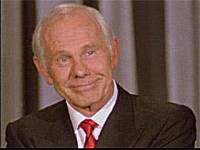 "It's a sad day for his family and his country," David Letterman said
.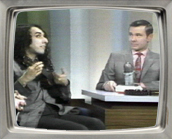 Carson's longtime bandleader, Doc Severinsen, said, "I am deeply saddened by Johnny's passing. He was a great friend, a mentor and many of the good things that I value came from his presence in my life, especially my wife, Emily. We will miss him and love him always."
Bette Midler, who serenaded Carson as his last guest in 1992, said he was a "little bit of devil, a whole lot of angel, wit, charm," and good looks.
President George W. Bush called Carson "a steady and reassuring presence in homes across for three decades."
TOP

(January 25, 2005) LAS VEGAS - Yesterday (Jan 23) the world lost another legend of show business. Johnny Carson passed away at his Malibu Beach home, with his wife and family around him. He will be missed all over the world. The LA TIMES SAID, "Johnny says his final Good-Night". He was 79.
Johnny Carson began performing professionally at the age of fourteen as a magician-comic, "The Great Carsoni," for the local Rotary Club in his hometown of Norfolk, Nebraska. After a two year stint in the Navy during World War II, and four years as a radio-drama major at the University of Nebraska, Carson hit the entertainment industry as a radio announcer-disc jockey before landing several TV shows, most notably, "Who Do You Trust" before taking over the reins of the Tonight Show from another legend, Jack Paar. And the rest, they say, is history.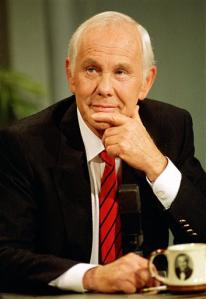 I remember sitting in my dressing room with him, before the taping of my appearance on his Tonight Show back in 1977. Normally he does not want to meet his guests before the taping, preferring to keep it fresh and spontaneous, but we were supposed to do a trick together, sort of as a gag, and he wanted to go over the details with me. We ended up sitting and trading card tricks with one another. He showed me a few moves with a deck, cuts and shuffles on my close-up pad, and we worked out a routine to do together. We never did get to do that bit, as the timing of my segment ran longer than scheduled.
He was extremely gratious, and full of energy, sitting there in his jeans and casual shirt, poking though my prop case with great interest. As we are both also drummers, we also talked about Buddy Rich, the greatest drummer who ever lived. We compared notes on each other's drum kits and speculated on the corelation between drumming and sleight of hand. We were finally interupted by a production staff member, as the time had been flying by. For a few moments that day, the legend was merely another magic nut, marvelling at the props and gimmicks, and sharing routines. I gave him a locking half-dollar stack and tube, after first teaching him a routine with the great prop (made for me by Eddie Gibson in England). He thanked me in a letter a few weeks later, saying he had fooled many of his friends with it already.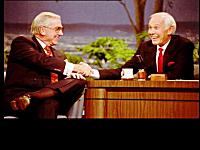 TOP
I showed him many routines that he thought might be good for a return visit. That return visit never materialized. I was booked and bumped two more times.
Many of my friends did the Carson show back then; Lance, Harry Blackstone Jr., Jimmy Grippo, Michael Skinner, Harry Anderson, Jim Teter, Dean Dill, Paul Gertner, to name a bunch. There were too many to list here...Johnny loved magic and was always generous in his praise of good magic presentations.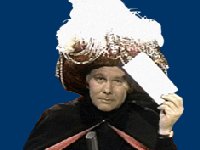 Daytime talk show host Oprah Winfrey described Carson as "one of the greats of our time."
"He was the greatest talk show host of our time, with the quickest mind," comedian Billy Crystal said.
Carson's longtime sidekick said the late-night host was "like a brother to me."Ed McMahon released a statement Sunday saying that, even years after he and Carson no longer worked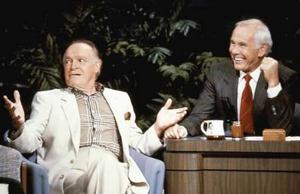 together, he still thought of Carson as "the boss."
For decades, it was McMahon's booming intro "Heeeeere's Johnny!" that ushered Carson onto the "Tonight Show" stage.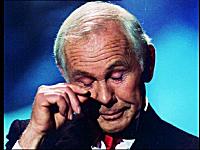 McMahon said that their 34 years working together, and the 12 years since, resulted in a bond of "respect andgreat admiration." In recent years, he'd look to Carson for advice whenever a "big career decision" came up.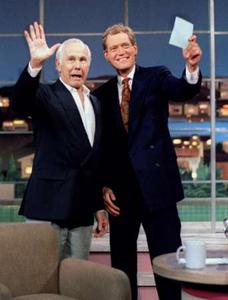 Our thoughts and prayers go out to Johnny's wife, his family and all of his friends. He will be remembered always...
Johnny began his career at age 14 with a magic act called "The Great Carsoni" in Norfolk, NE, where he grew up. As a Navy ensign aboard the USS Pennsylvania in 1945, he was the only officer to consciously entertain enlisted men during shows on the ship. While a student at the University of Nebraska, he was allowed to be late for his first class so that he could work at a local radio station, KFAB and then worked at WOW in Omaha, where he wrote comedy and announced commercials for a 15-minute program.
Deciding that his future was in California, he landed a job in 1950 as staff announcer for KNXT (now KCBS-TV) in Los Angeles, where he soon hosted his own program, "Carson's Cellar." It ran until mid 1953.
He temporarily stopped his on-camera appearances to write material for Red Skelton's TV program. One night, just before air time, Skelton ran into a break-away door and suffered a concussion. On short notice, Johnny went on in Red Skelton's place, opening the show with a monologue he had put together while driving to the studio. Jack Benny's reactions: "The kid is great, just great," and "You better watch that Carson kid."
At 29, Carson became host of his own network show, "Earn Your Vacation," while also appearing as a substitute host for another up and coming TV personality, Jack Paar, on CBS's "The Morning Show." Carson continued to appear on CBS until 1956.
In 1957 he moved to ABC as host of a new daytime game show, "Who Do You Trust?." It was his first teaming with his future "Tonight" announcer, Ed McMahon. In 1958 he was again asked to fill in for Paar, this time on NBC's "The Tonight Show." On October 1, 1962, Groucho Marx introduced Carson to the nation's late-night television audience as the new host of "The Tonight Show."
Carson has won six Emmy Awards, received the Academy of Television Arts and Sciences' prestigious Governors' Award in 1980 and a George Foster Peabody Award in 1986. In 1987 he was inducted into the ATAS Hall of Fame. And for his humanitarian efforts, the American Friends of Hebrew University honored him with the Scopus Award in 1989.
In 1992, Johnny won the Presidential Medal of Freedom and the American Comedy Lifetime Achievement Award. In 1993 he received the Kennedy Center Lifetime Achievement Award.
Born in Corning, IA on October 23, 1925, Carson grew up in Norfolk, NE. Johnny passed away peacefully January 23, 2005 surrounded by his wife Alexis and his family. His children are Ricky (passed away in 1991), Chris and Cory. Chris is a golf instructor living in Florida and Cory is an accomplished musician in the Los Angeles area.

Johnny Carson
Posted by James Wolcott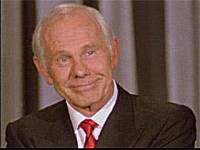 Unable to let go, some entertainers hang around so long (too long) that they fade and enfeeble before our eyes, milking out guest spots and relying on the affectionate memories of the performers they once were. They overdraw on our memories until our memories become as tired as they look. Once death finally comes, it's the end-point of their diminishment, a drawn-out tapering-off from peaks reached in the grainy past. This didn't happen with Johnny. He decided not to let it happen, and stuck to his decision. After three decades as host of the Tonight show, Carson quit at the top and never glanced back or sideways, preserving the memory of a comedian in his silvery prime and making everyone who came after him look primitive. His poise, his polish, his precision, were unsurpassed. I was dispatched to LA to catch one of his last shows for Vanity Fair and what struck me sitting in the audience--something that one didn't come through simply watching at home--was the power of his presence. He was taller than one expected, and when he popped through the curtain, he project a physical force that one didn't expect. (Letterman's a big guy too, but he doesn't have the concentrated energy that Carson had--the dynamic focus.)
In retirement, Carson became appalled by the degeneration of cable news coverage and political discourse post 9/11. I received a wonderful note from him a few years ago--a note from Johnny Carson! I've never opened an envelope more gingerly--in which he lamented the dying out of voices of reason such as astronomer Carl Sagan, a frequent guest on his show. An astronomy buff himself, Carson prized science and reason. In his latter years he must have felt even more estranged from a country embracing its own hysteria.
01.23.05 2:44PM