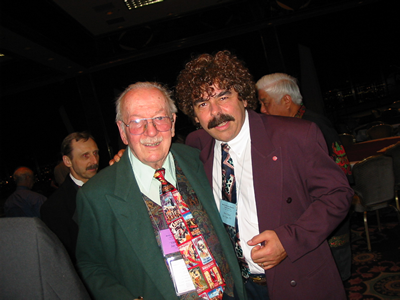 Jay Marshall, a magician whose accomplishments - from appearing 14 times on "The Ed Sullivan Show" to playing New York's Palace and London's Palladium - persuaded America's conjurers to elect him their dean, died Tuesday in Chicago. He was 85.

The cause was a heart attack, his son Alexander said.
In 1992, Mr. Marshall became dean of the Society of American Magicians. He kept the title until his wand was broken at his funeral in a magicians' ritual. He was only the eighth dean in the history of the organization, and his picture was on the commemorative coin issued upon its centennial three years ago.
He was an enduring hit from vaudeville to Broadway to Las Vegas, where he opened for Frank Sinatra in one of his early appearances there.
The legendary Carl "The Amazing" Ballantine told us that Jay would not have had a career if it wasn't for him. "He filled in for me at the famous Diamond Horseshoe on 47th Street in New York. That gave him a career, got him started. He was a great friend, and a very, very funny man, both onstage and off."
Todd Karr, a publisher of magic books, said the deanship meant Mr. Marshall was the elder of legerdemain, "sort of the idiot of the global magic village."
Siegfried Fischbacher of Siegfried & Roy said: "Jay Marshall was a name synonymous with magic. He was one of magic's most beloved figures."
A writer, editor and collector of all things magic, as well as owner of one of the nation's leading stores in the business, Magic Inc. in Chicago, Mr. Marshall was valued by students for his immense knowledge going back to the glory years of vaudeville. In 1957, as part of the last variety bill to play vaudeville's legendary Palace Theater, he occupied the most prestigious place on the bill: the spot next to the closing act.
"He was the primary source on so many things," Teller of Penn & Teller said, calling Mr. Marshall "the British Library and the Library of Congress combined" in matters magical.
Mr. Marshall sawed Nanette Fabray in half in the Broadway show "Love Life" in 1949 and appeared with countless celebrities, including Paul Robeson, Sid Caesar and Walter Cronkite.
For five years in the 1950's, he edited New Phoenix, then the largest magic magazine. He sold his huge collection of magic posters to David Copperfield for his museum, and the store became one of the three biggest mail-order magic businesses in the country.
As a performer, Mr. Marshall could move from mismatched plaids to well-cut evening clothes. He was also a superb ventriloquist, and his persnickety hand puppet, Lefty, a rabbit, was an early regular on the Sullivan show. (Lefty is now in the Smithsonian Institution with Charlie McCarthy and Kermit the Frog..) An early Lefty, it should be noted, was personally given to Ray Goulet, who proudly displays it in a very special place of honor in his magic museum next door to the Magic Art Book Company in Watertown, Massachusetts.
He was an indefatigable performer. When he appeared in "Love Life," the producer gave him permission to skip the closing bows to dart off by bicycle to play nightclubs, sometimes several in an evening.
In another Broadway show, he played the ghost of a bagpipe-playing British butler, having feverishly learned the instrument after lying that "of course" he knew how.
In 1973, he and his wife, Frances, wrote a three-volume book advising magicians on how to be successful; another of his books helped magicians master television. He originated a trick known as the Jaspernese Thumb Tie, which is still a staple of prestidigitators, and Teller calls Mr. Marshall's appearing to bounce a dinner roll off the floor a virtually perfect trick.
Always one to put himself down, Mr. Marshall always said he was "one of the better cheaper acts."
James Ward Marshall was born on Aug. 29, 1919, in Abington, Mass. At 7, he saw Houdini perform but fell asleep, according to a 1996 interview in Genii, a conjurers' magazine. But he watched other magicians, including Howard Thurston, an earlier dean, with increasing interest. He traded away his bicycle to buy a mail-order magic course.
He spent a year at Bluefield College in Virginia, but the siren of show business called. At a magic society convention in New York, he met Naomi Baker, whose father, Al, was a dean of magic. They were married and settled in New York, and Mr. Marshall began developing routines, partly through research at the New York Public Library.
He served in the Army in the South Pacific and developed his first puppet when he found it was impossible to take along a ventriloquist's dummy. He made the puppet from a sock and the ears from its mate.
His first marriage ended in divorce, and he married the former Frances Ireland, whose husband owned a Chicago magic store until he died in the 1950's. Frances, widely respected as a magic writer, merchant and performer, died in 2002, after 48 years of marriage.
In addition to Alexander, who lives in Manhattan, Mr. Marshall is survived by another son, James, of Port Townsend, Wash.; a sister, Marjorie Bamman, of Huntington, N.Y.; five grandchildren; and five great-grandchildren.
Mr. Marshall won many awards in the United States, Britain and elsewhere. But in the Genii interview, he told the writer Max Maven how he came to be dean of magic.
"What do the dean do?" he remembered immediately demanding.
"As far as I know the dean don't do nothin'," the president of the magicians' society answered.
"That's the job for me!"
Tributes from all over the world appeared when word of Jay's death spread. Here's one such article...
By STEPHEN MILLER Staff Reporter of the Sun
Jay Marshall, who died Tuesday in Chicago at age 84, was the official dean of the Society of American Magicians, as well as perhaps the foremost comedy magician of his generation.
A skilled ventriloquist whose stylings were on display during his regular appearances on "The Ed Sullivan Show" in the 1950s and 1960s, Marshall was among the best-known and mostbooked magicians of the day. Although exemplary in his skills, he was known more for his patter than for any particular trick, and generally approached the stage with no more props than he could carry in his deceptively fitting tuxedo. A scholar of the vaudeville stage where he got his start, Marshall liked to bill himself as "one of the better of the cheap acts."
"He was a charter member of the school of suavity and drollery," a scholar and practitioner of magic, Robert Reiss, said.
Together with his wife, Francis Marshall, he owned Magic Inc., a Chicago shop and showplace that was also among the nation's most prolific publishers of magic books, including several written by him.
Marshall was born and grew up in Abington, Mass., the son of a banker in nearby Chicopee. In 1926, when Marshall was 7 years old, he saw Houdini perform, but celebrated this once-in-alifetime opportunity by falling asleep during the show. Houdini was dead within the year.
Marshall nevertheless took up magic as a child, and soon added ventriloquism to the act he performed for neighborhood children, accompanied by a dummy of his own construction. By the late 1930s, Marshall was touring in vaudeville. Working as an entertainer in the Army during World War II, he drastically pared down the equipment he needed to carry to a few small items — cards, rings, newspapers for folding in a trick called "Troublewit" — and instead of a dummy, began using a plain white glove as a puppet.Their conversations soon became the climax of the act.
Lefty, as he called the puppet, was a minimalist rabbit with a range of opinions about affairs of the day.He became popular enough after the war that Lefty was playing to huge audiences at Radio City Music Hall, as well as the Palace, the old Broadway vaudeville house where Marshall played second-to-last — the starring spot — no fewer than nine times. Society columnist Elsa Maxwell wrote that Marshall's was "the best routine I've seen in many a day."
In 1948, Marshall was hired to train an actor to play a magician for the new Kurt Weil musical "Love Life."The producers soon realized that Marshall himself would be a better choice for the role. He started the show with a few routine tricks, Marshall explained to the publisher of Magic magazine, John Mulholland. Next, the male and female leads came on-stage. Marshall levitated the man and then sawed the woman, Nanette Fabray, in half. "She's in half over here; he's floating in mid-air over there. I take a bow and walk off-stage," while Fabray talked about how men and women can't get together.
Because the role took all of four-anda-half minutes, Marshall got special permission from producers to be absent for the final curtain, and instead booked himself into fashionable nightclubs, like Blue Angel or Diamond Horseshoe, doing up to three shows a night. He later appeared in the Golden Jubilee edition of the Ziegfeld Follies and other, shorter-lived musicals. Marshall's popularity extended to Las Vegas, where he opened for Liberace and Frank Sinatra. As for being an opening act, Marshall cracked that, after all, it was "second-to-last."
He made numerous appearances on television, including 14 times on "The Ed Sullivan Show." Marshall published "TV, Magic, and You" (1955), essentially a guide for magicians who wanted to get on "The Ed Sullivan Show," although the author himself was known to sniff, "What magician can do anything more miraculous than the very television set he hopes to appear on?" Marshall also published various shorter how-to books, such as "Parakeet Magic." He also edited a New Yorkbased magic magazine, The New Phoenix.A videotape he made of closeup gross-out magic, for instance sneezing into a handful of popcorn, was titled "Jay Marshall's Table Crap."
In 1955, Marshall married Frances Ireland, proprietress of the Ireland Magic, a Chicago specialty store bequeathed to her at her previous husband's death. They reopened the store as Magic Inc. and built it into an active publishing house. Magic Inc. became the center of magic culture for Chicago, and to a certain extent for the Midwest. Chicago newspapers regularly sent reporters over to chew the scenery — rubber chickens, juggling supplies, trick instructions, and the like. A recent catalog from the store includes a number of tricks bearing Marshall's whimsical touch, including the Idiot Rope Trick, a standard rope trick except that the magician forgets his scissors. "Fun and laughter follow in good measure. With rope." He amassed a large collection of books, magic programs, and magic posters, which were recently sold to the magician David Copperfield, a protégé and long-time friend.
Marshall continued to find bookings right up to the end of his life."He retired a number of times, but somebody would always pay him enough to come back," his son, Sandy Marshall, said. Always a popular draw at magician's conventions, Marshall was elected dean of the Society of American Magicians in 1992. His 80th birthday was proclaimed "Jay Marshall Day" in Chicago. Lefty was donated to the Smithsonian Institution.
Marshall even used his own declining health as material. The torch song "If I Had My Way" had long been a part of his act with lefty, but after ocular surgery, it became "If I Had Eye Way." After his final hospitalization, a visiting friend said to him, "Let's get out of here," according to Sandy Marshall. "He said, 'How about Drake's Funeral Home?' So that's where we're having him buried."
And who, but the one only Jay Marshall, who liked to be called the Amazing Jasper, would turn a funeral into a party...

THE FUNERAL
It was the promise of a magician's funeral, in particular the "broken wand ceremony," that lured me Monday morning to Drake & Sons Funeral Home on the North Side. I couldn't place the name of the deceased, had never heard of a magician's funeral and knew nothing of the broken wand ceremony, but the mind boggled at the possibilities.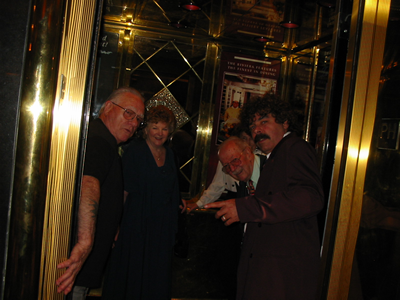 Would they saw the casket in half? Skewer it with swords? Perhaps make the corpse disappear? Replace him with a pretty girl in a sequined costume?
As it turned out, nothing more flashy than a card trick was performed, but I hardly left disappointed. That was apparently often the case where Jay Marshall was involved.
Marshall, 85 and by his own estimation "one of the better cheaper acts" in show business, was the man in the casket, and the sign on its lid was enough to let you know his would be no ordinary funeral.
"Not the first time I've died," it read, a reference not to any powers of rebirth but to the tribulations of a stage performer.
The funeral parlor was full of people who know what it is like to have died -- on stage -- and to go back for more.
They were magicians, ventriloquists, comedians and carnies, and they were eager to share their stories about Marshall, who come to find out, was all those things and then some.
I felt better when one of Marshall's friends described him as "the most famous celebrity that nobody knew."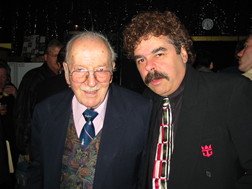 Photos of Marshall in the back of the room and an obituary from Friday's New York Times stirred my memory banks.
The photos showed a David Niven look-alike in evening clothes with a white sock puppet with rabbit ears on his left hand. "Lefty," as the puppet was known, made 14 appearances with Marshall on the Ed Sullivan television show. They opened for Frank Sinatra during his earliest days in Las Vegas and did the Jackie Gleason Show.
Their act combined magic and ventriloquism with a comedy born of his days in Vaudeville.
Another photo of Lefty atop the casket carried the caption, "I'm Speechless." Marshall previously donated the hand puppet to the Smithsonian.
But Marshall may be just as well known for the Magic Inc. shop he and wife Frances moved to Lincoln Avenue in 1962, where Marshall assisted and befriended generations of magicians. Several speakers said it was Marshall's willingness to treat every magician as a peer -- from the biggest international stars to 12-year-old kids -- that made him a beloved figure in his field.
Marshall allowed groups such as the Wizards Club to hold their meetings in the store, often punctuating downtime with his jokes.
"The jokes weren't always appropriate. They were always, always funny," said club member Keith Cobb.
Marshall's eulogy was performed by his youngest son, Alexander "Sandy" Marshall, who seemed to have inherited his father's showmanship and sense of humor.
Noting he was born within months of his father's discharge from military service, Sandy said: "For the first 15 years of my life, he referred to me as that god damned weekend pass."
Sandy said his father often observed that he had no problem with his own death.
"I just don't want to be there when it happens," he would say.
The breaking of the wand
Marshall was named dean of the Society of American Magicians in 1992 and was presented a wand, ancient emblem of mystery, to mark the occasion.
A fellow performer who goes by Aye Jaye was called upon to perform the broken wand ceremony Monday, officially marking the end of Marshall's tenure as dean. Breaking the wand was meant to be symbolic of the fact that without the magician it was nothing but a mere stick.
But first Aye Jaye did a card trick, using an audiotape with Marshall's voice that was one of the many magic teaching aids Marshall developed. The routine came complete with punch lines that produced the sought-after laughs.
Then Aye Jaye acted as if he was swallowing the wand, before pulling it out to reveal it was a trick wand that retracted as he appeared to put it down his throat.
Aye Jaye waxed philosophic, noting, "You've all died."
"Why the hell do we do this?" he said. ''For that one time we make it over. For that one great laugh. For that one great trick."
Aye Jaye got a pretty good laugh with this joke:
"Do you know what they call a magician who breaks up with his girlfriend?"
"Homeless."
Aye Jaye then told the story of the man who goes to see his doctor, and the doctor asks what's wrong.
"I can't pee," says the man.
"How old are you?" ask the doc.
"85," says the man.
"85? You've peed enough."
"Jay, you have peed enough," said Aye Jaye.
With that, he broke the wand.
Good Bye, Jay Marshall. You will never be forgotten.