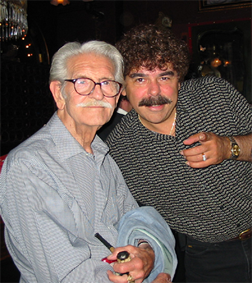 Today is May 1, 2006. It is the first day that the world is without Billy McComb. He left us yesterday. We are all still in shock.
What can we say about him? He was a friend, first and foremost. He was an inventor (many of his tricks and ideas are in use by some of the professional performers of the world), a comedian (described by all who met him as probably the funniest man in the world), a medical doctor (his father was a noted doctor, so Billy studied and became a doctor in order to please his family, but soon discovered that it did not make him happy), an actor (appearing in numerous television programs and films both in Europe and here in America), an author (one of magic's most popular books, McComb's Magic contains many practical gems for the performer), a performer (with multiple awards, trophies and accolades), and perhaps the most renowned historian of the magical arts today.
Billy has had enough experiences for five lifetimes, and enough awards to fill several garages and most of Terry Seabrooke's house, and yet, up until a short time ago, he was still performing and traveling, delighting anyone lucky enough to cross his path. He was billed as "The World's Largest Leprechaun", having been born in Northern Ireland.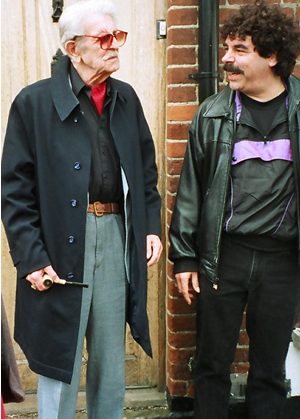 Billy is the son of Sir Charles Henry McComb, who was knighted by King George V for his valuable research in the field of X-rays. Billy tried to follow his dad's footsteps, but soon realized it was not to be. He quit and moved to London, looking for the bright lights of show business.
(At left: circa 2003 in Watford, England...)
Having advanced his skills since his first performances, playing in venues throughout London, he soon became a fixture in London's West End, doing anything he could to learn the trade. He did voice-overs, films, radio and he was becoming well known in the nightclub scene. He even opened for Bob Hope at the Prince of Wales Theater. Within a few years, Billy was headlining himself. with an original blend of comedy and magic. Then came the pinnacle of his career when he was asked to do a Royal Command Performance for Queen Elizabeth at The London Palladium. The show was a great success and Billy decided it was time to take his act to America.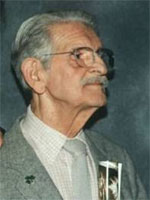 Americans loved his style as much as the Brits and Billy became such a huge hit he was booked on just about every television variety show on the air during that time. He has made over 300 personal appearances on TV and in movies. He has also starred in eight of his own TV shows for the BBC. He has worked the best theaters, cruise ships, and clubs around the world and is now internationally renown in the world of magic for his innovative effects. Billy has created many innovative routines and ideas, and his concepts appear in books and magazine articles, all of which are still poured over by magic students today.
At the age of 84, Billy still lived in Hollywood and was still actively performing, both live and on television show appearances.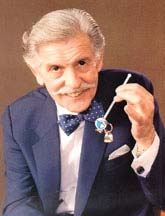 He was vice-president of the prestigious Magic Castle and an Honorary Lifetime Member. He was recently asked to play the Main Room at The Sahara in Las Vegas, a dream that had always eluded him, and was held over an unprecedented five weeks by the casino. The reviews were stellar and people both young and old loved Billy's classic wit and timeless humor. His self deprecating remarks about his age played an integral part in his show, helping to enhance it even more.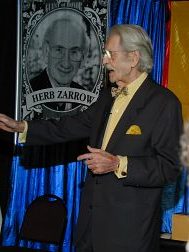 In the States, he has appeared on such TV shows as The Tom Snyder Show, Matlock, Adam 12 and the Disney TV movie, The Young Harry Houdini. Billy has also appeared in the movie Lord of Illusions with Clive Barker. His awards include two from the Academy of Magical Arts, and an election to the S.A.M.'s Hall of Fame. In 1999, Magic magazine selected him as one of the 100 most influential magicians in the 20th Century. And recently, over the past 5 years, Billy's career has had a sort of re-birth, with featured performances in Las Vegas, Billy was asked to open for The Amazing Jonathan, and has appeared in The Lance Burton Show at the Monte Carlo Hotel & Casino many times.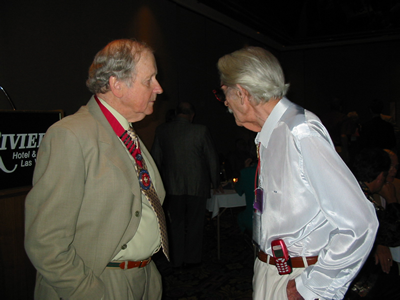 In Las Vegas with friend and Past President of The Magic Circle, Michael Bailey...
Magicians from all corners of the world came to see and learn by watching The One and Only McComb work his magic. He was recently honored and roasted by his peers who included Harry Anderson, Penn & Teller, and all of the luminaries of magic who, at one time or another, were influenced by Billy.

As a matter of fact, more than any other performer, most contemporary successful comedy magicians will gladly admit that they have been influenced and guided by Billy McComb, some even crediting their careers to him. And no wonder: every detail of his act is worked out and refined, fueled by his enthusiasm for magic and hyperactive creativity. He was a master of the stage, from the minute he walked out until the finish and bow.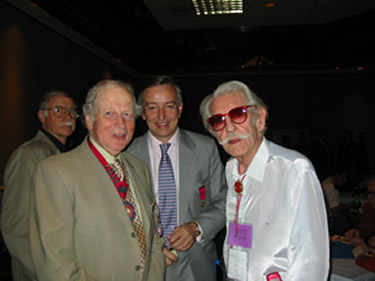 At Right: Past President Michael Bailey and Secretary Chris Pratt of The Magic Circle confer with fellow member Billy during the S.A.M. Convention in Las Vegas in 2003.

Billy McComb was a true gentleman and people could always sense that when they would meet Billy without a word spoken. His charm and sparkle were genuine and infectious. He is truly one of the last of a rare breed of entertainers.
.
---
Billy McComb
April 22, 1922 - April 30, 2006
Influential entertainer and world-class magician - from London Papers...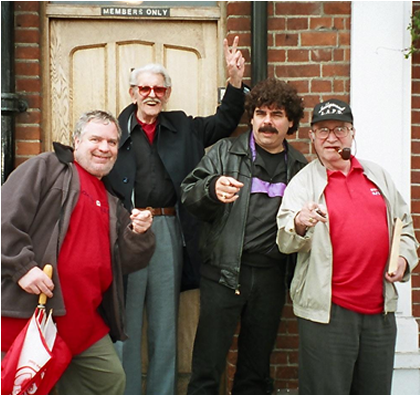 BILLY McCOMB was one of the world's top cabaret magicians, a brilliant, inventive performer who was known for his stylish presentation and off-beat comedy patter.
Nicknamed "the Encyclopaedia Britannica of magic", he influenced generations of magicians in Britain and America and contributed enormously to the world of magic through his original thinking. Many of his effects and routines are now standard in the world of comedy magic. In 1999 he was named by Magic Magazine as one of the 100 most influential magicians of the 20th century.
(At right, at their local meeting place in Bushy, England, fellow members of The Magic Circle convene. From left, Rob Cox, Sir Billy McComb, Steve Dacri and Lord Terry Seabrooke.)

McComb was born in Belfast in 1922, the son of the physician Sir Charles Henry McComb, who was knighted for his research into X-rays. McComb graduated as a doctor of medicine in 1949 to please his father but the same year moved to London to pursue his own ambition to be an entertainer. There he met and married June Cochrane, an Irish beauty queen, who later performed a magic act as June Merlin.
Billed as the "world's largest leprechaun" McComb began working professionally as a magician and quickly made a name for himself in London nightclubs and theatres. He appeared regularly on television, made small cameo film appearances and in 1951 supported Bob Hope in variety at the Prince of Wales Theatre.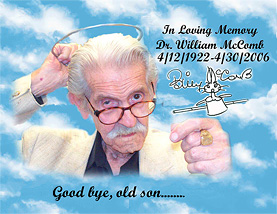 By the mid-1950s he was acknowledged as one of the country's finest magicians and he was in demand as an adviser to magic shows worldwide.
The magician John Wade said: "McComb was a very good entertainer. He had a way of making small tricks look quite big on stages such as the London Palladium — as with his performance of taking any borrowed coin from a spectator, who found that somehow their coin was now rattling about inside a small Coke bottle. It was always returned in good order. In nightclubs he would produce many silk scarves as he walked around the tables and on returning to the cabaret floor would astonish people by producing from the bundle of scarves a live squawking chicken."
McComb went on to become one of the highest-paid entertainers on cruise liners such as the QE2, and in 1969 he co-starred with Arthur Mullard in the ITV sitcom On the Rocks. In the series, he played a mad producer at Seaview Television, the smallest TV station in Britain, which operated from a lighthouse.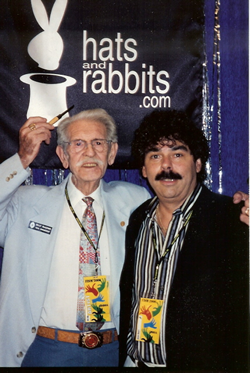 (At left, Billy McComb and Steve Dacri in Lisbon, Portugal for the launch of this website during FISM 2000)
In the 1970s he moved permanently to Hollywood where he became the doyen of the prestigious Magic Castle, and he was elected vice-president of the Academy of Magical Arts. Even in his eighties McComb was still performing in cabaret in Las Vegas and his self-deprecating remarks became an integral part of his stage act: "Let me give you an indicator of how old I am — my social security number is 3."
He wrote several books about magic, including The Professional Touch (1987), and made guest appearances in films such as Young Harry Houdini (1987), with José Ferrer and Roy Dotrice, and Clive Barker's Lord of Illusions (1995).

Billy McComb, magician, was born on April 22, 1922. He died on April 30, 2006, aged 84.