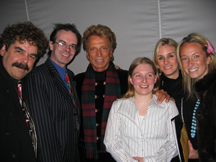 In the beginning, there were two boys from Germany.
Before they even met, they both had their childhood dreams. Little did they know that someday they would go to a land called Las Vegas, establishing a new pinnacle of magical stage spectacle.
At left: Steve Dacri, Simon Lovell, Siegfried and friends at Johnny Thompson's party in Las Vegas in 2005

"Within all of is an elusive melody which, when heard and followed, leads to the fulfillment of our fondest dreams," Siegfried & Roy explain simply. Indeed, growing up in the small town of Rosenheim, Germany, Siegfried Fischbacher experienced a powerful feeling of destiny at a very early age. When he was nine years old, feeling drawn to the world of magic, he discovered a book about magic at the village bookstore called "The King of Magic". But his parents couldn't afford to buy it for him, so the youngster would often walk by the bookstore, just gazing at the book through the window.
One day, on his way home, Siegfried found a five-mark bill floating in the gutter. Elated, he picked up the bill, raced back to the store and purchased the book. Taking it home and into the privacy of his bedroom, the child spent hours practicing his magic. Once he had perfected his first trick, he performed it for his Father, putting a coin in a glass, covering the glass with a handkerchief and making the coin disappear. His father's reaction buoyed his spirits - he had impressed the audience he wanted to impress the most.
Meanwhile, growing up in Nordenham, Germany, a young boy name Roy Horn was spending a lot of time with his beloved companion, a half-dog, half-wolf named Hexe. One day, while the two were out on an afternoon walk, they stopped to rest under a willow tree. Above them a raven perched on a limb.
Taking a brief nap, Roy was awakened by the raven's caw. He reached out to touch the bird, but it flew away. Fascinated, he decided to follow it. But as he strayed into a patch of reeds, Roy suddenly found himself sinking in quicksand. Sensing danger, Hexe ran off. Moments later, the boy heard a human voice -- Hexe had fetched a farmer, saving young Roy from certain death.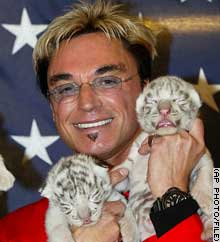 That was Roy's first real lesson in the bond of trust that could exist between humans and animals.
Roy was born in war-torn Germany, the youngest of four boys. During a bomb attack, his mom Johanna rode her bike to the safety of her sister's house to give birth to him. His dad, having survived a POW camp, was not the same after coming home, and he began drinking steadily. Roy's parents divorced at the end of the war. His mom remarried and his step-dad was also an alcoholic. Home was hell.
Seeking escape from the ravages of war and his home life, Roy found his solace at the Bremen Zoo. There he would spend time with two-year-old Chico, the cheetah that inspired his love for exotic cats. Communicating with Chico with catlike sounds through the iron bars, Roy spent months earning the animal's trust. Finally, the handlers gave him permission to enter Chico's den and to take care of him and feed him. Eventually, Chico allowed Roy to take him for walks..
In 1958, at 13, he ran away and was hired as a page boy on a cruise ship that traveled from Germany to New York, and, while on board, he met 18-year old Siegfried, who was performing magic on ths ship.
After watching Siegfried pull a rabbit out of a hat in front of the dinner guests, Roy approached his fellow entertainer with a proposition.
"If you can make a rabbit and a dove appear and disappear, can you do the same with a cheetah?"
Unbeknown to his employers, Roy had smuggled Chico the cheetah onboard, and Siegfried & Roy began to develop the magic that would become their trademark.
They bonded from the time they met, and once in New York, they left the ship to develop an act for small night clubs.
For five years they fine-tuned their act, playing small clubs all across Europe. A show at the casino in Monte Carlo later saw them talent spotted by a representative of the Folies Bergere.
The illusionists were offered the opportunity of taking their show to Las Vegas, where they went on to take the US by storm. In 1967 they began performing in the Follies Bergere Revue in Las Vegas with an appreciable salary. The MGM hotel opened in 1974, giving them a five-year contract. When this ended, were given a contract by Steve Wynn to play in his soon-to-open Mirage Hotel.
They were a big hit with their sensational act and, since February 1, 1990 they have performed in a theater bearing their name at the Mirage six times a week, 44 weeks per year. In 2001, they signed a lifetime contract with the hotel. Roy incorporated big cats into their act, lions, tigers, a magnificent snow leopard, making their show a sensational experience for their fans.

"They played there until that terrible night in 2003 when the accident happend.
Their huge success in Las Vegas in the longest running magic show in history
came to an abrupt end when Roy's beloved 7-year-old white tiger named Montecore bit him during a performance on the Las Vegas strip. It was October 3, 2003 - the
magician and trainer's 59th birthday!"
With a severe injury to his neck causing extensive loss of blood, the performer was hospitalized in serious condition. This horrific incident was the first time he had been hurt by one of the many animals he had raised and trained. Siegfried, his partner for over 40 years, announced the cancellation of the act forever, a necessary decision that left the hundreds of people involved in the show without a job. The pair had been performing together since the late '50s, grossing well over $500 million and performing over 5,700 times at the Mirage Hotel in Las Vegas, in spite of being told 30 years ago that a magic act would never work in Las Vegas.
On their $10 million estate outside of Vegas, Siegfried and Roy have successfully raised their beautiful white tigers and lions.
The big cats have the run of the house, running free on the grounds and swimming in the pool along with Roy and Siegfried. Roy's mom has lived with them, managing the household and keeping their schedule running smoothly, until she passed away not very long ago.
Horn has been quoted as saying about his animals, "The first voice they hear is mine, the first touch they feel is mine, the first human face they see is mine. They just think I'm a strange tiger who walks on two legs." He has prided himself on knowing his animals, saying, "I always try to think as they think. We can always solve our arguments in an understanding way because I respect them and they respect me."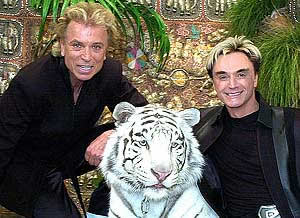 At left: Siegfried & Roy with Montecore, the tiger that bit Roy onstage in 2003
Despite Horn's slow recovery, the duo continue to combine exotic animals and showbiz glitz. They remain at the top of the heap, the greatest illusionists of all time, as well as animal rights activists who continue to work to save endangered tigers and lions.
UPDATE: I saw Siegfried and Roy recently at Wynn Las Vegas (May 13, 2005), and the entire audience was shocked - along with Siegfried, when Roy actually walked unassisted for the first time since the fateful accident. Roy continues to recover and regain the complete use of his legs, a dream that may become a reality - something we all hope asnd pray for. (Steve Dacri)