Daryl
ses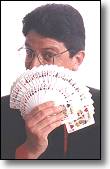 We are honored to have Daryl on our Panel of Magic Advisors. Read on and you will see why.
Since his first professional performance in 1968, DARYL has achieved extraordinary success in Magic. Using awards as a measurement, DARYL earned the gold medal at the World Congress of Magic (the "Olympics" of Magic), in Lausanne, Switzerland in 1982, and 6 Academy Awards from the world famous Magic Castle in Hollywood, California (no one has earned more). Twice, his peers voted him Close-Up Magician of the Year (1980 and 1981), twice as Parlour Magician of the Year (1986 and 1987), and twice as Lecturer of the Year (1988 and 1992). The list goes on and on with victories in every major competition he has entered.

DARYL truly enjoys what he does and his enthusiasm is obvious in his performances. He has performed many of his mysteries literally thousands of times, but his fresh performing style creates the illusion that the magic is happening for the very first time. This, combined with his ability to create magical effects and his willingness to teach others, has helped to create his well-earned world-wide reputation.
[top]

DARYL's first exposure to Magic was in 1962, when a friend of the family gave him a Svengali deck as a gift. He became fascinated with what could be done with this special trick deck of cards and his interest in Magic soon turned into a true love of the art form. After years of performing Magic for family, friends, local organizations and school shows, DARYL studied street performing in San Francisco. He performed street Magic and passed the hat by day then put on his tuxedo and performed elegant close-up shows for the patrons at the Magic Cellar nightclub in the evenings. The combination of these two totally different performing styles provided an incredible learning experience. He continued this hectic schedule for several years.

In 1973, at 18 years old, he performed his first industrial trade show for Kaiser Aluminum and Chemical Corporation. The company was thrilled with his performance and amazed at the custom magical effects he created to offer clients as a souvenir of the experience. They sent him all over the country to promote their products and services. Since then, DARYL has performed for a large number of major corporations around the world. As his success grew, so did requests for his performing and lecturing. DARYL has traveled the world several times, performing for magicians and lay audiences. In response to requests for information on his effects, he created a set of lecture notes that were sold at his lectures. This became the first item in what is now an extensive catalog of custom Magic effects that DARYL offers through a world-wide distribution network.

In addition to his other activities, DARYL has appeared at Caesars Palace in Las Vegas, the National Press Club in Washington, D.C., NBC's Today Show, HBO's Magical Moments with Dick Cavett, done several television commercials, and performed for literally thousands of satisfied clients all over the world. When asked about his favorite performing venue, DARYL says, "My favorite place to perform has always been the Magic Castle. Having the pleasure of working in an elegant environment for people who really know Magic is always a fantastic experience. I also enjoyed opening Caesars Magical Empire in Las Vegas. Being booked to open the facility was truly an honor."
[top]

Daryl continues to keep a very busy performance schedule, flying internationally for private and corporate shows in addition to his regular lectures for magicians. In January 2001 Daryl was honored to perform for President Bush's Inaugural Candlelight Dinner in Washington DC.
In addition to this Daryl is a busy teacher of magic - offering private and group magic lessons to visiting magicians from around the world. These popular lessons are held at Daryl's home in the Sierra Foothills. If you are visiting the Tahoe/ Sacramento area and would like more information about these lessons please e-mail our office at [email protected]

ften our clients come to us at the last minute with an event, or a party that is hastily arranged. We love those challenges. Although we prefer to have as much lead time as possible (most corporate events are planned well in advance, at least 6 months out). Many of our company parties are booked over one year in advance. But even when those last minute, usually frantic calls come in, we jump into overdrive and get the job done. We just end up sleeping less.