<![if !vml]> <![endif]>
MEET THE XanGo GURU and one of the Co-Founders...
SATURDAY, JULY 30TH - THE MAIN EVENT IN VEGAS
Dr. Templeman...

J. Frederic Templeman, M.D., is a primary care physician, board
certified in both the United States and Canada, with over twenty
years of clinical experience. As Medical Director of Phytoceutical
Research, Dr. Templeman is internationally sought after as a
speaker and author on health, nutrition, and the healing properties of
the mangosteen fruit. Dr. Templeman and his wife Michele are the
parents of ten children and they currently reside in the state of Utah.
Aaron Garrity, COO
Aaron Garrity is the CEO of XanGo and one of the six founders of the company. Aaron prepared for

his career in network marketing by earning a Masters of Business Administration with an emphasis in Strategic Marketing, and a Doctorate of Jurisprudence in International Business Law. Aaron began his career in the fast-paced, brand-intense world of the cosmetics industry wherein he labored for three of the industry's powerhouses. Aaron went on to spend 10 years overseeing the marketing efforts of two industry-leading, international network marketing companies. With this firm background and an unrelenting drive to succeed, Aaron is poised to lead XanGo to stratospheric succeSS.
Listen to their advice, ask questions, rub shoulders...it's the biggest XanGo event in the history of Las Vegas.
Bring along AT LEAST ONE person who you think would benefit from becoming a XanGo distributor. Hopefully, you will find several people to share this event with. Take advantage of this very special event to grow your business. It costs you nothing but your time.
RECAP OF THE EVENT
July 30, 2005
10 a.m. – 4 p.m.

Sun Coast Hotel
9090 Alta Drive
Las Vegas, NV 89145
(702) 636-7111

NOTE: XanGo is underwriting this event, so the whole thing is FREE for everyone to attend!
This is a NOT-TO-BE-MISSED event!!!
The doctor himself...Dr. Frederic Templeman, the world's leading authority on Mangosteen, will be there in person, as will XanGo® distributor and network marketing guru Sherman Unkefer (creator of "The Magic Wand" system and CD, not to mention longtime distributors Colli and David Butler...plus the COO and one of the actual FOUNDERS of XanGo, Aaron Garrity..prepare to be blown away by this amazing line-up together for one fabulous event, right here in Las Vegas.
We URGE YOU to plan to be at the Suncoast for this wonderful event.
EVENT STARTS AT 10 AM SHARP WITH XANGO PRESIDENT AARON GARRITY.
This will be a major boost to your XanGo® business, and a IT'S COMPLETELY FREE for the opportunity to meet and talk with the most successful distributors in XanGo®, one of the actual FOUNDERS of the company, Aaron Garrity, as well as "Doctor Mangosteen" himself, the one and only Doc Templeman.
Block off your calendar, meanwhile and we will see you there!

---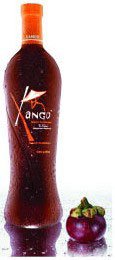 "Why take a drug when a food will do? Mangosteen is the factor that can put you on the road to optimal health."
- J. Frederic Templeman, MD
FOCUS ON YOUR GOALS
Hello Team! With this, our third newsletter, and as you can probably tell, we are very excited about this upcoming event in Las Vegas!
Jan & I have been traveling quite a bit, sharing the XanGo story with people in Reno, Los Angeles and beyond. Our goal is to reach Premier status before the big Convention in Salt Lake City in November. It's a lofty goal, to be sure, but one we feel we can reach with the hard work and dedication required.
What about you? Have you written down your goals for your own XanGo business? If not, now is the time to do so. Stick them on a Post-It Note and put them on your bathroom mirror. Look at them every day and pledge to do something every single day to reach them. IT WORKS! Just like magic!
This business is all about focus. If you focus on the goal, it will become a reality. I make a list every week of the people I want to talk to, and the things I need to accomplish to get closer to my goals. Then, at the end of the week, I evaluate my progress, and make a new list for the following week. And if I missed some things, I transfer them to the new list, and keep going. It's a method that works, I promise you.
Yes, I still have other tasks, for my other businesses, and I make a list for those things, too. Many of us have other jobs, and responsibilities to handle, which makes these lists invaluable and vital to success. If you get in the habit of constantly reviewing these lists, you will find your progress will be consistent.
Any journey, no matter how arduous, is accomplished this way. One step at a time.
The growth of XanGo is unprecedented. All of you who write down those goals and stay with it will see a huge residual income that will fill your bank accounts beyond your wildest dreams.
As I mentioned last time, XanGo® will hit $1 billion in the near future, and that growth will impact us personally, as it will you, too, if you stick with it.
A great tool is to send people to this website (www.magicwebchannel.com) which will give them a lot of valuable information, on the product, and on the business opportunity.
Remember....
Feel free to call on either Jan or myself if you need advice, assistance or just need to talk. We are all in this together, and we are devoted to this business, and to YOUR success. We will talk to people for you, sign up distributers for you, and even arrange meetings for you. We will do whatever it takes to help you build your business and reach the levels you want to reach.
---
ARE YOU LOSING MONEY EVERY MONTH???
Did you know people in Xango on a $100 ADP (Monthly Automatic Delivery Program) are losing 15%-25% fast start bonus on 2nd level recruits?
So who is getting these fast start commissions?
Your Upline on a $200 ADP. The commissions will (roll up) compress up to the first person qualified.
How do I stop this from happening?
Upgrade from $100 ADP to $200 ADP.
Call Xango at 801-816-8250
or call Jan or Steve today to get this chaanged.
If you are in Xango to make money you want to be on a $200 ADP ASAP. This will give you 8 bottles of xango per month and you will now qualify and earn 15%-25% fast start bonus on 2nd level recruits. Plus, you will find that you no longer have to scurry around when you run out of Xango, and you will have a few bottles on hand to sell.
It's a win-win situation. Many people are not aware of the financial loss that occurs when they do not have a 2 case Autoship. Believe me, the juice will PAY FOR ITSELF, and you should not have to worry about the fact that you are now incurring a large credit card "hit" each month. When you have the extra bottles on hand, you will find that you are motivated to talk to one or two extra people each week, and just TWO bottles sold at retail ($39.) will help, not to mention that most people who buy one bottle at retail will come back for more and may become a distributor sooner than you think.

---
SPECIAL OFFER FROM XanGo...
It's the Max Pak...a full case of XanGo (4 bottles) PLUS these goodies...
The MAX Pack has evolved...to the MAX Pack PRO.
Still built around a case of tongue-tackling XanGo™ Juice, the new collection matches the box-bursting volume and value of days past, but with a fresh bundle of XanGo gear:
Neoprene Bottle Sleeve—cold juice, warm fingers
Custom XanGo clock—on time with style
Elliptical USB mouse—coated (and even filled) with XanGo décor
Custom XanGo mouse pad—a cozy home for your mouse
This limited-time offer is available now for just $130 USD. You can tell the combined value of the pack is obviously higher, but we want to get it in your hands!

BONUS
A special MAX that's hard to match: The fortunate first 1,000 orders will ALSO receive a XanGo computer bag (a $15 value).

MAX Pack PRO – #100579, $130 USD

Log in and order at xango.net or call 1.877.GO.XANGO today.