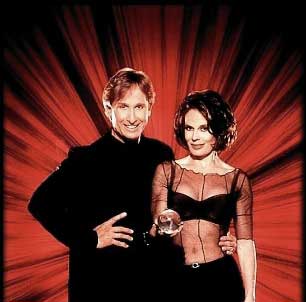 The Pendragons deserve an apology from us...

(August 17, 2004) LAS VEGAS - Just back from trade show performances in Utah and a private party in Santa Barbara, cleaning up messes here in the office, and preparing for a busy week. Magic by Gosh pal Steve Goshman will be in town this week, we have several meetings planned to formulate a number of new magic effects. I have created some new effects and Steve will be manufacturing them, so we will be working out the details of these exciting new items for the magic world. Then, Nicky McAllister returns to Vegas from across the pond, for another busy trip in Sin City. Among the business she will be conducting, we will be emabarking on a research campaign to find the world's greatest margaritas. We will be helping her celebrate her birthday while in town, and beyond that, I cannot say any more, as she hates to see her name in print, even if it is spelled correctly. Jan & I look forward to her arrival, as always...
PENDRAGONS REVISTED
A while ago, we reported on the Houdini Museum exposure issue, the pig-headed morons who run the place announced they would be staging an exhibit which exposed Houdini's Sub Trunk methods as a way to boost attendance and make a few bucks off of Houdini's ideas and secrets. We mentioned that the Pendragons would be assisting the museum and thereby "supporting" this exposure.
While it is true that they did, in fact, appear in a show that raised money for this Wisconsin hot spot, they did not support the exposure, as others had reported to us. As a matter of fact, the dynamic duo of the world's fastest Metamorphosis performance should be commended for their part, as they did their best to minimize the damage this museum could cause. Although they were powerless to stop the exhibit from going forth, they strongly suggested that the actual reveal of the trunk be positioned behind a screen or partition, and not visible to all, thereby making it less of a focal point, and giving the visitors the opportunity to view the secret if they wished, or not.
Firstly the museum was going to expose the subtrunk, come what may. When the Pendragons were approached, pretty late in the game, I might add, they decided to do what they could to apply a bit of damage control to the situation. They actually curbed the exposure and diminished its effect by keeping it out of plain sight. Stopping it totally was NEVER an option.

As to our assertion that they were making money out of this, it turns out that we were absolutely wrong in this fact. The museum had no money at all and The Pendragons actually lost money doing this benefit for them. They also, in conjunction with their appearance and out of their own pockets, visited several schools in the area and taught classes on the history of magic. We also mentioned that they did all of this for the free publicity that came from the event, and in actuality, there was very little press coverage to speak of, and the one high-profile thing was the CNN interview when, incidentally, Randi ended up agreeing with Jonathan's point of view. They are going to get far more publicity from their recent inclusion in The Guinness Book of World Records for the fastest Metamorphosis ever. They really didn't need the publicity of being associated with this museum, and it seems many of the people who appraoched us about this subject did not look into the facts very deeply.
As a matter fact, although this issue was discussed at The Magic Circle, the ruling Council considered the complaint that had been made against The Pendragons and unanimously decided that they had NOT been involved in any exposure. The issue was dropped.
We wish to offer our sincere apologies for the original article we ran here, and for any embarassment it might have caused the Pendragons, two of the most dedicated and talented performers in the world of magic. I must personally take full responsibility, as I simply went ahead with the story as was presented to me by several sources without checking the facts.
MAGIC CIRCLE ELECTIONS
Yes, it's that time of year again, and as I mentioned last week, this will be a very important election, as a number of controversial issue have been bubbling out of control. Happy to report that Alan Shaxon will not be challenged, and therefore will remain as president. We are all quite pleased with this development.
Our Predictions:
Ali Bongo will prevail as Vice-Pressident despite heavy campaigning against him.
Rob Cox will unseat Chris Pratt in a close call contest.
The Candidates for Council who will get in:
1. Michael Alderman - been there for a long time, is most visible, and will get in again due to this fact alone.
2. Michael Bailey (the past president) - a solid front-runner after a long, successful (albeit controversial at times) run as the president. He will be the top vote getter.
Stephen Barney - will NOT get in, as he failed as head of the website development project to complete the new website after over 2 years of doing whatever it is he did. Good guy, but most will see this failure as a reason to not vote for him.
3. Janet Clare - popular and instrumental in the Young Magician of the Year Competitions.
4. Jack Devlin - probably the second most popular vote getter, he continues to work for the good of the Society, and is very popular among all factions.
5. Andrew Eborn - fairly new to the Council, one of the most vocal and is always pushing for reform, he will enjoy another term, for the betterment of the Society.
6. John Derris - another visible, and dedicated member, John will easily return to Council.
7. John Fisher - been aligned with Michael Bailey for a long time, will ride another wave of votes to another term.
8. James Fortune - would be good for all of us, not sure he can muster enough votes, though. (Hope he does).
Henry Lewis - will not get in, as he is also running for Vice-President against Ali Bongo, which could make him unpopular for another term.
9. Scott Penrose - should reach a fourth term with this election.
10. Fay Presto - we all need Fay to remain on Council, as a thorn and constant reminder to keep things fair and above board. She is the perfect candidate. Enough said.
11. Graham Reed - a truly good guy, working for unity, supports the President (as do all the others mentioned here) and it is true, he hates internal politics, and is always in the forefront of those seeking change for the good of all of us.
12. Peter Scarlett - another crusader for justic and what is right, Peter should continue as a valued Council member.
13. Derrick Speight - a crusader for justice and a dedicated member, he will return to Council.
Richard Stupple - good guy, but may have offended too many with his postings...
14. Chris Woodward - another dedicated member, Chris will round out the fourteen who will be elected.
Remember....Members can vote for up to 14, and I encourage you all to vote for ONLY those you truly believe have the best interests of The Magic Circle at heart. By voting for 14, you just might be giving valuable votes to someone who does not deserve them...in the last election too many people voted for 14, when they only really chose 8 or 9 candidates they believed in. Makes sense, right?
Again, this is only my opinion, after discussing with several members, and it is in no way my endorsement in every case, nor does it represent how I will vote...just a prediction, and a way to add even more controversy to the election process.
We are continuing toget rave comments on the fab interview with Barbara...Blackstone's magical assistant. If you missed it, click here and check it out.
Until next week,
Magically yours,
Steve