Is...THIS your card?
Your faithful web host at work
during the holdays.
(January 18, 2005) LAS VEGAS - Is your Christmas tree still sitting in the middle of the house? Does the outside of your house twinkle and sparkle with holiday lights? If so, get them packed away immediately. The holidays are over. Time to pay the bills and clear out the decorations. Throw that dry tree away.
My good friend Matt Alan gets the award for "Longest Standing Dead Christmas Tree", as his scantily-clad tree, full of decorations, remained in the living room until November. It was almost a shame to take it away, as a new tree went up a couple of weeks later.
As for the resolutions? Everyone I know spends time before the end of the year making their New Year's Resolutions. Then they tell everyone who will listen what they are, and then they break them and spend the better part of the next year lamenting this fact.
So, my advice is quite simple. If you have made any of these so-called resolutions, vowing to stop smoking or eating candy, or stealing someone else's act, now is the time to break them. Don't allow yourself to go on into the new year wondering if you will be able to keep those resolutions. Just get it over with and forget about them. It's a lot less painful than allowing them to fester and grow in your head. Unless you have the steel resolve to actually keep them, in which case...never mind.
HELLO BOSTON
Before you ask, let me explain the photo thing. Photos will come next week. Our webmaster is currently exploring the beaches of Hawaii. Don't ask.
We did the Boston trip, performed a New Year's show to a sold out crowd of maniacs (and I mean that in the nicest way...it was a fab crowd!), with my son, Jesse functioning as the sound and video operator. It was a real treat, my only appearance in my hometown in a year or so, and the audience was filled with familiar faces, some from decades ago...man, everyone looked so old!
The show was at 7pm, so by 8:30, I was out of the tux and off to a private party in the snow and cold of Worcester. Felt like I wasn't working, and it was a treat to be able to spend the midnight countdown with family and friends, instead of entertaining stangers who have consumed copious amounts of adult beverages.
This was a fun trip, lots of movies, quality time with familly and special friends, a bit of a change from the constantly running world here in Vegas. Jesse and I built a remote controlled car which he entered into a race. He won. He took away 4 trophies by the time the races were over. Not bad for his first real race, eh?
My show closed on Dec 26, after 4 weeks of capacity crowds, and we are waiting to see if and when we will be going back there, or to another spot...must say, I am not in a big hurry to be working 6 nights a week again. I am enjoy enjoying the free time. Gives me the necessary time to catch up on things, and clear the decks for the new year. Lots of exciting new things are in the works. All signs are pointing to 2005 as a wild year. Hope it is also a rewarding one for you and your family unit.
WORLD'S GREATEST PIZZA
When our plane lands in Boston, the first stop for Jan & I is always at our favorite restaurant, Santarpio's. Located in East Boston, seconds away from the Logan Airport entrance, this family-owned joint - and it is a joint - has been churning out the finest pizza on the planet for over 100 years. I've been going there for more years than I can remember, more than twenty-five years, and always have the same thing. Cheese pizza. And barbeque. The only things on the menu. Pizza and BBQ. Lamb or home made sausage, on skewers, charred on a big charcoal pit next to the long bar. Used to enjoy sitting there, with a pizza and beer and some cigars with one of the owners. That was before the laws changed last year and prohibited smoking in Boston restaurants, a bonehead move if ever there was one.
Anyway, we hit Santarpio's a couple more times during the visit, and as is tradition, it is the final stop, before returning the rental car. The last meal before flight. We were surprised to walk in and see my picture, a framed magazine cover from a Vegas magazine, prominently mounted to the wall by the front door. Thanks, guys, I am deeply touched. One can only dream of such a place of honor. It made the pizza taste a little bit better, too.
So, when you visit Boston, and have a craving for a no-nonsense, perfectly-cooked pie, drop in to Santarpio's, and if you mention that you know me, you'll get a special surprise from the bar.
SNOW IN VEGAS
The day we arrived in Las Vegas,we stepped off the plane to see white stuff - snow, all over the place. What the heck happened? Were we still in Boston? Can't be, there was a pyramid clearly in sight in the distance. We must be in Vegas.
We only had a dusting on the famous Strip, not enough to cover anything, but a couple of miles off of the Strip saw 4 - 6 inches of snow. People were taking pictures, rolling around in it, making snowmen, shooting video for the folks back home...I'm tellin' ya...it was madness everywhere. Cold, winter conditions. Snowballs were flying, tourists were skiing down the highways, blackjack dealers were wearing gloves.
Luckily, we were prepared, after having braved a blizzard or two while in Boston for a couple of weeks, we were clothed in winter attire and had developed "snow ball alert" vision, allowing us to avoid the flying balls of white. The cab slid its way out of the airport, narrowly missed a couple of huge men with shovels, took a few direct hits of snowballs at the tunnel entrance, then skidded away to the North, and our palacial estate.
Once we made the safe journey to our home, we flipped the wall switch on the automatic fireplace, lowered the lights, popped the cork, and I cooked a gourmet meal to celebrate our first night back. Always great to be home after a long trip. After dinner, we went out on the patio and made a smowgirl, complete with bikini and sunglasses.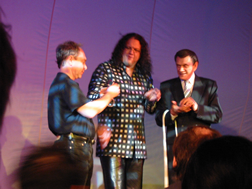 Johnny Thompson Party:
Johnny (shown here as he is tormented by Penn & Teller, as you know from our previous column, was honored in a special evening here in Vegas in December. , and the stars came out in force to honor (roast) the man, the myth, the legend, along with his delightful wife, Pam. As I said, then, you will certainly read about the festive affair in varous magic magazines which will feature Jan's great photos, but you are heard about it here FIRST! Thanks for all the wonderful feedback from many of Johnny & Pam's magic friends...the feature, which features Jan's great photos is here.
COMING
A few new features are about to pop up on this site, if I can just keep my desk clear for more than a few hours. Meanwhile, my thanks to all of you who tune in and read this stuff, and also to those who help us get this thing up, revised and afloat every day: Karen, our tireless webmaster, Jan the proof-reader and the only level-headed thinker in the bunch, Dr. Bob Shaughnessy, Manny, Moe and Jack, our regular contributers Bev Bergeron, Dan Garrett, Brad Burt...and last but not least, Tony Brook,who unquestionably ranks as the most popular and most-read columnist of magicwebchannel.com, and who oversees the International Operations for us.
Until next time...
Magically yours,
Steve

TOP

Previously: Johnny Thompson Gala Event in Vegas
Previously: Gerry & The Pacemakers

Previous AbracaDACRI Columns