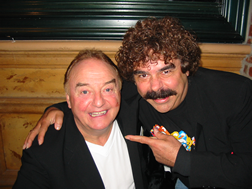 Gerry Marsden makes an offer to buy some of Steve's hair.

(November 14, 2004) LAS VEGAS - Living in Vegas has many rewards. As a performer, there are so many places to perform (if one is lucky, I guess), as it is truly the "Entertainment Capital of the World", and as I have stated many times before, the audiences here are the greatest in the world, as everyone who come here, be they gamblers or not, expects to see the very best the entertainment world has to offer. Appreciative, attentive, and enthusiastic crowds at nearly every performance make this a dream job for most entertainers. This also means that people who live here have so many opportunities to experience some of the best shows on the planet, as the "best of the best" all come here at some point to perform. There is something for every taste, almost every night of the week, from music to magic, comedy to variety, big names to has-beens, and everything in-between.

In the past few weeks, for example, Jan & I have seen such diverse performers as Van Halen, Tom Jones, Don Rickles, B.B. King, Englebert Humperdick, and several review shows. All were fantastic, in their own particular style. Let me tell you about one that will stay in our memories for a very long time...
GERRY & THE PACEMAKERS
Gerry Marsden (pictured above) is a true rock and roll legend, a long time personal friend of the Beatles, in particular, John Lennon, and a guy with loads of talent and absolutely no false airs or inflated ego. He brought his popular brand of rock into Vegas last night for the very first time, and Jan & I knew we had to be there to welcome him. The sold out show at Boulder Station was a wild night, and Gerry didn't disappoint, playing all of his hits, along with his covers of the rock and roll classics that he grew up on, was influenced by, and loves to play.

TOP
He opened with "I'm Telling You Now", and from that moment on, it was readily apparent that Gerry still has a remarkable voice, and tons of energy. His stage personna is very John Lennon, with cockney humor and great rapport with the crowd of enthusiastic fans, many waving album covers and Liverpool banners.
He played Buddy Holly, Jerry Lee Lewis, Elvis and so many others, shared great stories and personal memories of his relationship with John, and was clearly having a grand time in his first appearance in Las Vegas. It was a special night for everyone, including his band, the Pacemakers, none of whom were with him in the early days of the Cavern Club and the chart-topping hit parade of songs. (Although all from England, at least three members of this band were not even born when Gerry & The Pacemakers were riding the top of the music scene). They were, however, every bit as good, a tight unit, respectful of the music, and the ideal backup for this legend. Gerry was very generous in his praise of these guys, (bass guitar, lead guitar, two keyboardists), even turning the show over to them twice for some fab rock numbers.
Before one hit song, Gerry told a great story. Back when he was seventeen, in Liverpool, he had a girlfriend, and for some meaningless reason, they had an argument and she broke up with him. He wrote a song for her, sent it to her on a tape, and after she listened to it, she called Gerry up and said, "let's get back together." He then announced to all of us, proudly, that to this day, that lady is his wife. Then he sang the song, "Don't Let The Sun Catch You Crying", one of his biggest hits.

TOP
I won't tease you with the list of songs, they were all there, sounding like grown-up versions of the original recordings, with Gerry's voice, powerful and unmistakable, filling the room with familiar, and often emotional vibes. It was an unforgettable show, ending with "Ferry 'Cross the Mersey" and a couple of rowdy encores.
After the concert, Gerry did the unusual for someone of his fame, and announced that he was willing to meet everyone, and he meant it. (More and more Las Vegas performers do a "meet and greet" session after their shows, something that is common in Branson, but not always in Vegas. It is a great thing, with most audience members thrilled at the opportunity to meet the performers, clearly an enhancement of the experience...and an convenient way for some form of merchandising, which in many cases, is a vital part of the evening for fans and artists.
A huge line of fans stretched around the casino, waiting to meet the man behind the music, many also buying a DVD of one of his recent concerts that were offered after the concert in the merchandising area. Gerry sat patiently at a table for almost two hours, sipping wine, and joking with each and every one of them, taking time to chat, sign autographs, and answer questions about his life and his music.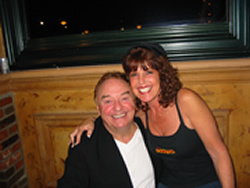 Gerry Marsden and Jan backstage..

Garry says,
"Is this what they call a lap dance? In that case, take your time, there's no rush".
Jan and I waited and watched, and when he was finished, he sat with us and chatted. I told him that he and I were perhaps the only two people there to have appeared on the stage of the Cavern Club in Liverpool. We joked about the fact that I was actually invited to sign the famous stage wall, and I did so right under the Beatles and next to Gerry & The Pacemakers. He was a delightful man, clearly enjoying himself and respectful of his fans.He said he sold over 300 DVD's after this show, and he enjoys signing them and listening to their comments.
"You took me back in time", said a grey-haired hippy from Wisconsin.
"Not too far back, I hope!. I'm not that bloody old."
We (along with every audience member) were touched by this memorable visit, his rocking show, and this opportunity to experience this man, who was (and still is) a valuable part of the history of rock and roll. Thank you, Gerry Marsden. Come back soon!

ELECTION IS OVER

blah blah blah
Until next time...
See you next week...look for a review of a Laughlin Magic Show, and comments on the state of Magic as the end of the year approaches.
Magically yours,
Steve
Last week's column
Previous AbracaDACRI Columns