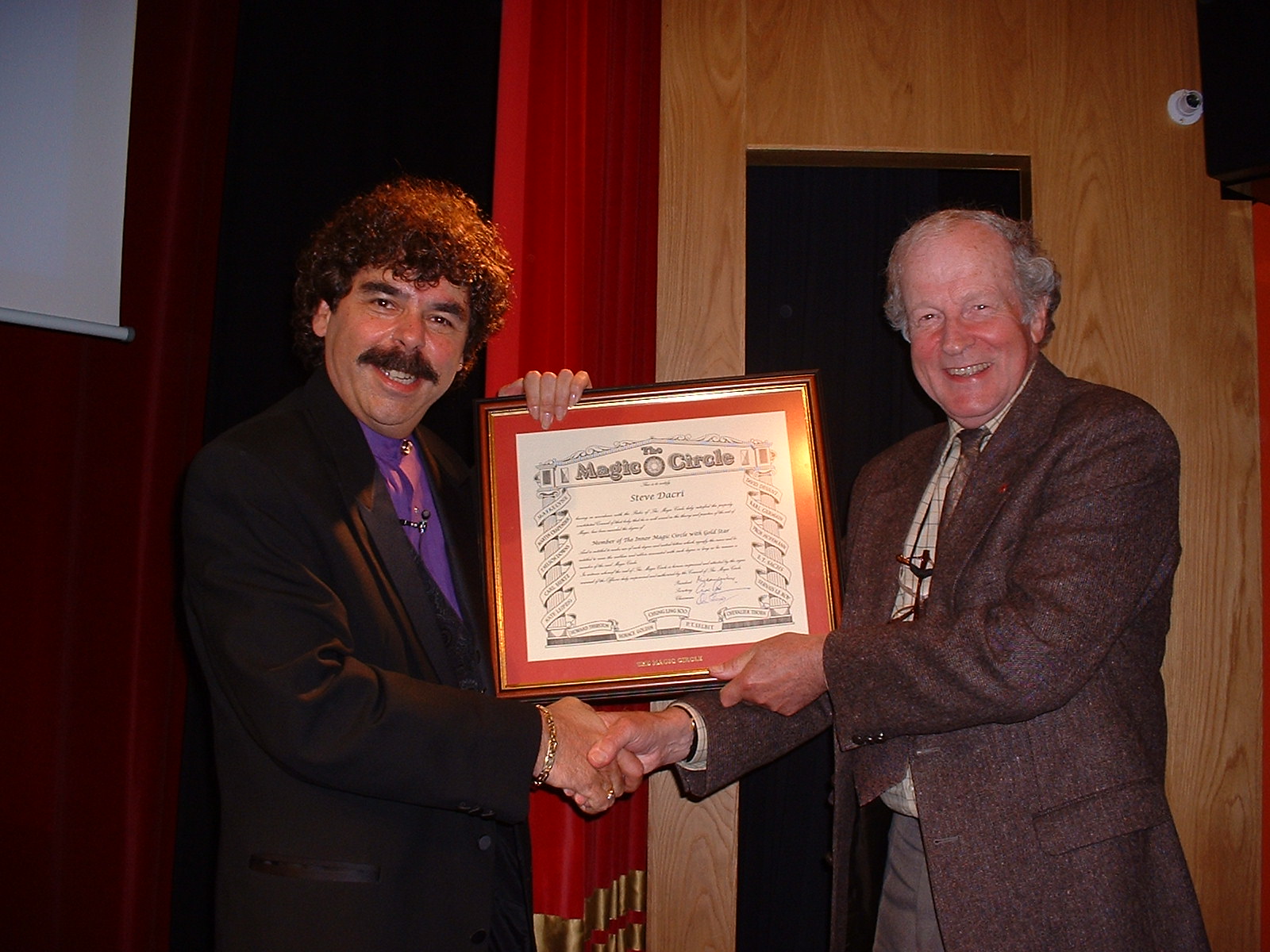 My favorite magic moment...the president of The Magic Circle presents me with the highest honors
a magician can receive, in London, surprises me onstage after my performance in The Magic Circle headquarters theater....

(July 2, 2004) LAS VEGAS - It's a bit cooler than normal right now, very pleasant for all of us here in the valley of casinos, showgirls and magic...
Some catching up to do. Must apologize for being behind a bit, but it has been very busy here in Vegas, and hence, we have a lot to talk about.
Many changes in town. Jeff Hobson, the great and funny man of magic, closed his show at the Excaiber. Actually, the producer, Dick Foster, decided to close the show. It was a funny outing, and one that I thouoght could go for a long run, but I do not know how well the tickest sold or what the audiences were like. What do I know? Anyway, he closed in that one man show, and immediately became the emcee for the latest edition of "V" which has moved over to the Aladdin.
The "V" show replaced (or pushed out) the very successful "Ovations" show that was enjoying a successful 8 month run there. Ovations was playing in a showroom called the Ovations Showroom, so one would expect it to remain there. Ah, yes, but the politics of Vegas dictated a change, and the producer of the V show, David Saxe, pushed the Ovations show out the door with some sleazy move that left all of the peformers in Ovations out in the cold...unemployed.
Saxe stole a few acts from Ovations, put them into "V" and added Jeff Hobson as the emcee, and didn't seem to care that all of the performers in Ovations were suddenly left in the dark. From what I have been told, that didn't both Saxe one bit. He did the same thing years ago when he was producing his sister, the very porrly reviewed Melinda magic show...some things never change.
Now, John Stuart, the highly respected producer of Ovations, and Legends in Concert, and many other hit productions, including the soon to open Dick Clark "Rock, Roll and Remember" show set to open in September, is making plans to move Ovations into another showroom...
OVATIONS TO OPEN AT LADY LUCK
Yep, Johnny Stuart has done it again. He has been hired to become the showroom producer for the Lady Luck Hotel and Casino in historic downtown Las Vegas. He has decided to remodel the joint, spend a bunch of money, and rename the showroom, "Ovations Showroom" and put the already successful "Ovations" show into it.
XTREME CLOSE-UP MAGIC GOES INTO OVATIONS
Here's the cool part. John Stuart was the producer of my show, "Xtreme Close-up Magic" which played at the Orleans and then at the Flamingo Hilton...he has wanted to put our show somewhere in Vegas...so he has asked me to become the emcee of the Ovations show...and bring my show into the mix. Two giant Projection screens will be set on each end of the stage, and a roving camera will join me onstage, and I will actually present close-up magic for 400 people each night, and everyone will experience the thrill of sleight of hand magic, as if they were also sitting next to me on the stage as I present my mind blowing performance...
We are thrilled to be a part of Ovations, and also quite happy to be presenting "Xtreme Close-up Magic" as part of this show. We expect to open some time in August, after the necessary permits and details are set. We will keep you posted and announce the actual opening of the show as soon as we know.
SPLASH GETS ANOTHER MAGIC ACT
Arian Black, a fine, sexy lady who presents a great magic act, has been one of the cool acts in the middle of the Splash show at the Riviera. Her show as a refreshing bit of entertainment that took place within the confines of this long-running production. She will be replaced, unfortunately, by DIrk Arthur, the copycat magic act that was recently fired from another hotel.
He has a bunch of tigers, so he has more to offer (according to show producers) than Arian. In reality, his show lacks personality, originality and finesse. He has no connection to the audience, and the fact that he was fired from one showroom should tell you how good his act is. But in yet another example of idiots who run the asylum, Dirk will now replace a really good magic act with his copycat Siegfried & Roy low rent performance in the middle of Splash. Go figure.
BLACKSTONE MAGIC SHOW ASSISTANT TALKS
We planned to bring you the interview with one of Harry Blackstone Senior's magic show, but we have been overwhelmed with work here, so please be patient, and know that next week, we will present you with a wonderful article. Meanwhile, plan to visit us here in Vegas and be sure to se Ovations at the Lady Luck...
Cheers, and magically yours,
Steve