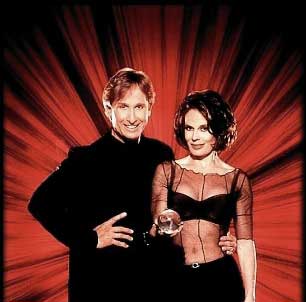 (Pictured here, the Pengragons, one of the top acts in magic, now supporting exposure at the Houdini Museum in Appleton, Wisconsin.)

(May 11, 2004) LAS VEGAS - Greetings from the hot desert...it is spring time here, and with temperatures around 95 or so, it is perfect weather for melting magicians wax and practicing Classic Palm with sweaty hands.

Now for a little controversy.

The Outagamie Museum in Appleton contains a large collection of Houdini memorabilia, or at least it used to. Sydney Radner has loaned his collection, or a part of it, to the museum, but that has all changed when he found out that the director of the museum, a bonehead not needed to be named, came up with the stupid idea of exposing one of Houdini's secrets as a way to dupe the public into paying money to visit the museum, thus increasing his profits.
The museum has taken heat from magicians for revealing the secret behind Harry Houdini's famous "Metamorphosis" trick in its upcoming "AKA Houdini" exhibit opening June 2. But at least two magicians are in the museum's corner, according to a story in the local Appleton, Wisconsin newspaper. . Jonathan and Charlotte Pendragon will appear at the exhibit's grand opening and perform their illusion show "Mysterium." The performance is set for June 2 at Lawrence University's Stansbury Theater as a benefit for the museum.
The Pendragons have made numerous appearances on television, including "The Tonight Show." and "Billy Bob's Cool Magic Show". "Metamorphosis" is considered their signature illusion. Not their invention, just that they have been doing it for a long time and they do it well. Jonathan Pendragon appeared on CNN's "Paula Zahn Now" in March to defend the museum's decision to reveal the secret behind the trick. There's the rub to this sad affair.
As I recently said to Walter Zaney Blaney, many of you regular readers know how I feel about exposure, and the fact that NO reason exists for doing so. NONE.
I can't say I am friends with Jonathan, we certainly know each other, have worked together a bunch, see each other at social and Castle functions and talk about life and magic and mostly about Jonathan...but we are not classified as actual "call me in the middle of the night and I will be there" friends. I respect his work, naturally. As a person, well...up until now, I have tolerated his antics. Once, when we were working at Caesars Magical Empire, he produced a torch and accidently lit the stage curtain on fire, despite the warnings from the crew members that such an event could occur. He ignored them, went ahead, and lit the darm curtain on fire.
Nonetheless, he does a good show, and he and his wife have been performing for a very long time.
But his ego is bigger than his sub trunk, and left unchecked, it knows no bounds.
The offer and prospect of free publicity, National TV shows, etc, is apparently of far greater importance to him than ethics, so he is doing the old "nobody will be hurt by a free flow of information" dance as a way of justifying his behavior. And of course, by raising money for the very group that is publicly exposing magic sectres is a shame, and doesn't deserve points for good work. He should turn in his MIMC and Magic Circle membership, along with all other magic organizations, if he truly believes his own words.
Had all magicians contacted regarding this museum ecxposure, stood behind our ethical responsibilities, when this museum sought support and performers, and all had refused to paricipate, this issue would have not gone to the heights it has. Now they point to those of us who cry "unfair" and say we do not know of what we speak...
It is frustrating to watch this behavior, and worse when it is someone who has made a living in this business and yet turns his tune to be one of self-promotion and non-ethical back stabbing of the organizations that helped him get his start and build his career.
I urge you to stay away from the Pendragon's appearances there and write letters to the museum and the Appleton Wisconsin Chamber of Commerce expressing your disappointment with their poor judgement.
Magic is all about ethics, friends. Would you like to go to a movie, and on the way in, someone stops you to reveal the final plot twists and ending of the movie before you see it? Or how about a guy who stands outside the door of a comedy club and hands out sheets of paper with the punch lines for all the jokes you will be hearing inside that night?
True the secrets are just a portion of the performance, so much more goes into the magic act, like personality, showmanship, presenttaion, and on and on. But to expose secrets is going against the principles that all great magicians and magic organizations stand for.
To me, The Pentradons are just like the Masked Magician and other public-exposing magicians. They have shown they are in it for the buck, and to hell with principles and ethics. Sad, but true.
Your comments are welcome. Until next week,
Magically yours,
Steve