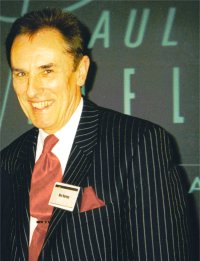 (Pictured here, Mel Harvey, one of our fellow members of The Magic Circle who performed his comedy act in Vegas as part of Xtreme Close-up Magic during the nine-month run...)

(May 1, 2004) LAS VEGAS - I am booked to return to my hometown, to my college, WPI (Worcester Polytechnic Institute), as the special guest star performer for my reunion. The event takes place in June, on the campus. Fond memories of that place.
This means I will be the only member of my class that is being paid to attend the reunion. Kinda cool, I think. It willbe great to see all the more successful classmates who have gone on to huge successes as engineers in various fields, while I have been, and still continue to be, playing with playing cards and sponge bunnies. But then again, I am the one getting airplane tickets, hotel rooms and meals along with my performance fee...
One memory in particular, involves my fraternity house. I am a TKE. I remember performing at the frat house during a party more than once, which was always a challenge. I also recall, at the time I was a regular performer on BOZO'S CIRCUS, a TV show that went out live at 3 pm every day. The guys in the frat house would gather in the TV room and watch the show whenever I was on, then they would give me a hard time when I got back to the frat house for dinner.
One day, they said, "If you are such a good friend of Bozo, why don't ya bring him over here for dinner?"
Well, sounded good to me, so one day, after the show, Bozo and I got into my car, still in costume, me in my ridiculous pink shirt and tux, Tom in his full Bozo suit and make-up. We drove to the frat house, and when we arrived, nearly 100 guys were on the front steps and porch, cheering as we parked and climbed out of the car. It was a wild scene.
Well, dinner was a scream, lots of laughs, and jokes, most of them could never be tried on TV, and the guys really loved having Bozo as a dinner guest.
THE MAGIC SHOW SCAM
The memory I want to share involves the fraternity, but not at the frat house. I was invited to perform at the National TKE convention, which happened to be in North Carolina, so my fellow frat brother, Mike Corby, and his girlfriend, piled into his car and made the long drive down from Worcester, Massachusetts to Pinehurst, North Carolina, in order to save money.
It was a fantastic road trip, with lots of stops along the way. One in particular, involved the patented "Magic Show Scam". We get to Virginia Beach, and decide we should stay there, and enjoy the beach the next day. We don't have a hotel room booked, and because it was a weekend, there were no rooms to be had, at least not in our budget class.
So, the scam was put into motion...the mistaken magic show.
It works like this; we drive around, looking at some of the beachfront cottages until we spot one with a wild party going on. We park the car, I gather my prop case, and we walk up to the front door. Mike knocks on the door, and when someone answers he says, "Hi, the magician is here. Where do we set up?"
Well, the person who answers the door looks puzzled and says, "What magician?"
Mike points to me and says, "This is Steve Dacri, the fastest hands in the world. We were told that someone ordered a magic show for this address."
Well, the guy goes in and we can hear him yell, "Hey, did someone hire a magic show?"
A short time later, he comes back to the door and says, "Nobody ordered a magic show, there must be some mistake." Mike looks at me, and we shrug and say, "Well, sorry about that, the agent must have made a mistake, no problem, we thought this was the place."
We turn to leave. The guy at the door says, "Wait...a magic show would be really cool, how much would it cost?"
Hooked! Mike smiles and states, "Hey, seeing we are already here, I think I can convince Steve to do a show for you anyway, and you can just pass the hat after its over. Oh, and if you have a spare room that we can also stay in, they would be fantastic."
Well, it takes the guy about ten seconds to say, "Sure" and in we go.
I set up, the gang gathers around, and I do a show for everyone. A blast! Then, we enjoyed the party, had a great room for the night, and spent the next day lounging on the beach. We made enough money with the hat passing to pay for a fee really super meals while we were there, and after our impromptu engagement, we were off to Pinehurst.
I hardily recommend this ruse whenever you need a place to stay (and a party to crash!). It always works, and although not for the faint of heart, its a great way to try out new material.
ROY UPDATE
Happy to say Roy is speaking much better now, still not walking, but making fantasic progress with over six hours of daily rehabilitation here in Vegas at his home. He plans to be intereviewed by Maria Shriver for an upcoming television appearance to promote "Father of the Pride", the new animated TV program set to debut in the fall on NBC. No other details are being released about his health, but we pray he will soon be up and walking again in the near future. Only time will tell.
XTMREME CLOSE-UP MAGIC UPDATE
Changes afoot in Las Vegas. We are closing the show down, at least temporarily, due to changes in the show location. The Flamingo Hilton, owned by Caesars Enterainment, gave us a 30 days notice, informing us that they are planning to rip the beautiful OShea's showroom out, and convert the space into something else. A buffet and bingo hall is one of the rumored plans, but nobody knows for sure. It's another example of a typcial bonehead move by Vegas-based morons who know nothing about entertainment. This is, after all, the same company that closed down Caesars Magical Empire...need I say more?
What we do know is they are finally closing down this cool theater, a place that was perfect for magic, particularly close-up magic. Now it becomes apparent to us why the hotel has been dragging their feet with the promised promotion and the street-level kiosk which never materialized.
We knew something was up when they wouldn't sign a long term contract, and kept putting off all discussions of the future. Had we known this was about to happen, we would not have moved the show into there.
The Orleans has invited us to return, but frankly, as much as we loved working with them, the location was not good for our show, and the distance from the strip was a problem for tourists who are not familiar with the lay of the land. So, we are in the process of discussions with a number of other properties and people as we look for the future home of our highly successful show.
We did the final performance in the theater this week, and I now look forward to a bit of a vacation break, long overdue after a run of 9 soild months without a break.
We have known this information for several weeks now, but we were asked not to say anything to anyone while the hotel was finalizing plans for the space. Since then, however, the hypnotist, Justin Tranz, who performs in the showroom late night shows and others have been telling anyone who would listen about the upcoming closure, and last week the Las Vegas Review Journal interviewed me, and the resulting article spilled the beans finally.
We will keep you posted of our future plans for the show. We are in discussions with a producer who has shown interest in taking a version of Xtreme Close-up Magic into other cities, possibly in another country, but I cannot give you any more details yet. We are excited about the future, and when we return from our vacation, we will have some very exciting news to announce.
Meanwhile, thanks to all of you who have visited the show, written to us,called us and have followed the show's path from the very first performance in Brendan's Pub at the Orleans on August 4, 2003 to the April 2004 final performance in O'Shea's Comedy Theater.
Special thanks to our very special guest entertainers who have been a large part of the show's success, including Charles and Tony Brook, Ruairi O'Connor, Mel Harvey, James Fortune, Michael Douglas, Steve Turner, and everyone else I may have missed. Thanks, guys, it was a fun run, and we have set the stage for the future of close-up magic here in Las Vegas and beyond.
Magically yours,
Steve