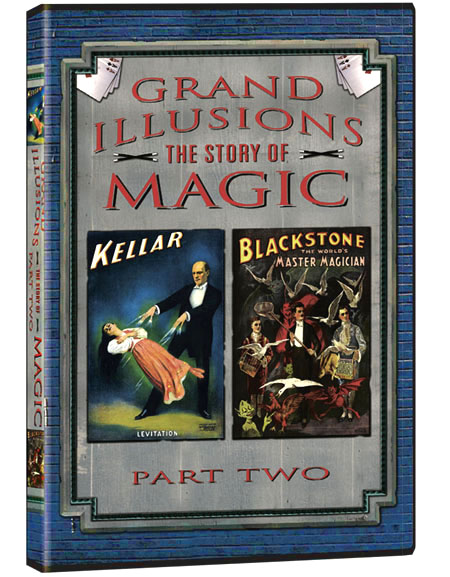 CHOICES SELECT PRESENTS THE SECOND PART OF THE ACCLAIMED GRAND ILLUSIONS SERIES
Second Release Features 6 Episodes on 1 DVD
BUY THIS ITEM NOW

Magicwebchannel recommends:
Following the success of GRAND ILLUSIONS: THE STORY OF MAGIC, Choices Select now brings you the anticipated second act: GRAND ILLUSIONS: THE STORY OF MAGIC PART TWO. With six more episodes, each featuring seminal figures in the world of magic, this sequel takes us deeper into this art form than its predecessor, and at the same time only confirms its relevance.

Read the complete MagicWebGuide review here.
For hundreds of years, magic has remained a consistent source of entertainment and fascination. It has been a staple of performance art, and with this next installment on the world of conjuring, Choices Select offers a more in depth study of magic than has ever been seen.
With narration by producer Wilson Coneybeare, and featuring interviews conducted with some of the world's leading figures in magic, the six parts of the series focus both on individual magicians, as well as specific styles and practices, including:
1. The Blackstones - This episode details the father and son duo of Harry Blackstone Sr. and Jr., whose careers collectively spanned almost the entire 20th century, and who are credited with helping to keep magic fresh with contemporary audiences.
2. The Maskelyne Dynasty - Chronicling the years between 1873 and 1934 when John Nevil Maskelyne and his descendents were mainstays of the London entertainment scene.
3. The Royal Dynasty - This is the story of how Harry Kellar began an unbroken mantle of responsibility to set a standard of excellence in magic, continued by Howard Thurston, The Great Dante and Lee Grabel and currently maintained by Lance Burton.
4. Dai Vernon - This episode features the magician who has been universally acclaimed as the greatest sleight-of-hand artist of the 20th Century.
5. Women Conjurers - Despite traditionally being limited to the role of assistant, this episode follows advancements made by female magicians, and offers explanations as to why more "Women Conjurers" don't exist.
6. Mentalism - Considered in this episode are all the aspects of mentalism, which is the art of performing under the pretense that the tricks are actually the result of superior mental ability.

Produced by Paragon Pictures, in partnership with the Discovery Channel, each half-hour episode of GRAND ILLUSIONS: THE STORY OF MAGIC PART TWO contributes to the most ambitious retrospective on the world of conjuring ever attempted. No two episodes are alike, each one examining a specific aspect of the incredible history of magic, from the first signs of conjuring in ancient Egypt to present day Las Vegas spectaculars. No lover of this ancient art should be without the continuing story of magic in GRAND ILLUSIONS: THE STORY OF MAGIC PART TWO, and we hope that you find this series as special as magic itself.

The Review
GRAND ILLUSIONS: THE STORY OF MAGIC PART TWO Length: 175 Minutes
Suggested Retail Price: $24.95 US
SPECIAL OFFER: SAVE $10. (US orders only) Limited time only.
Sale Price: $14.95 - PURCHASE NOW