.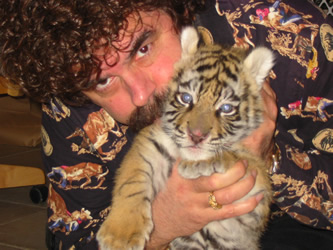 This rare Bengal tiger cub is already in Rick Thomas' show
LAS VEGAS - There's a new resident here in Las Vegas, and I'm talking about the four-legged variety.
Rick Thomas now has a new baby Bengal tiger. An adorable, playful, fluffball called "Mo" or "Stardust" depending upon when you talk to Rick. You see, in the show, there is this wonderful "Shrinking Tiger" effect, one of my favorite illusions. A tiger, in this case, the full grown beauty named Morpheus, is placed into a large crate, then the crate is "squeezed" and made smaller, and smaller...while the tiger is still inside...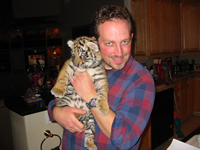 At left: Chief cat handler and stage assistant, Ricky Brandon enjoying the tiger cub at Rick's house.
Then, the very small crate is opened, and there's "Mo", the shrunken tiger!
So, for the show, the little baby tiger is named "Mo", short (or small) for Morpheus...
But he has been named "Stardust" (they call him "Dusty") to mark the move to the new home for Rick Thomas' highly successful show.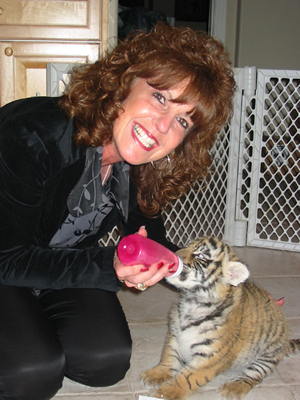 This little baby, is now five weeks old, and he lives in the kitchen of Rick's house. He eats and sleeps, and does all the things that a cat does...mostly he eats and sleeps. And chews on stuff, and puts up with visitors who insist upon picking him up, or in my case, rolling on the floor and wrestling with him.
Still being fed by a bottle, Jan and I have had the pleasure - or honor - of feeding the little guy several times already. We want to be sure and make friends with him now, so that when he hits the over 550-pound size he will become, he won't want to eat us.
At right: Jan feeds the baby...
A visit to Rick's house now begins with the kitchen, then must include a trip outside to the Cat Yard, where the rest of the family lives and plays in between shows. On a recent visit, Morpheus decided to climb into his water tub and lounge around in the water.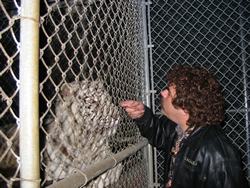 It is amazing how different each of the cats are. They all have unique personalities. My favorite has to be Star, shown here as a full-grown female Siberian. I have watched this cat grow from the tiny cub she was - she was the cat in the shirking illusion at one time - to the full grown cat status, almost two years later. She is smaller than the Bengals, and very frisky, loves to play, lick my face, and grab the feet of visitors.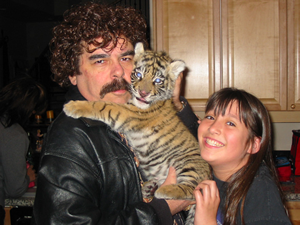 At left: Rick's daughter, Miranda and Steve hanging with the cat...
t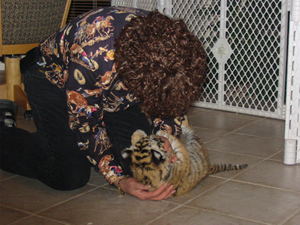 Then there's Sampson the huge SIberian White tiger that is basically the star of Rick's show. Rick changes one of his female assistants (usually Grace) into Samson...man, he must go through a lot of girls that way...
Sampson loves attention, too, as do most of them. He is over 500 pounds, and from Rick can tell, this little Bengal cub will be even bigger than Sampson.
When I complain about having to stack the decks and prepare my pockets with the props for each show, Rick reminds me of the process he must go through each day, to load the cats, transport them to the theatre, unload them, rehearse then, and then reverse it all at the end of the second show each day.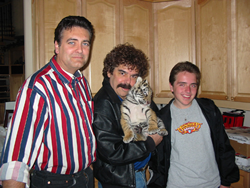 Course I remind him of the tiny salary I collect while he needs an amoured car to collect all his dough each week. But, hey...tigers can be very expensive to feed...
At left: Rick, Steve Dusty at 5 weeks, and my student, Ryan, a very talented young magician
PAUL DANIELS TO PLAY VEGAS

Mac King is taking a few days off to have his plaid jacket cleaned, and while he is off, the one and only Paul Daniels flies over from England...he will be doing the shows at Harrah's. We are all delighted that Paul is coming to town, and you can be sure that every magician in Vegas will be attending at least one of his performances.


The Paul Daniels Comedy Magic Show
April 19 - 23, 1 & 3 p.m. Tues. - Sat.
Showroom, Harrah's Hotel and Casino, Las Vegas.
$19.95
PROGRESS REPORT
Thanks for all the feedback on our "Progress Report" we just posted. Many expressed surprise that we have been around for five years. Believe me, it blows my mind when I think of all the man hours we have all put in for this thing to become a reality. In case you missed the article, check it out here.Progress Report,
INTERNET MAGIC HALL OF FAME NOW OPEN
Yes, I know. It's taken us forever it seems, but we are finally happy to say that the Internet Magic Hall of Fame is open, and although it is far from complete, there are many pages to enjoy...the top vote getters were Harry Houdini and Carl "The Amazing" Ballantine. When I called Ballantine to tell him, and ask his reaction, he said..."What? I got beat by a dead guy?"

Be sure to check this wonderful section out, and let us know how you like it.
HAVANA NIGHT CLUB
Billed as "The show Cuba did not want you to see", this show has been getting loads of press, and not just because Seigfried & Roy have been supporting the show (The are listed as "presenters"). I have asked Siegfried if they produced the show, and he said no. The cast, all from Cuba, have applied for asylum, triggering a wave of media coverage. Great publicity, eh?
The show is presented in the "Wayne Newton Theatre", the same showroom where Rick Thomas appears in the afternoons. I can guarantee that the name of this showroom will be changing soon, as the hotel and Wayne Newton are no longer speaking to each other. Wayne's brother, Fig, syas that Wayne will be out of there soon, and he will be looking for another joint to present his show. So, the name will change...
Anyway, when the Havana Night Club show plays, it transforms the place into wild, hyper-energy. Dancing, singing, authentic costumes, beautiful sets...this show is not-stop from the opening number through to the rousing finale. It is a tribute to these Cuban performers that they can keep the energy going for almost ninety minutes. A fun evening. Don't miss it if you are visiting Vegas.
MEET OUR NEW STAFF MEMBER

Dennis Regling is a professional magician, author and lecturer. He performs educational programs at over 250 elementary and junior high schools every year. Additionally, he performs gospel magic programs at church camps, Vacation Bible Schools and other church events. Dennis has authored over 12 books for magicians. Dennis currently resides in Freeport, Ohio and performs throughout the east and midwest.
Dennis will be writing a column for us, starting with his first, right here. He has a number of diferent topics he plans to cover, always insightful and entertaining. Be sure to check him out...he will have new feature articles every couple of weeks. We are delighted to have him join the gang here. Welcome aboard, Dennis!
NEWS AND RUMORS
If you haven't checked this out, our NEWS column contains occasional articles, news, rumors and gossip. If you have anything you'd like to add, be sure and email us. Among the stories you will find there now, ...Dick Arthur is has to pull a lawyer out of his hat, as he is now the target of a lawsuit as a result of an audience member getting hurt in a fall at his show (at the very first performance...talk about starting on the right foot!)...
Magically yours,
Steve

TOP

Last Week's Article

PREVIOUSLY:
Dublin Invasion

Johnny Carson says his final good-night

Johnny Thompson Gala Event in Vegas
Gerry & The Pacemakers

Previous AbracaDACRI Columns