"All of us who came after are pretenders. We will not see the likes of him again ... He was the best, a star and a gentleman." Carson, who died Sunday at age 79, was a celebrity who remained true to himself, actor-comedian Jerry Lewis said.
.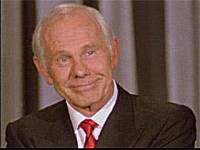 "It's a sad day for his family and his country," David Letterman said
.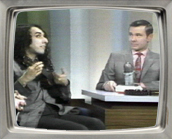 Carson's longtime bandleader, Doc Severinsen, said, "I am deeply saddened by Johnny's passing. He was a great friend, a mentor and many of the good things that I value came from his presence in my life, especially my wife, Emily. We will miss him and love him always."
Bette Midler, who serenaded Carson as his last guest in 1992, said he was a "little bit of devil, a whole lot of angel, wit, charm," and good looks.
President George W. Bush called Carson "a steady and reassuring presence in homes across for three decades."
TOP
(January 25, 2005) LAS VEGAS - Yesterday (Jan 23) the world lost another legend of show business. Johnny Carson passed away at his Malibu Beach home, with his wife and family around him. He will be missed all over the world. The LA TIMES SAID, "Johnny says his final Good-Night". He was 79.
Johnny Carson began performing professionally at the age of fourteen as a magician-comic, "The Great Carsoni," for the local Rotary Club in his hometown of Norfolk, Nebraska. After a two year stint in the Navy during World War II, and four years as a radio-drama major at the University of Nebraska, Carson hit the entertainment industry as a radio announcer-disc jockey before landing several TV shows, most notably, "Who Do You Trust" before taking over the reins of the Tonight Show from another legend, Jack Paar. And the rest, they say, is history.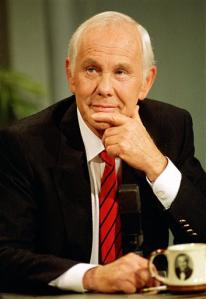 I remember sitting in my dressing room with him, before the taping of my appearance on his Tonight Show back in 1977. Normally he does not want to meet his guests before the taping, preferring to keep it fresh and spontaneous, but we were supposed to do a trick together, sort of as a gag, and he wanted to go over the details with me. We ended up sitting and trading card tricks with one another. He showed me a few moves with a deck, cuts and shuffles on my close-up pad, and we worked out a routine to do together. We never did get to do that bit, as the timing of my segment ran longer than scheduled.
He was extremely gratious, and full of energy, sitting there in his jeans and casual shirt, poking though my prop case with great interest. As we are both also drummers, we also talked about Buddy Rich, the greatest drummer who ever lived. We compared notes on each other's drum kits and speculated on the corelation between drumming and sleight of hand. We were finally interupted by a production staff member, as the time had been flying by. For a few moments that day, the legend was merely another magic nut, marvelling at the props and gimmicks, and sharing routines. I gave him a locking half-dollar stack and tube, after first teaching him a routine with the great prop (made for me by Eddie Gibson in England). He thanked me in a letter a few weeks later, saying he had fooled many of his friends with it already.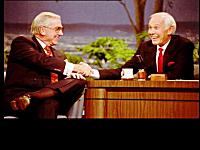 TOP
I showed him many routines that he thought might be good for a return visit. That return visit never materialized. I was booked and bumped two more times.
Many of my friends did the Carson show back then; Lance, Harry Blackstone Jr., Jimmy Grippo, Michael Skinner, Harry Anderson, Jim Teter, Dean Dill, Paul Gertner, to name a bunch. There were too many to list here...Johnny loved magic and was always generous in his praise of good magic presentations.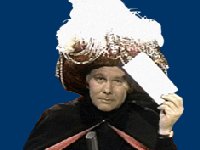 Daytime talk show host Oprah Winfrey described Carson as "one of the greats of our time."
"He was the greatest talk show host of our time, with the quickest mind," comedian Billy Crystal said.
Carson's longtime sidekick said the late-night host was "like a brother to me."
Ed McMahon released a statement Sunday saying that, even years after he and Carson no longer worked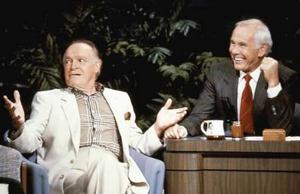 together, he still thought of Carson as "the boss."
For decades, it was McMahon's booming intro "Heeeeere's Johnny!" that ushered Carson onto the "Tonight Show" stage.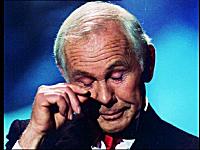 McMahon said that their 34 years working together, and the 12 years since, resulted in a bond of "respect and great admiration." In recent years, he'd look to Carson for advice whenever a "big career decision" came up.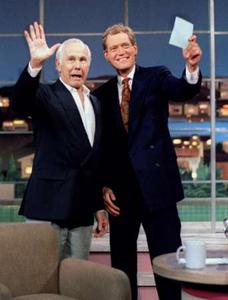 Our thoughts and prayers go out to Johnny's wife, his family and all of his friends. He will be remembered always...
And the nominees are . . .
This morning the Academy Award Nominations were announced...here they are...
Mind Reading Site That You'll Enjoy
Message from Roger Miller IBM President- Elect
www.dslextreme.com/users/exstatica/psychic.swf
Magically yours,
Steve

Last Week's Article
TOP

Previously: Johnny Thompson Gala Event in Vegas
Previously: Gerry & The Pacemakers

Previous AbracaDACRI Columns