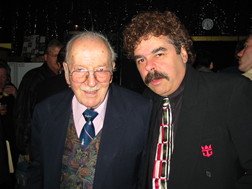 .
Jay Marshall in the hospital in Chicago
LAS VEGAS - Got word from Chicago that Jay Marshall has been in the hosptial for over a week, a bad infection that seems to have spread throughout his body. We wish him well, of course, and so does everyone else in the magic world. He has had several visits from Bongo, his famous cat, who has secretly slipped in to hang with his boss. This photo was taken a few months ago at the Las Vegas party for Johnny Thompson. Jay was is hoot, with a very funny presentation to Johnny and Pam, and he was in great spirits...
At left: "Mo" is now six weeks...almost double in size from the first photos....
.
Yep, MO is now six weeks old. We will keep updating you on his growth spurts...The above shot is six weeks, the below one is 5 weeks...getting bigger, eatng more, and his jaws are getting amazingly more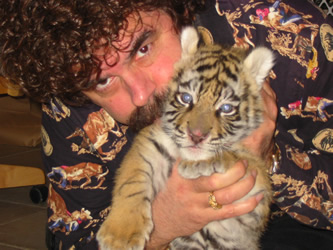 powerful.
He continues to be the star of Rick Thomas' show, he steals the hearts of he crowds when he makes his surprise appearance in the "shrinking Tiger" illusion. Look at those eyes...hard to imagine him at 500 pounds...
This in from pal Will Roya, who has been running this show for a year in Vegas...
"Spotlight" the Variety Show Celebrates One Year Anniversary
"Spotlight" the variety show will be celebrating its one year anniversary with a special performance Saturday, May 28th. The show has been playing at the Bourbon Street Hotel & Casino to rave reviews for the last year.
Producer and performer, Will Roya rotated acts in and out for the first six months of its run before settling on a permanent cast. "I discovered that audiences really enjoyed the segments of the show where the acts interacted
with each other, and to develop these bits wholeheartedly a permanent cast was necessary," said Roya. Although special guest acts regularly appear in the show, the cast now consists of singer Michael Cagle, break dancing
performance artist "Just Us" (Lamont Wallace and James Bynum) and the magic, juggling and comedy of Will Roya.
Congratulations to Will and everyone involved. Keep the good work going!
NEW HOTEL FINALLY OPENS
Wynn Las Vegas, a $2.7 billion resort built by casino magnate Steve Wynn, opened its doors early on Thursday to hordes of visitors eager for a glimpse of the lavish gambling, hotel and shopping complex.

The crowd spilled onto the Las Vegas Strip as security guards restricted the number of people allowed into the curved bronze tower.
The five-year project "has elements of Wynn's earlier casinos evolved and carried to the next level," he said.
Located toward the north end of the fast-growing city's fabled gambling corridor, the 2,700-room tower marks Wynn's first new project since the opening in 1998 of the Bellagio resort, now owned by MGM Mirage.
The interior of Wynn Las Vegas is richly decorated with textured wall coverings, dramatic draperies, mosaic floors and whimsical light fixtures.
Curved escalators lead down to a patio facing a large pool with a 70-foot wall of water cascading at its back. Periodically, the wall turns into a multimedia theatrical show complete with animatronic creatures.
Atriums and floor to ceiling windows in many areas bring daylight in and fresh flowers are abundant.
Wynn and his wife Elaine hosted a grand opening charity event at the new resort on Wednesday evening and the doors were opened to the public just after midnight.
I was honored to perform at this event, prior to the public showing up. It was a lot of fun, with Robin Leach leading the crowd, which also included many celebs, and president Bill Clinton.
MAGIC CASTLE HAS A NEW GENERAL MANAGER
Happy to report that long time Castle host Michael Gingres is now the club manager. He has a lot of great things planned for the club, which went through some trying times with the potential takeover from and outside group.
The Castle WAS taken over, however, in a way. The Glovers, long time landlords and owners of the place (along with Yamashiro at the top of the hill) decided not to grant Milt Larsen a new lease, and instead eleted to take over control of the restaurant/bar operation. They figure that they can do a better job. We shall see about that.
Now the only money that the Academy of Magical Arts sees from the operation is the door charge, and the dues money from its members. This changes things. Especially since many members try to sneak guests in without paying the door charge...
Many key employees have split, leaving the staff with a lot of new faces who do not know the members at all. Makes the atmosphere VERY different from "the old days", I can tell you. I stopped in for lunch last week, and when I walked in, I didn;t spot a single familiar face, until I got upstairs to the dining room. Very wierd.

On the good side, though, Michael has been working very hard to get many new things going. He started by arranging for Paul Daniels to present his very popular Max Malini Tribute Show for the members. And Paul, with all his millions, did not need the cash, so they charged $40 a head, and Paul gave all of the money back to the Dai Vernon fund. Classy guy.
Michael, a lover of the leaf himself, has told me of plans to build a walk-in humidor featuring fine, hand-rolled cigars, and a cigar lounge downstairs, with a separate entrance. In a few weeks, we will reveal some of the other exciting things that Michael has planned. He has his hands full, though, as many of the long-time workers are splitting, due to the new regime that insists that the place is no longer a non-profit, and things are tightening up ain a lot of areas. Many members told me other horror stories, so it seems that many people are NOT happy that the Govers - who know nothing about magic and couldn't really care less about magicians - are now running the restaurant and bar. Time will tell, but I can tell you one thing - the place has changed. What would Vernon say?
Speaking of Paul Daniels, his week long run at Harrah's was a huge success. The hotel was really happy, the crowds were big, and Paul certainly left his mark in the Strip. Hurry back, Mr. Daniels!
Had dinner with Carl Ballantine while in Hollywood, but not before first stopping by his house to check out his latest trophy, which he called "an ugly owl" presented to him by the CIncinnati Magic Society. He also had a new box of cigars to try out. Then we drove him to an audition he had, before heading over to the Village Pizza joint on Larchmont, to sit in our reserved seats and chow down on some New York pizza and pasta. Carl continues to be the funniest man on the planet. We talked about the upcoming comedy lecture we will be presenting in Reno, I made notes, in between laughing...
HAVANA NIGHT CLUB
Billed as "The show Cuba did not want you to see", this show has been getting loads of press, and not just because Seigfried & Roy have been supporting the show (The are listed as "presenters"). I have asked Siegfried if they produced the show, and he said no. The cast, all from Cuba, have applied for asylum, triggering a wave of media coverage. Great publicity, eh?
The show is presented in the "Wayne Newton Theatre", the same showroom where Rick Thomas appears in the afternoons. I can guarantee that the name of this showroom will be changing soon, as the hotel and Wayne Newton are no longer speaking to each other. Wayne's brother, Fig, syas that Wayne will be out of there soon, and he will be looking for another joint to present his show. So, the name will change...
Anyway, when the Havana Night Club show plays, it transforms the place into wild, hyper-energy. Dancing, singing, authentic costumes, beautiful sets...this show is not-stop from the opening number through to the rousing finale. It is a tribute to these Cuban performers that they can keep the energy going for almost ninety minutes. A fun evening. Don't miss it if you are visiting Vegas.
CLEANING UP THE STRIP
The Steve Wyrick mess is finally gone. The new owners of the Aladdin, soon to be transformed into the Planet Hollywood, wanted no part of this low-end magic show. They have already started remodeling the showroom, and people who work at the Aladdin can be heard saying, "Steve who?"
Now I don't have to look at the ugly billboards in which he STOLE my "Mind Blowing Magic" line...he claims he will be back with another show somewhere in Vegas. We are all holding our collective breath...
NEWS AND RUMORS
If you haven't checked this out, our NEWS column contains occasional articles, news, rumors and gossip. If you have anything you'd like to add, be sure and email us.
Magically yours,
Steve

TOP

Last Week's Article

PREVIOUSLY:
RIch Thomas new baby tiger steals the show
Dublin Invasion

Johnny Carson says his final good-night

Johnny Thompson Gala Event in Vegas
Gerry & The Pacemakers

Previous AbracaDACRI Columns