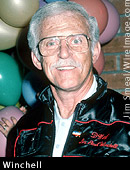 Paul Winchell
LAS VEGAS - The IBM has left Reno, and my report follows here.
By now everyone has most likely heard about the incredible heat we have been enjoying here in Vegas. Every record has been shattered, with over 10 days of temperatures well over ONE HUNDRED and TEN degrees! Yikes! Jan and I have found it quite convenient, however, as we cook eggs and bacon on the sidewalk in front of the house, and water boils just by leaving a coffee cup full on the patio, so afternoon tea has become a ritual in this neighborhood.
SInce coming back to town from Reno, we have been operating on slow motion mode, which explains the reason for such a long delay in getting this new column up. Between the work load here at MagicWebChannel, and the backup of mail in the office, and the shows and swimming pool meetings, we have barely had enough energy to mix up a fresh batch of martini's. So, now, with a giant chilled glass of liquid refreshment balancing on the desk, I greet you all, and will try and catch you up on things.
By popular request, you can still read our tribute to Jay Marshall and as always, the Hall of Fame page devoted to him stands as further tribute to the man we all loved so dearly. Contrary to rumors, Jay really did die, and will not be appearing at any magic conventions during this or any other year...
You can always check out the Jay Marshall column here, or visit the all new Hall of Fame page here.
STEVE LECTURES IN LAS VEGAS
This just in...Roger Dreyer of Fantasma Magic has twisted my arm and I will be presenting a very special lecture in Las Vegas on August 1st...that's a Monday night. Here's the details...
PAUL WINCHELL, TV PIONEER AND VENTRILOQUIST DIES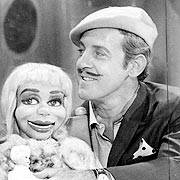 One of my favorite Magic Castle members is gone. Paul WInchell honored me by sitting in the front row of my show many times over the years, and he would always sneak a little voice into my act at an appropriate time, much to the delight of the audience. He loved magic, and would sit for hours while magicians would try out their latest effects on him at a table in the Castle. We talked about comedy a lot, and he was fascinated with the art of sleight of hand.
Best known as the voice of TIGGER, Winchell provided the pipes for dozens of other 'toons, including Spider-Man in the 198s0s TV version, the Hanna-Barbera heavy Dick Dastardly and Smurf nemesis Gargamel. He died in his sleep early Friday at his home in Moorpark, California. He was 82.

Born in New York City on Dec. 21, 1922, Winchell faced adversity early in life, having contracted polio at age six and battling a stutter as a child. He overcame his speech impediment by mimicking his idol, ventriloquist Edgar Bergen, and learning to throw his voice.

After winning radio's Amateur Hour contest with a spot-on impersonation of Bergen and dummy Charlie McCarthy as a teen, Winchell made a joint appearance with Bergen on the game show Masquerade Party.

Following a successful stint on radio, Winchell became an early TV pioneer as one of the first children's show hosts. He appeared with his own dummy sidekicks, Jerry Mahoney and Knucklehead Smiff, in several shows, including The Paul Winchell-Jerry Mahoney Show and Circus Time. (Both dummies are now on permanent display at the Smithsonian Institution in Washington, D.C.)
TOP

A regular renaissance man, Winchell studied medicine at Columbia University, practiced acupuncture and hypnosis and was a prolific inventor. He held more than 30 patents on a variety of contraptions, including an artificial heart in the 1960s considered to be an early blueprint for the model developed by Robert K. Jarvick, the first to successfully implant one in humans in 1982. He also dreamed up a disposable razor, a flameless cigarette lighter, a fountain pen with a retractable tip and an invisible garter belt.

His channeled his chameleon-like vocal skills into numerous projects, including several voices in The Jetsons, Boomer in Disney's The Fox and the Hound, Marmaduke in the 1980s TV 'toon The Heathcliff and Marmaduke Show and Sam-I-Am in the TV classic Dr. Seuss on the Loose.

In 1974, Winchell shared a Grammy with Holloway and Cabot for Best Children's Recording for "The Most Wonderful Things About Tiggers" from Winnie the Pooh and Tigger Too. The tune featured the famous lisping lyric: "The wonderful thing about tiggers, is tiggers are wonderful things! Their tops are made out of rubber, their bottoms are made out of springs!"

He also improvised Tigger's signature line "Ta-Ta for now!" or "TTFN" for short at the behest of his third wife, who was British. Winchell's last big-screen turn as Tigger was 1999's Winnie the Pooh: Seasons of Giving.

Winchell is survived by his wife of 31 years, Jean Freeman, five children and three grandchildren.
Over six decades, Winchell was a master ventriloquist — bringing dummies Jerry Mahoney and Knucklehead Smiff to life on television ..
Winchell first voiced Tigger in 1968 for Disney's Winnie the Pooh and the Blustery Day, which won an Academy Award for best animated short film, and continued to do so through 1999's Winnie the Pooh: Seasons of Giving.
"I first met Walt Disney 25 or 30 years ago," Winchell recalled in a 1988 interview with The Associated Press. "He said, 'We're both in the same business. I use cartoons and you use dummies and we both entertain children.' That was long before I started working here. Walt gave me a VIP tour of the studio. I remember people doing voices. I said, 'Gee, that must be fun.' And here I am."
Winchell voiced memorable characters in numerous animated features over the years for Disney and Hanna Barbera. He was Gargamel in The Smurfs, and Boomer in The Fox and the Hound.
Winchell said he always tried to look for characteristics and idiosyncrasies in the voices he created. For Tigger, he created a slight lisp and a laugh. He credited his wife, who is British, for giving him the inspiration for Tigger's signature phrase: TTFN. TA-TA for now.
Ventriloquist Bergen was his childhood hero, and Winchell said one of the greatest thrills of his life was a joint appearance with Bergen on the game show Masquerade Party.
In 1950, Winchell created Knucklehead Smiff and introduced him on The Spiedel Show, which later became What's My Name? Despite his success in television, Winchell felt the medium did not do justice to his beloved craft.
"Ventriloquism today is in a slump," he told the AP. "I think television defeats ventriloquism. Children are so used to seeing puppets that when they see a real ventriloquist they don't understand it. On television, everyone talks and they don't care about the mechanics."
I still have my very first vent dummy, a Jerry Mahoney dummy, and one time, when I knew Paul Winchell was in the audience at the Magic Castle, I pulled him out and used him to reveal the selected playing card. Paul loved that, and he even caused Jerry to speak to me, insulting me after the trick was over.
Good bye, Paul...you will be missed but not forgotten.
NOTES FROM THE IBM CONVENTION IN RENO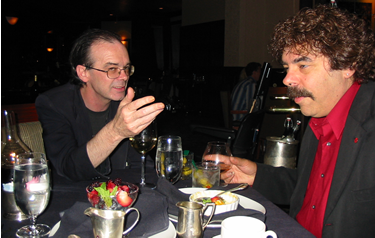 Stardate FOUR. July 2005.
The convention is now over. And boy is the Reno Hilton glad. It was a helluva week. Not only 1200 magicians (okay, a handful of magicians and 1100 magic enthusiasts) but the hotel also has a few thousand girls vollyball players and hundreds of heavy metal fans mixed into the guest list, which made for a very interesting assortment of crazies.
It was a fine gathering of magicians from all over the world. Outgoing International President Tony Wilson brought out a large contingency of Kiwi and Aussie members, and his farewell party and the closing banquet had that down under vibe going. As a matter of fact, his invitation-only party during the convention was REALLY hot...with the police eventually called to quiet the tribe...and lots of adult beverages were consumed, not to mention huge piles of food, shrimp, munchies...cake, pie, cheeses, meats, and kangaroo.
We have a complete collection of photos...I hope you enjoy them, all taken by Jan.

When I first arrived, I set up show at the Simon Lovell Office - (okay, it was actually the corner seats at the bar.) There we witnessed the constant flow of arriving people, and it was there that I was duped (sorry, PURSUADED) to appear on the local NBC-TV show in the morning. SIX in the morning I was picked up and driven over to the television station. I woke up about SEVEN...just as they were sticking as microphone down my pants and shining bright lights in my face. The show was live, and a lot of fun. We talked about the convention, did some magic, and told everyone to call and purchase tickest for the public shows. It must have worked, the phones at the hotel began to ring around EIGHT and all of the available seats were filled.
From our vantage point, the corner office, Simon and I had a perfect view of the madness that was taking place all around us. It was downright scary. Cards flying, coins sailing up sleeves, dollar bills levitating on threads, it was pure insanity. Luckily, the bartenders had the perfect collection of spirits to keep us entertained amid the chaos.
In the first hour alone, we spotted many familiar faces, more that I can recall...including The Amazing Ballantine, Bev Bergeron, Aldo, John Cornelius, Obie, Peter Reveen, Milt Larsen, Jack White, outgoing Tony Wilson, incoming Roger Miller (no, not the singer), Tom Vorjohan, Gene Anderson, Elizabeth Warlock, Mike Gancia, Alan Watson, Phil Whilmarth, Rachelle Wild (or is it Wild Rachel!), Paul "take THIS card...not that one, THIS one" Green, Roger Dreyer, Ali Bongo, Dingle...it was happened so fast...and the booze was flowing freely, I knew this was going to be a wild week. I was glad my mate Simon Lovell was up to the challenge of keeping it all together. (Most of these folks appear on the IBM photo pages...)
The Magic Youth International X-Treme event was a huge hit, even if a lot of kids did not show up. Those that were there enjoyed themselves, learned a bunch and ate a lot of free food.
I was appearing at the first session, at one in the afternoon, after a short nap following the television show appearance...talking about the importance of creating a stage presence, or character. I brought along (roped into) two of my pals to assist me - Ballantine and Bongo. (Sounds like a new cocktail).
An enthusiastic group of kids...the future of our art. The watched, participated, asked questions and threw bits of food. I got a chance to speak to many of them throughout the convention. They are sharp, eager to learn and full of energy...and they were also checking out the volley ball players very carefully.
I will not be reviewing the stage shows, as I want to have friends after this is published on the Web. Besides, reviews will no doubt appear in the traditional places, like the MAGIC and LINKING RING magazines, and that other magazine that begins with a G. I'm sure they will be accurate and full of an appropriate play-by-play of each evening show. I didn't see them all, anyway.
The first evening show was...spotty. Some good, some no-so-good. As I said, in the interest of not wishing to alienate anybody, let me just say that you had to be there. Read the mags next month. My notes, and those of Simon Lovell say it all..."some dead spots, some not-so-dead spots, and a few flashes of brilliance." Like I said, read the magazine reviews.
There was the dealers room...too big but then again, this was the big convention, right? I never saw so many silks, boxes, books, props, DVD displays, illusions and money changing hands at a rapid pace. There was the usual collection of stuff designed to sell, all for the supposed purpose of creating better magicians, or is it better spenders?
I lectured in a too-big room, but the large screens and TV cameras helped make it work, although cramming my two-hour lecture into a 45 minute spot is a magic trick in of itselff. Somehow it worked, the crowd was great, and I had a ball.
On the Friday night of the convention, the hotel had booked a heavy metal concert in the outdoor arena. Judas Priest was playing, which filled the casino and the hotel with head-bangers, tatoos, leather with spikes, bearded bikers and shaved rockers. Then there were the guys.
The mix of people when the concert got out, together with the volley ballers, and the magicians was like something out of a Hunter S. Thompson book. It was...interesting.
The close-up shows took place in three rooms, with the typical tiered seating, with visibility from the back rows marginal at best. Still the crowds were wild, and after six performances, I could not pick my favorite audience - they were ALL FAB!!!
Convention organizers need to take a look at this printed progam and learn from it. A cryptic-looking schedule that did not actually show WHO was doing WHAT and WHERE is not a best idea. SMall criticism, really. It was a wonderful convention. Really. Honest.
Sample entry: Saturday 10:30 AM : Lecture Workshop.
That was actually the Ballantine-Dacri lecture.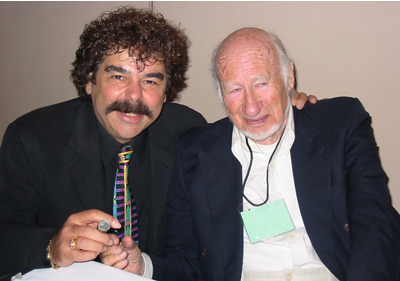 That was fun, by the way, and I am told, having Carl Ballantine there, answering questions, doling out advice, and telling jokes was truly the highlight of the convention for many. I was honored to appear with him again, for our PART TWO comedy lecture that promised to deliver absolutely no real advice, and we did just that. We smoked Cuban cigars, conducted an interview, answered questions and had a lot of laughs. Carl was really "ON". Course he always is, but he was absolutely brilliant, and the crowd loved every word - every joke - every glance. He was full of insights, stories, rememberances and some well-chosen words of wisdom.
We also showed bits of the new, soon-to-be released BALLANTINE DVD, which can be pre-ordered here.
The convention somehow ended, and Carl Ballantine, Jan and myself slipped into a stretch limo and screeched off to the airport, where Carl was searched so thoroughly, he actually MISSED his plane back to Los Angeles. He gave new meaning to the words "CUSS YOU OUT" as we quickly found him another flight...
Jan & I then boarded a plane back to Las Vegas, where we were treated to ONE HUNDRED degree temps and massive fireworks displays all over the Strip.
A splendid time was had by all. Simon called from New York, said he hadn't been to bed in days, and reported that he found little sponge bunnies thorughout his underwear and suitcases. I'm not sure where they came from either, but told him not to send them back without a thorough washing and steam clean.
Did I mention the fine collection of convention photos?
MAGIC ACROSS THE POND

The Magic Circle began their long-awaited gala celebrations, the CENTENARY yesterday in London, and magicians from all over the globe are descending on the place at this very minute, exchanging moves and jokes and doing all the things magicians do when they get together. Past President Michael Bailey has been busy preparing, along with John Fisher and his team of able-bodied magi, for the onslaught of magic-hungry enthusiasts for several days of finger flinging and shows, lectures, and stage whispering. We wish them all the very best for a most happy and successful event which celebrates the one hundred year mark for the most prestigious magic Society in the world. Ali Bongo promises to provide us with details when it is all over.
That's all for now, must get down to the Strip for a performance in a few hours, and I have to figure out what I'll be doing in the show...
Magically yours,
Steve

TOP

Last Week's Article

PREVIOUSLY:
Jay Marshall has left the building
RIch Thomas new baby tiger steals the show
Dublin Invasion

Johnny Carson says his final good-night

Johnny Thompson Gala Event in Vegas
Gerry & The Pacemakers

Previous AbracaDACRI Columns