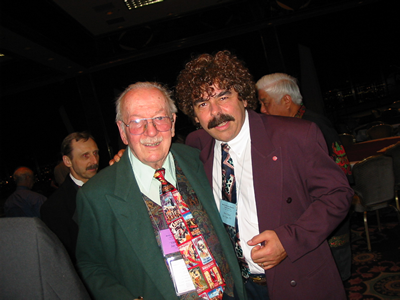 Jay Marshall - August 29, 1919 - May 10, 2005
LAS VEGAS - One of the better cheaper acts is no more.
Our hearts and prayers go out to the family and friends of Jay Marshall, who died on Tuesday in Chicago at Swedish Covenant Hospital, after a lengthy hospital stay. He was getting better, then took a turn for the worse, and although his brain was sharp, his body just couldn't go on.
He was 85 years young, and had more energy than ten of us. To say that he will leave a viod is huge understatement. The man was a true legend in every sense of the word. He was a magician, first and foremost, although he used to say to me, "I'm just a guy with a sock who tells dirty jokes."
Of course, he was referring to "Lefty" the most famous sock in the entertainment world. Jay and Lefty appeared on numerous television shows and stages all over the world. I remember watching Jay perform on the Ed Sullivan show when I was a wee child. Of course, he had been on that show many times prior to my being born. He was one of Ed's favorite guests, and he appeared on the show numerous times over a 14 year period. He was also a Vegas headliner. As a matter of fact, he was the first act to open for Frank SInatra in Las Vegas.
He enjoyed many standing ovations, and his humor, although at times quite ribald, was well known throughout the world.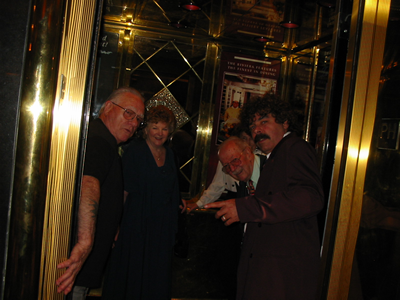 (At left: Jay clowns around in the elevator at the Riviera Hotel in Las Vegas during the SAM convention, seen here with good friends Ray and Ann Goulet)
Besides magic, Jay was a great ventriloquist, and avid collector and a knowledgable historian with a storehouse of knowledge. "I like old stuff", he used to joke.
When Jay passed, he was surrounded by family members, and of course, his beloved cat, Alley Bongo, named after Ali Bongo, his long time friend and fellow magician from England. (Jay had ordered a family member to smuggle the cat into the hospital to be with him.)
On his 80th birthday, Jay was honored in Chicago, his home, with the proclamation for "Jay Marshall Day". He marked that honor by visiting his favorite restaurant and signing the chec, "Al Capone"..
Jan & I spent as much time as we could while in the Chicago area during our lecture tour a few years ago. We shared many meals together, and captured Jay on camera for a wonderful interview. Jay loved to show visitors around his office and home, and the theatre that he built next door to the current location of Magic, Inc. the magic company he ran with his beloved wife, Frances Ireland Marshall, the wid ow of L.L. Ireland. (Frances died in 2002) Every nook and cranny and shelf was filled with stuff. Old books, posters, props, puppets, piles of photos...everywhere you looked there was something. And it may have looked disorganized, but he instantly knew where everything was.
We were with Jay while Frances was in the hospital, we drove him there to visit her, and had dinner with him after his visits. He was sad, of course, but still full of life and energy and jokes. He was an amazing character.
The night she passed away, he was with us again, and after a quiet meal, he thanked us for the company, and retreated to his house. You could tell he was nearly overcome with grief, but he kept a smile on, and was a gratious host.
He was the Dean of the Society of American Magicians, and one of the most awarded members of our profession. His walls were covered with awards and citations. He was honored by nearly every magic organization for his lifetime of entertainment. He lit up a room, always had a smile and a story.
One memorable stop on our U.S. lecture tour was our lecture at Jay's theatre at Magic, Inc. The crowd had assembled, and waited. Before going on, as was the custom, Jay would get up and tell a few dirty jokes. FIrst he asked Jan is she would like to leave the room, but naturally she said, "no way!" and Jay began to tell a number of hilarious, and unprintable, jokes that had the place roaring with laughter.
And I had to follow him!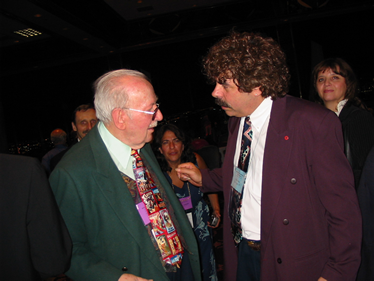 The lecture, and the entire evening was one we will never forget. Jay sat in the back, watched and listened and offered comments throughout. When it was over, he gave us some wonderful comments on camera, and his best line, ""Not only the best Classic Force I have ever seen, but he kept me awake for the entire lecture".
My friend Ray Goulet (seeen in the photo above), another avid collector, and owner of the Magic Art Book Company and Magic Museum in Watertown, Massachusetts, proudly shows off his most-prized article in his massive collection...Jay's original "Lefty". It has a place of honor, and rightly so.
Ray and Ann were good friends of Jay's, and it was through Ray that I first met Jay when I was just starting out in magic. I remained friends with Jay over the years, mostly by phone and letters, and we often crossed paths at various magic conventions and gatherings. AT FISM 2000 in Lisbon, Jay came over to me at our booth and said, "Stop following me".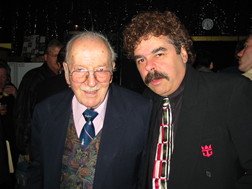 We last saw Jay in Las Vegas (pictured at left at Johnny Thompson's tribute party) a few months back. He came to be a part of the night honoring Johnny and Pam Thompson, his longtime friends from the Chicago days. Jay broke the place up with his testimonial, and was, as always, the highlight of the evening, full of stories and jokes during the whole event.
One of the people present at the end in the hospital, was his son, Alexander Marshall, a writer-director from New York. Alexander said he was not surprised at his father's unusual request for ALley Bongo to be with him, it was typical of his sense of humor and playful spirit.
"A little boy once approached my father after one of his shows and said, `Mr. Marshall, I want to be a magician, too, when I grow up," the son recalled. "My father replied, `Son, you can't do both.'"
A native of Abington, Mass., Jay Marshall studied magic and ventriloquism as a boy, and proved so popular an entertainer at Bluefield College in Virginia that he failed to graduate and went on into professional magic instead.
"Lefty" was born while Marshall was entertaining in USO shows in the Pacific during World War II.
"My father had an elaborate ventriloquist's dummy named `Henry," who was made by the man who created `Charlie McCarthy' for Edgar Bergen, but he got tired of schlepping `Henry' around from island to island," said Alexander Marshall. "One night he simply pulled on this glove, and it became Lefty."
"I saw him do Lefty more than 1,000 times over the years, and there was always something new in the act," the son said.
Marshall is survived by his two sons, five grandchildren and five great-grandchildren.
Good bye Lefty, and so long, Jay...we will miss you. There will never be another one quite like you, my friend.
MO GROWS UP
As we continue to follow the speedy growth of Mo, the baby Bengal tiger that lives in Rick Thomas' kitchen, here you can see the latest photos of this little cutie at the 12 week mark. His jaws are super-strong now, and his paws are about the size of my feet.
He's full of energy, has a great personality, but now is on the verge of a growth spurt that will put him into the "dangerous" category. For this reason, I have been spending as much time as possible with this creature, so he will remember me and hopefully not want to eat me when he is full grown.
As you can see, we play a lot, and I enjoy letting him crawl all over me. He seems to be using restraint when he chews on my arm or leg (or my nose, ears, and chin) because I know that he could easily rip off a piece of my body if he wanted to.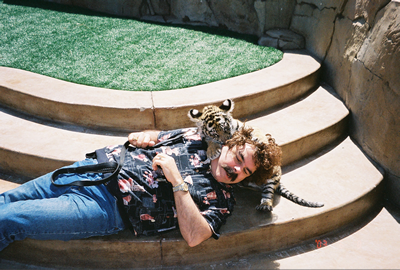 He will be over 500 pounds when he is fully grown, and I probably will not be able to let him chew on my arm at that time, but I might...we;ll see what Rick says.
Meanwhile, he is loving his home, and it is only a matter of weeks before he can no longer hang out in the kitchen, and will be graduated into his own habitat in the back yard with all the other big cats.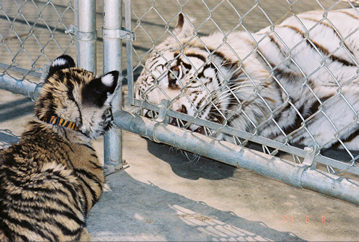 He loves to visit these big cats, and as you can see, they all love to have him stop by as well. One cat, however, the only female, Star, is not friendly and actually goes completely bonkers whenever Mo shows up.
This is a natural thing for a female tiger to do, as she knows this is not one of her cubs. For this reason, Mo has to be supervised carefully, and never allowed into the cages with the adult cats. At least not yet.
Here's Mo visiting the "other" star of Rick's show, Sampson...
ROY WALKS
I wanted to share a remarkable experience that I was a part of this past week. Something that I will never forget.
I was performing (again) at an event at the new Wynn Hotel on the Las Vegas Strip. It was the annual Nevada Woman Magazine affair. The honoree was Lynette Chapelle, who you may recall is the first lady of Siegfried and Roy. She has been with them for nearly 27 years, and has been cut in half, levitated and transformed into a tiger more than anyone on this earth.
After the lunch, Siegfried took the stage and introduced Lynette.
Lynette gave a marvelous talk about her life, from her birth in Africa to her audition for Siegfried & Roy's show, and her long and exciting career on the stages around the world with them. And her special connection with all of the animals. At the conclusion of her talk, she introduced the dynamic duo…the curtains opened, and standing center stage was Siegfried and Roy. It was a wonderful sight.
Then, Roy pushed off of Siegfried and - only with the aid of a cane - he actually walked up to the mike, spoke about Lynette, and gave an unplanned, emotional chat, thanking all for their support and prayers, and walked, on his own, off the stage…he struggled a bit, but he did it completely on his own…there wasn't a dry eye in the house, and Siegfried, standing next to him, was completely overtaken with emotion and surprise. He could not speak.
Siegfried came back onstage a few moments later, and told the audience that this was the first time since the accident that Roy has walked. He cried, and the audience stood and applauded. It was an awesome moment, in a town where people are not easily impressed or moved.
I was honored to be a part of this very magical and historical event. It was a special moment that took us all completely by surprise.
We continue to wish Roy well and hope his recovery continues...
NEW PAUL MCCARTNEY AND ROLLING STONES SECTIONS...
The magic of rock and roll comes to magicwebchannel...we have been getting a lot of positive emails from people who love the Beatles and in particular, Sir Paul McCartney since we put up our Paul Page. Thanks for the feedback.
Also this week, we began the Rolling Stones page, with the announcement of the new Stone's world tour. We will keep you posted on these two big tours, and hope to see many of you at some of the concert stops of both...as I stated in these sections, if you have ever been to a Stones show, or if you were lucky enough to see the Beatles or Paul perform live, you know they are magical events. (Jan was in the front row of the Hollywood Bowl a million years ago when the Beatles played there! Amazing, considering she is only 29).
Hope you enjoy these semi-magical features. Jan & I are huge Beatle AND Stones fans...so we thought we would share some of our favorite pictures and current news and tour info with all of you. Tell me what you think.
OTHER NEW FEATURES
Become a Magician! Get Rich Quick is the latest column by Dennis Regling. Be sure to check it out. We have received many emails from readers who have enjoyed Dennis' previous columns, and we second that! We enjoy have his unique vision as a part of our pages here.
Also, our "Movies-Movies-Movies" section opens next week, featuring movie reviews and such, designed to help you decide which flicks to spend you time and money on. Watch for it.
Magically yours,
Steve

TOP

Last Week's Article

PREVIOUSLY:
RIch Thomas new baby tiger steals the show
Dublin Invasion

Johnny Carson says his final good-night

Johnny Thompson Gala Event in Vegas
Gerry & The Pacemakers

Previous AbracaDACRI Columns