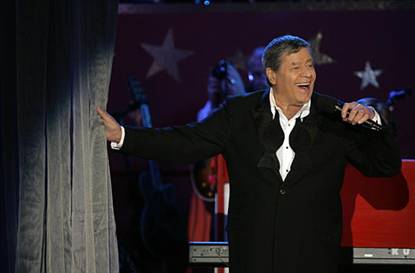 Jerry Lewis performs during the Jerry Lewis Labor Day Telethon in Beverly Hills, Calif., Monday, Sept. 5, 2005. The telethon raised $54.9 million for the muscular dystrophy research and services. (AP Photo/Jae C. Hong)
BEVERLY HILLS, CALIFORNIA - Sitting by the pool, the largest pool in Beverly Hills, actually, at the Beverly Hills Hilton Hotel, site of the 40th Annual Jerry Lewis MDA Telethon, sipping on Evian water, and munching on food from the nearby buffet. Next to me is Gary Lewis, son of Jerry, and of course, the one and only founder of Gary Lewis and the Playboys, his rock band from the sixties and still rockin' away, most recently a few hours ago on live TV, as part of the telethon entertainment. A great guy, and also, I discovered a fan of my close-up magic.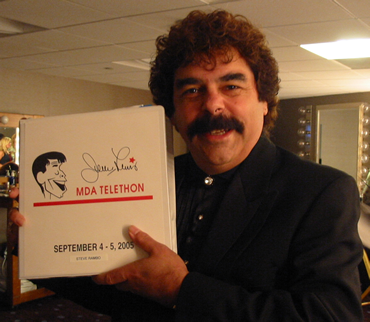 I was on only hours ago myself, performing magic at some ungodly hour for about 36 million viewers, many of whom were awake, I'm told.
For a look at Jan's great photos, click here.
Gary Lewis, and his band mates, are great, full of energy and a sense of fun that comes across in person, and on stage when they play.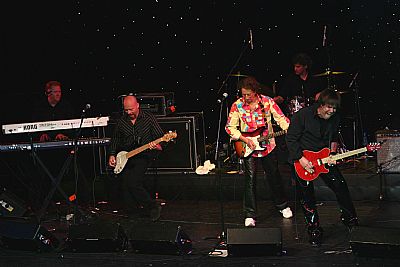 They sounded great, playing a couple of their number one hit songs, and bantering with Jerry, who jumped onstage and mugged and sang along with them duing one song, one of those unplanned moments that happen throughout the 21 hours of the live broadcast.
Gary told me he is excited about his latest booking, almost a full year in Branson, Missouri, which is a departure from his typical one-night stands he has been doing all over the world.
We wish him luck, and hope to visit him while they are entertaining there next year. We may also be performing there, as we have had a number of offers to do so...we shall see.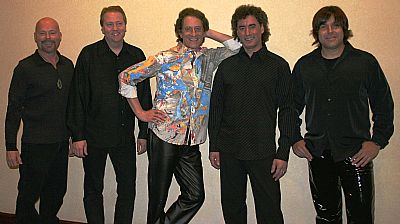 Funny, I was so thrilled to meet Gary, as I have been a fan of his for years, and before I did, he approached me to say he had watched my rehearsal and was blown away by my act! Cool stuff. He is a big fan of magic, and in particular, close-up magic. It was just one more of the amazing moments that I experienced during these past four days here...
I never expected this booking to be anything more than another television appearance, other than the fact that it would be live and seen by a global audience of 37 million viewers. I figured we would show up, do the segment, and enjoy a few days of rest...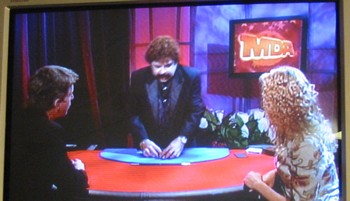 Instead, we were very pleasantly surprised to find that the weekend became one of many emotions and new friends, and sharing and taking part in a global effort, not only to raise funds and awareness for families that have been shattered by Muscular Dystrophy and other related diseases, but also to help raise funds for the thousands of people who were affected by the horrific storms in the South of the US, people who continue to struggle with the after effects of the hurricane and flooding...many of whom will never get to see their homes again, and thusands who will eventually, over the next three months or so, be able to get to their homes and try to rebuild from the mess that will take at least that long to climb out of.
MDA Telethon Raises $54.9 Million, Assists in Hurricane Relief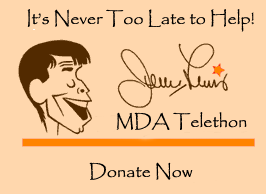 From the MDA offices...
A nationwide outpouring of support for the Muscular Dystrophy Association's annual Jerry Lewis Labor Day Telethon brought $54,921,586 to the Association in contributions and pledges.
Special appeals during the Telethon were expected to raise about $1 million for relief efforts in the aftermath of Hurricane Katrina. These contributions were funneled to the Salvation Army's program, along with a $1 million donation from MDA.
Last year's Telethon raised $59.4 million to fund muscular dystrophy research and services.
"I'm overjoyed that we were able to help the victims of Hurricane Katrina and at the same time continue our 40-year tradition of helping 'my kids,'" Lewis said. "Of course, I'm not surprised. The American people have never let me down."
The 21½-hour Telethon originated from the International Ballroom of The Beverly Hilton in Beverly Hills, Calif., beginning Sunday night, and was broadcast nationwide and in Canada on nearly 200 TV stations in MDA's "Love Network."
A highlight of the show was the presentation to Lewis of the Academy of Television Arts & Sciences' Governors Award, in recognition of his work for MDA, especially through the Telethon. The special Emmy also will be presented during Sunday's Primetime Creative Arts Emmy Awards.
In addition to the tote board figure, which reflects pledges and donations, a number of MDA sponsors presented checks representing their year-round fund-raising efforts for MDA. Leading this group was the International Association of Fire Fighters with a record contribution of $21 million.
MDA Board member Ed McMahon returned as the Telethon's anchor, while Jann Carl from "Entertainment Tonight," TV personality Cynthia Garrett and comedian Norm Crosby assisted Lewis as co-hosts.
In addition to hosting the Telethon's youth segments, award-winning teen singer and MDA National Youth Chairman Billy Gilman performed songs from his latest album, "Everything and More."
Among those appearing on the show were Celine Dion, Elton John, Barry Manilow, the Backstreet Boys, Richard Marx, George Clinton, Big Bad Voodoo Daddy, Tony Orlando, Steve Dacri, Jack Jones, Robert Goulet and dozens more.
Profiled and interviewed on the Telethon were several families who are living with neuromuscular diseases.
MDA National Goodwill Ambassador Morgan Fritz, 6, of St. Peters, Mo., who has spinal muscular atrophy, charmed the audience with her spunk and intelligence. She was accompanied by her parents, Ron and Susan.
Jeni Stepanek, the mother of the late Mattie J.T. Stepanek, also appeared live on the show.
The Telethon drew international viewers via its live Webcast at www.mdausa.org through streaming media provided by Real Networks.
"This remarkably successful effort will mean a lot to the tens of thousands of individuals and families who are fighting neuromuscular diseases," Lewis said. "I'd like to thank everyone involved in making this really terrific show one of the best Telethons ever."
OUR EXPERIENCE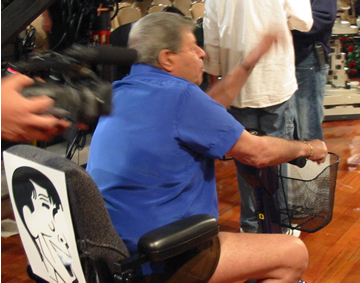 (At left: Jerry Lewis watches Steve's rehearsal)
For more of Jan's wonderful photos, click here.
We arrived on Friday, walked through the ballroom where the telecast would be held, met the producers and talent folks, chatted with Jerry Lewis, who looks fabulous and healthy for a 79 year old youngster, and settled into our gorgeous room.
I must admit I felt more than a little bit guilty as I sat on the world's most comfortable bed, and watched the giant plasma screen TV which was mounted on the wall, watching the horror that was broadcast from New Orleans, Biloxi, and other areas devastated by the storm, and seeing images of people displaced, homeless and in dire need of basic essentials, like food, water, clothing and shelter. Hard to believe we were watching scenes from a cities right here in the USA...if one were to view these scenes without knowing they were from the States, one would naturally assume they were watching scenes from some third world country.
Here we were, sitting in one of the most luxurious hotels in the world, in the middle of Beverly Hills, California, surrounded by every possible benefit, all the food and beverages we could possibly want, as images of death and distruction flashed across the screen. Certainly made us painfully aware of the sadness and suffering, and made us thankful for the life we have.
Little did we realize at that moment that we were aboout to experience a most humbling weekend full of emotions and tears, along with the joy and satisfaction that would come from taking part in this wonderful event, and the small part we would play in helping so many people.
INNER STRENGTH
We met so many families who were touched by Muscular Dystrophy, the mothers and fathers of children who will never leave their wheelchairs, and most of whom will die before they reach adulthood. And the children who inhabit those chairs. Each one more remarkable and inspirational than the next. Full of hope, love and energy, anxious to spread the word and help others, and thrilled at the opportunity that God has given them to share their plight and raise awareness, to get others to give money and time to the eventual discovery of a cure for these neuro-muscular diseases that cut down so many lives at such an early age.
These amazing children, and adults, are the ones that inspire all of us to give, and help the cause. They are all members of the elite group known as "Jerry's Kids", and they all look to Jerry and his friends for the help and guidance necessary to fight MD.
Jerry Lewis, a worldwide star, certainly does not need the publicity or the fame that comes from his tireless work, he established the Telethon 40 years ago, and has not missed one. He works long and hard, he is involved in every aspect of the show, and he has assembled an incredible crew and staff to make each show successful. Most of the crew members have been with the show for many years, and although they work hard, often without sleep for days, they all say that it is the best experience in their lives, and they all look forward to doing it again, each and every year. I was honored to work with them, in particular, Eddie Foy, Moses and Rambo, all of whom I worked closely with on my segment.
Our only hope, the one shared by everyone, is that someday the telethon will not be needed, that a cure can be found, and the suffering can be stopped by this powerful disease. Until that time, however, the world should bow down and thank Jerry Lewis for his unselfish efforts to bring millions of dollars every single year into the Muscular Dystrophy Association so they can continue to support the families and the research...
PERFORMING LIVE
The first thing I noticed was how organized the show is. With so many elements coming together, it all runs like clockwork, without mistakes or confusion, and it was a delight to be a part of the production. About an hour before I went on, I was brought to the "green room", where other entertainers were hanging out, some having just finished their spots, like Robert Goulet and Jack Jones, and other acts were preparing, like hula hoop sensation Matt Plendl, and the Muppets.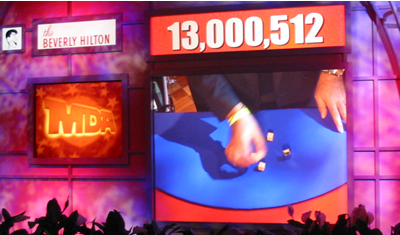 The live show had been on for eight hours, I was set for hour nine, and it was almost time to go. We had done the set for the director and crew the day before, but I insisted that whomever would be on camera with me as my assistants, should not see any of the magic before we went on the air.
It is important that their reactions be real and spontaneous, so we made sure the host or audience member would not be there. There was always the possibility that Jerry Lewis would be a part of the segment, but not a guarantee, as he was not sure he would even be awake when my spot came around.
As it turns out, he was sound asleep, so we went with Tom Bergeron, a popular host from a number of other TV shows, such as Hollywood Squares and America's Funniest Home Videos, and an audience member chosen at random.
Both of them turned out great, and they were both appropriately fooled and each attempted to figure out the magic, which made for a great segment.
There were hand held cameras roaming around me, two camera in front of me, and an overhead camera to catch all of the action. I have not yet seen a tape of the spot, but judging from the feedback I have been getting, the performance looked good to the home viewers, and the studio audience.
More photos here.
In my home town, Worcester, Massachusetts, they held a "Steve Dacri Viewing Party" complete with bagels, coffee and Bloody Mary's...they called me after the show to say how much fun they had and how well it looked to them. Most importantly, they said that they called in pledges right after I was on...many friends called me the next day, and they all said that they also called in their pledges immediately after I appeared. They all said that in addition to giving money to the MDA, they included a donation for the Hurricane Katrina relief effort. That felt real good, let me tell ya.
Meeting the afflicted children who spoke so eloquently, and their families, made this an unforgettable experience. I will never forget their smiles, their comments about enjoying the magic, and most all, their strength. Any one of us could be struck by these terrible diseases at any time in our lives. It is random and it is deadly. To see how these families have pulled together and how they survive in the face of the suffering and heartache is enough to make anyone humble. We must all count our blessings and be encouraged and inspired by the strength of these brave souls.
I thank all of my friends and family members who supported the show and called in pledges, as well as all the thousands of people who also gave so generously for both of these important causes.
And Jan and I continue to pray for those people who suffer from these diseases and for those folks who have been affected by the hurricane in the Gulf States...hang in there...better days are coming for all of you.
If you wish to donate, click here and help. Also, hurricane relief efforts still need your donations, which can be made here.

THE MAGIC CIRCLE ELECTION RESULTS

The results are in for the Council, and the following fourteen people were the winners. Listed in order of the number of votes received, they are:
Graham Reed 508
Michael Bailey 503
Richard Stupple 484
Michael Alderman 472
Peter Scarlett 470
Scott Penrose 469
Janet Clare 442
Ali Bongo 432
Derrick Speight 430
Jack Delvin 404
Chris Woodward 381
John Derris 370
Rupert Connell 357
James Fortune 329
-------------------------
These members listed below missed the cut this time around.
Stephen Barney 316
Andrew Eborn 290
Alan Maskell 238
Fay Presto 233
Robert Cox 223
From my own personal point of view, which always seems to get me in trouble, I am not happy to see Andrew E, Fay and Rob defreated, as they are three of the most dedicated members in the Society, and they have each contributed so much to the growth of The Magic Circle. I suspect negative electioneering played a huge part in the outcome, and we can only hope that steps are taken to prevent such dirty politics can be stopped in the future.
And so it goes...
Magically yours,
Steve

TOP

Last Week's Article

PREVIOUSLY:
IBM Reno Convention highlights and photos
Jay Marshall has left the building
RIch Thomas new baby tiger steals the show
Dublin Invasion

Johnny Carson says his final good-night

Johnny Thompson Gala Event in Vegas
Gerry & The Pacemakers

Previous AbracaDACRI Columns