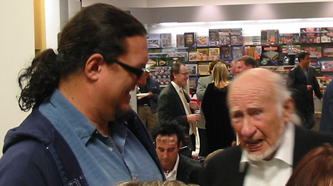 Penn Jillette pays tribute to Carl Ballantine in Las Vegas last month
(photo by Jan Dacri)
FIRSTCOLUMNOFTHEYEAR
LAS VEGAS, NEVADA - A new year is upon us. Let me take this opportunity, from all of us here at MWC and the rest of the websites, to wish you all a very happy 2006 filled with joy, happiness and good health.
New Years Eve here in Vegas was another over-the-top celebration, with a $500,000 fireworks extravaganza and 300,000 tourists clogging up the streets and casinos.
As the new year came upon us, we bid farewell to 2005 and set our sights on the prospects for a great year. Happy to report that most of our fellow magic enthusiasts in the Gulf are back to somewhat normal, rebuilding their lives after the devastation that was called Katrina. Thanks to all of you who expressed your sorrow and showed your support with donations to any one of the many disaster relief efforts. Your generosity was (and still is) appreciated.
DAVIDCOPPERFIELDCONTINUESTOAMAZE
It's been a few years since I caught David's show here in Vegas, so with guests in town, we headed over to the MGM Grand where David appears in the Hollywood Theatre. The show, his third of the day, was filled to capacity. At this time of year, David does 3 and sometimes 4 shows in a day, making him the holder of the "hardest working man in magic". How he does it, and keeps it fresh at every single performance is a marvel in itself.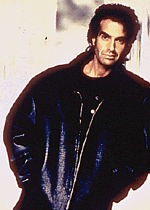 With a flurry of video clips from his career of stage and television triumphs, David starts the show off in a way that sets the stage for his arrival. People are in awe of him. They hang on his every word. They laugh at his corny jokes. He has a casual style now, as opposed to the past when he was nervous and visibly edgy when it came to improvision or handling the crowd. He is completely at ease, although he is also very mechanical and clearly delivers the exact same lines in every single performance.
The walking through a plate of steel is a bit too long for me, but it plays well nevertheless. The audience bit with the travel to a tropical island is built up to be a miracle, but in my opinion, this bit is clearly a camera trick, as the audience does not really believe that David and a "randomly selected" audience member actually were transported to a distant location and returned. The music is over the top, dramatic, designed to elecit an emotional response. It ends flat, with the audience applauding politely, but clearly not believing what they just saw.
It's a case of the audience knowing that some magical effect or illusion has just taken place, and be it mechanical or camera trickery, they know that people do not get transported around the globe as a part of a magic performance. But its good fun, and the overall effect of the show is one of wonder and fun.
I highly recommend you catch this latest edition of the show. It's fun for all age groups.
BALLANTINETRIBUTE
As we mentioned last time, it was indeed a slice of history.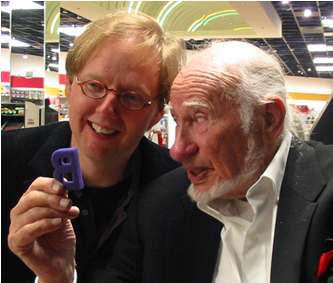 On Monday, December 5th, FAO Schwartz, the giant toy store in Caesars, closed their thrid floor and allowed us to convert it into a giant stage to honor the comedy legend, Carl "The Amazing" Ballantine.
Thanks go out to Roger Dreyer, CEO of Fantasma Magic, who sponsored the event for the local IBM Ring, and the show business community came out in force to see the one and only Ballantine. Roger and I spent many months working out the details for this gala evening, and the result was a well-attended and memorable night that those in attendance will never forget.
We now have a huge collection of special photos from the event. Check them out, and you can just imagine how much laughter there was..it was a very special happening, and we again thank all of those who showed up to pay tribute and roast Carl.
Again, we have posted a great collection of shots from the event, and we hope you like them, thanks to photographer Jan.
IRELANDMAGIC
Ruairi O'Connor called from Dublin to offer holiday wishes, and to tell us about his massively crowded schedule in Ireland, as one of the busiest magicians in the country.
The fact that he called gave us the excuse to run this photo again. It's one of the few of Ruairi that we have where he has his clothes on.
In addition to his very successful wedding show business, Ruairi entertained at various holiday parties, and at some of the bars and taverns in downtown Dublin. Course, in many of those establishments, he wasn't actually hired to perform, he just walked in, sat down and began foolling the patrons in return for a few pints. Word has it that he was quite lit and full of moxy as he propelled cards across the room, onto the cieling, and into loaves of bread before being thrown out of one place after another.
On a serious note, Ruairi also recently completed his first television appearance, and he has many others scheduled for later in the year. Asked if he enjoys working in television, Ruairi stated, "Heck yeah, I've been fixing these contraptions for years. It's what I do."
HAPPYNEWYEAR
Las Vegas is certaily lovely at this time of year. Winter means mild, sunny temperatures, lots of sunshine and plenty of blue skies. We hope you have a wonderful 2006, and invite you to visit us here in the desert sometime this year.
Magically yours,
Steve
Last Week's Article

PREVIOUSLY:
Jerry Lewis Telethon and photos
IBM Reno Convention highlights and photos
Jay Marshall has left the building
RIch Thomas new baby tiger steals the show
Dublin Invasion

Johnny Carson says his final good-night

Johnny Thompson Gala Event in Vegas
Gerry & The Pacemakers

Previous AbracaDACRI Columns
Tony Brook's "In Conversation With..."
TOP
Viking/CW
ROLLINGSTONESWALLCALENDARANDPIN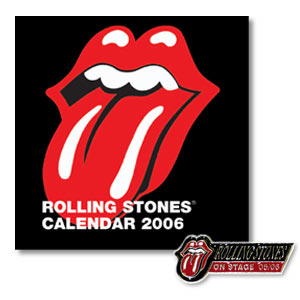 ONLY 12 LEFT...
$21.95 Purchase NOW.
We still have a very few of these collector's items left, so order yours today!
Time waits for no one...so don't miss out on the chance to get the brand new specially-made, limited edition 2006 Stones Wall Calendar. A limited-time offer...
We've got only 36 left of these to sell and they'll go fast. (We had 300, just 2 months ago.)
Especially because you can order it now and get the On Stage Pin as a bonus for only $21.95 total. That saves you almost 25% from buying them both separately! And when they are gone, there will never be any more.
The Wall Calendar is a 16-month calendar featuring full color photos of the boys in action during their last few tours. The pin is a one-of-a-kind collector's piece. They are very special. These will make great gifts, either for yourself or that Rolling Stone fan on your gift list...
A collector's item for sure. Get them while you can...'cuz ya can't always get what you want...
2006 ROLLING STONES Wall Calendar with On Stage Pin Only $21.95 Purchase NOW.


TOP