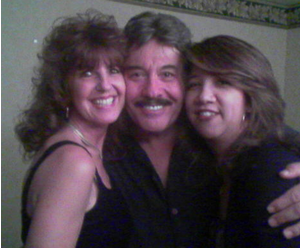 Jan (and friend Cindy) backstage with Tony Orlando recently...
(photo by Steve Dacri)
TONYORLANDORETURNSTOVEGAS
LAS VEGAS, NEVADA - The first month of the year has flown by, a sure sign that this year will be a fast-paced year. Already, we have two major proposals in the fire, and it looks like one of them is about to go forward, which is really exciting for us. It represents one of the biggest magic projects I have been involved in so far, and it will have a far reaching and positive influence on the entire magic world. I will tell you about it as soon as I am allowed.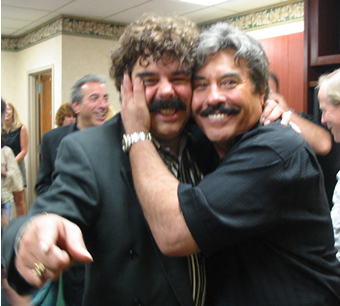 My dear friend and brother Tony Orlando made his first appearance in Las Vegas for 2006 with a 4 night (sold out) engagement at The Orleans. We always attend opening night. Since I was Tony's opening act many lifetimes ago, Tony taught me the value of the opening night of any engagement. It is important that it be as strong a show as possible, with high energy both onstage and off, as a way of jumpstarting the engagement, and it really is true, on so many levels.
When a performer does the same show (essentially) every night, week after week, as many of us do, you need little landmarks in the path, things to energize and recharge the performance. You never want to become complacent or robotic, which is sometimes easy to do with repetition, so one of the key milestones is the opening night.
Entertainers know this and therefore support each other in attending the opening night performance whenever possible.
I had not spoken with Tony for a few months, he didn't know we were coming. But during his second song, (the very popular "Tie a Yellow Ribbon", he paused during the song long enough to say "Steve Dacri is in the house" and then continued with the song!
We enjoyed the show, which is so full of energy and fun every single night anyway, but was on fire this evening, firing on all cylinders. Tony is such a great singer and gratious guy, it is obvious he loves and appreciates his audiences. I learned a lot from Tony. And I am still learning. Our friendship is a very special one, and it was great to spend time with him again.
HERMANSHERMITSCONTINUESTOROCK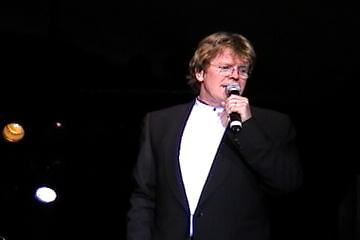 At left, the one and only Peter Noone onstage at the Silverton, never seems to get old. What's the deal here? Peter is clearly enjoying himself as much as the sold-out crowd.
I was performing magic at the SIlverton, and had a chance to see Herman's Hermits starring Peter Noone. It was one of my favorite shows, and Jan and I enjoyed spending time with Peter after the performance.
The SIlverton is a small casino just off the Strip, with a showroom that rarely gets used. (At one time big cat pseudo-magician Dick Arthur performed there, and I use the term "performed" very lossely before they threw him out due to the lack of audiences).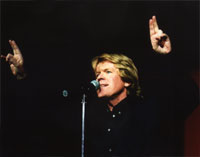 The showroom does not get used this particular night either, as the concert was staged in a tent outside, next to the pool. It is a temporary showroom set-up, I am told, until they can get a permanent showroom built.
It is better than it sounds, as there is a top notch sound and lights package and a large stage, with the all-important bar in the back. The place only holds about 400 people, so we have the makings of a truly intimate, fun atmosphere. And for someone like Peter Noone, it is a perfect spot. It allows him to be seen, and be very close to the crowd, and even jump off the stage and roam amongst the crowd, which is one of the many high points of the show.
After his first song ("Something Tells Me I'm Into Something Good") , he jokes about the setting, "I called my mom and told her I was working in Las Vegas. She was very proud. Then I told her it was in a tent. She said, 'well, son, at least you're working'".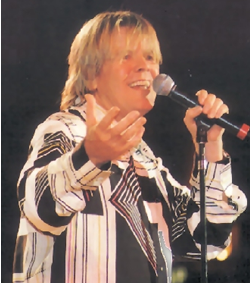 He returns June 3rd. We'll be there, entertaining him at a private event after the show.
(
At right, Peter Noone rocks the Mohegan Sun Casino up in Connecticut two years ago...
Peter is a most gratious performer, and although he is rightly considered part of the Rock Royalty that invaded America in the sixties, he is down to earth and extremely geniune. A very funny chap as well, with loads of ad-libs and banter with the crowd between songs. He surprises with impersonations, sounding every bit like Gerry and the Pacemakers, or Beatles or Peter and Gordon, or Searchers, and even Johnny Cash.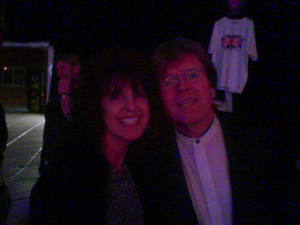 (At left, cell phone photo of Jan and Peter Noone.)
And of course he sings all of his hits, the well-known and still loved Herman's Hermits hits. They all sound perfect and it is amazing to me that he can still sing those songs after more than 40 years, and appear to enjoy them. Later, he told me that when he originally recorded those songs, way back when in London, the musicians they used were not the same ones that he eventually assembled to go on the road with him. He didn't know the guys in the studio very well, really. Now, his band is another group, very tight and obviously happy to be able to play such well-known hits every night with Peter.
DENNISREGLINGLATESTCOLUMN

Dennis begins a new year with his latest article, "Do It Yourself Magic Kits". Judging from the response we have been getting since Dennis first joined our team, we are happy that his writings are appreciated by those who actually perform magic in front of an audience for money.
Sound advice from a working performer is universally appreciated, and Dennis always has interesting things to say, peppered with occasional tricks and routines, and observations and advice. Next week, his article on "How to Promote Your Magic Act" contains valuable advice that is practical and important.
Check out his latest here..
Magically yours,
Steve
Last Week's Article

PREVIOUSLY:
Ballantine Tribute in Las Vegas
Jerry Lewis Telethon and photos
IBM Reno Convention highlights and photos
Jay Marshall has left the building
RIch Thomas new baby tiger steals the show
Johnny Carson says his final good-night

Johnny Thompson Gala Event in Vegas
Tony Brook's "In Conversation With..."
TOP
Viking/CW
ROLLINGSTONESWALLCALENDARANDPIN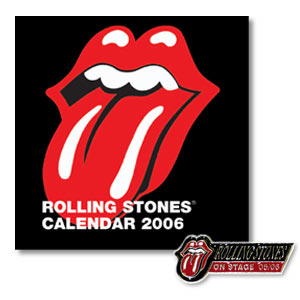 ALL SOLD OUT - Thank you for your response.