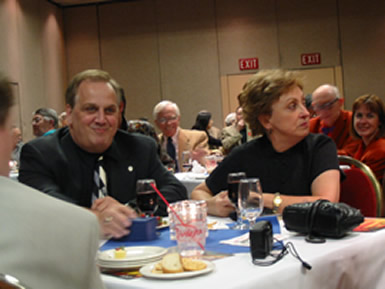 New Orleans residents Gary Hughes and Fay Gughes seen in happier times at a recent magic convention, before Hurricane Katrina affected them and thousands of others.
(photo by Jan Dacri)
LAS VEGAS, NEVADA - The telephone rang, and when I picked it up, it was my dear friend Gary Hughes, calling from New Orleans. He was actually sitting in his huge home, in Jefferson Parish, not far from the French Quarter, surrounded bhy devastation and suffering. It was the first time we had a chance to speak since the Katrina hit the area and all communications were lost down there. He wanted to tell us he was safe and sound, and although banged up and faced with many hardships, he considers himself extremely lucky compared to so many displaced folks.
(At left: Gary and Steve in happier times.)

One thing he said, which made me stop and evaluate what was happening there...he said the images on the televsion we have all been seeing on CNN and everywhere else on a daily basis, don't even begin to convey the massive destruction that he sees. It is so much worse that any of us could begin to imagine.
"It's not one tenth of the picture. It looks like entire neighborhoods, stretching for blocks and blocks, have been literally wiped out, destroyed by winds and water...with absolutely nothing left for miles, as far as one can see."
"Nobody's life will ever be the same as a result of this catastrophy. SO many people, those who lived through it, have lost everything - their cars, their homes and all possessions, their jobs...it's awful."
That said, Gary and his wife Faye are among the truly lucky ones. His beautiful home, filled with priceless art, magic memorabilia, antiques, posters, sculptures - many one of a kind and impossible to replace pieces - was spared. No water damage, no major structure damage - and he is so close to the river that you can almost see it from the end of his street. As he explained, "the closer you get to the river, the safer it is, because that means the house is ABOVE sea level. He actually has electricity, running water, cable and telephone service in his home, so he is able to begin to assess his life in the wake of all this.
That said, it becomes easier to explain why some areas, such as the historic French Quarter, have been spared from a total wipe out, as those areas that are close to the river are actually above seas level and therefor not subject to the deep flood waters that most of the city received.
"I've lost almost 70% of my income. My offices were under water, my workers are affected, some now have nothing, no place to live, family members missing, no automobiles...I will, as so many thousands of others here, have to re-evaluate my life and decide how to go forward."
As he said, he's at least safe and all of his family members have been accounted for. When he saw the news and westher reports coming in, on the Saturday before the hurricane actually hit, he suspected that it could be a big one, so he gathered some trucks and cars and loaded them up, along with his cat and bird, and headed north to his wife's family's home.
He mentioned some of our mutual friends, folks like Jon Racherbaumer - safe in Mississippi but not sure how his house faired - Harry Anderson - who scampered out of the region in time - Earl Christenbury - who sadly lost everything under ten feet of water - and so many others...such a human tragedy the scope of which we will never know. The rebuilding has begun, water is pumped out of the neighborhoods, and Gary said, "we just pray that another one doesn't materialize in this area"...
But of course, it is. Hurricane Rita is now pounding the Gulf, and already we are hearing of more flooding in New Orleans, as the storm now heads up the state line between Louisiana and Texas. Folks in those areas are now bracing for another devastating storm, and we wish everyone down there the best for a quick recovery during this very active and terrifying storm season...
So, how's YOUR day?
BENEFIT SHOW - STARRING STEVE DACRI AND OTHERS...OCT. 17TH AT THE ORLEANS HOTEL
IN LAS VEGAS

MAGIC RIP OFF ARTIST IDENTIFIED
In a letterr from George Robinson, one of the most ethical, legitimate purveyers of magic, George talks about one his products, which is now being sold without permission by a guy named Gleason here in Las Vegas. . George founded and still runs Viking, and owns Collector's Workshop as well. He has been instrmental in helping expose those thieves within the world of magic, people who are looking for a quick buck by stealing the ideas of others and selling them at reduced prices and without permission of the creators. We advise, as he does, and as most every solid, professional in the field, to contact people who attempt to rip off others ideas and inventions, and to STOP doing business with these morons.
It is a shame, as so many have no concept of the damage they do for the sake of profits. People who have invented routines, concepts, effects, ideas, props, etc., are deprived of the money they should be receiving for their contributions, yet instead, the thief gets the money by stealing the ideas, making a lesser-priced version illegally, and selling it without regard to the origins of the stolen goods.
Dirk Lousander contacted one of the biggest illegal magic dealers, a con man who lives in Florida and who have ripped off his floating table, along with Walter Zaney Blaney's levitation and hoop, among other things, and he was told "tough cookies, pal"...and he continues to sell these rip-offs to people who would rather get the low-cost cheapo version. It certainly says something about the people who BUY these illegal items. They are usually performers who are BAD, and would not know an original thought if it bit them on their ugly little faces (both of them).
We urge you not to do business with these thieves. For the good of magic. If you cannot afford the original, become a better performer and save your money until you can.
I have since been told that George has worked out something with Gleason, and he is satisfied with the outcome of their agreement, whatever it may be. That said, we thought you might like to read George's letter.
Here is George's letter:
I really thought you should know about this as many of you also have your own original items at stake. Please join me in this fight for the common good.

It is a shame that our brotherhood continues to be plagued by those that want what others have simply because of greed. It is a known fact that Collectors' Workshop's Card On Seat is a highly original effect suggested by
Chuck Fayne and implemented, designed and produced by Rich Bloch and Nick Ruggiero and now George Robinson (current owner of CW). There is NO DOUBT as to the origin and paternity of this effect, yet a Mr. Gleason of Las Vegas has the nerve to copy our proprietary item (as advertised in a recent MAGIC
ad) and supports his copy by saying that he has moved the location of the button and therefore is entitled to sell his version. Can you believe this!

Will this never stop? PLEASE do not support this kind of moral decay. It is hurting Magic in ways that you can not imagine. We have lost many inventors due to this kind of theft; some have gone underground, selling to a chosen few. Others like John Cornelius have given up completely. The Magic community can not stand by and just ignore this. We must all band together to support original thought and support those that actually contribute to the growth of Magic.

The inventors are the lifeblood of Magic and give those that use their creative genus a real thrill by being able to perform with these original marvels. But they need to be protected as any endangered species. What would the Magic world be like without the likes of Harbin, Gwynne, Joshua Jay, Wolf, Gerlitz, Rocco, Bloch, Steinmeyer, Gaughan, et al? Think of the miracles that would never have come to light if these people decided to keep
their thought to themselves. Legally, it is almost impossible to fight those that copy our ideas. The cost of litigation far out weighs the nebulous results. We have to rely on the decency of others. We have to rely on our
Brotherhood. If you agree with me, send an e-mail to MAGIC, Genii, M.U.M. Linking Ring etc. asking that they not participate in this type of business practice and to stop the advertising of unauthorized products. Send an e-mail to Mr. Gleason letting him know that you will not support his efforts now or in the future if he persists in offering goods that belong to another. Take a moment and stand up for what is right. There is so much
grief in the world right now, let us not add to it by being part of the problem; please be part of the solution.

I sincerely thank you for allowing me to voice my thoughts on this important matter and I thank you in advance for your kind support and understanding. With your help, Viking/Collectors' Workshop will be here far into the future continuing to bring the Magic fraternity new and original Magic.

Sincerely,
George Robinson Jr.
UPDATE: Since receiving this letter, as Imentioned above, George has been in contact with Mr. Gleason, and something has been worked out, although I do not know the details. We'll keep you posted, but in the meantime, please stay away from rip-off dealers and suppliers that lurk out there.
TOP
Viking/CW
2006 ROLLING STONES Wall Calendar with On Stage Pin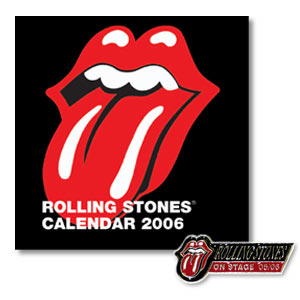 $21.95 Purchase NOW.
Time waits for no one...so don't miss out on the chance to get the brand new specially-made, limited edition 2006 Stones Wall Calendar. A limited-time offer...
We've got only 100 of these to sell and they'll go fast. (We had 300, and 200 are already gone.)
Especially because you can pre-order it now and get the On Stage Pin as a bonus for only $21.95 total. That saves you almost 25% from buying them both separately! And when they are gone, there will never be any more.
The Wall Calendar is a 16-month calendar featuring full color photos of the boys in action during their last few tours. The pin is a one-of-a-kind collector's piece. They are very special. These will make great gifts, either for yourself or that Rolling Stone fan on your gift list...
A collector's item for sure. Get them while you can...'cuz ya can't always get what you want...
2006 ROLLING STONES Wall Calendar with On Stage Pin Only $21.95 Purchase NOW.
HEADLINER ILLUSIONIST STEVE WYRICK BRINGS A LITTLE MAGIC
TO VICTIMS OF HURRICANE KATRINA WITH TEXAS PERFORMANCES
Wyrick also donated 1,000 magic kits to children of evacuees
Mega-Illusionist Steve Wyrick, a Las Vegas headliner and Dallas native, did his part to aid in the efforts for the hurricane victims by performing several free magic shows in Dallas on Saturday, Sept. 10.
Wyrick, who has been a headliner on the famous Las Vegas Strip for over a decade, is currently overseeing the development of his new multi-million dollar theater and entertainment complex at the Aladdin Resort & Casino. The new Steve Wyrick Theater is scheduled to open in December. Wyrick has been featured on numerous network television specials and has made a command performance at the White House for the President and First Lady.
In response to Dallas' efforts to support the Katrina victims, Wyrick took time off to make a special appearance in Dallas. In coordination with Mayor Laura Miller's office, Wyrick performed segments of his show for the displaced children and their families at Reunion Arena and the Dallas Convention Center.
"When I was a young boy, performing magic was my way to build self-confidence and escape to a world of fun and excitement—even for just a few moments, " says Wyrick. "My goal is to pass on this gift to the Katrina children, many of whom were forced to leave behind their toys during the evacuation."
Additionally, Wyrick - in conjunction with Fantasma Toys, the manufacturer of Wyrick's line of signature magic tricks - delivered over 1,000 magic kits at the Dallas shelters. Wyrick also devoted much of his time to working with these children in small groups to personally teach them "magic lessons" on how to perform the tricks included in the kits.
"We must all contribute to rebuild not only New Orleans and other devastated communities, but also the spirit of the family," says Wyrick. "That starts with making the children happy and no other toy can be shared with the entire family as much as magic."
Read about Steve Wyrick's latest endeavor, a Las Vegas show and theatre now under construction in the Aladdin, soon to become the Planet Hollywood Hotel and Casino...details here.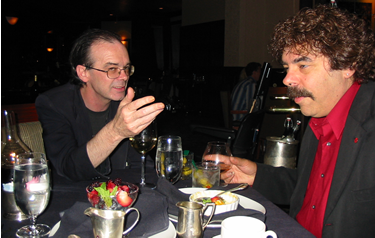 SIMON HAS A HIT SHOW ON HIS HANDS
The Wall Street Journal (July 27, 2005) gave a wonderful review to Simon Lovell entitled, "Con Man Goes Straight. Into Show Business. I only have a scanned copy of the paper, so I cannot reproduce it here, but I know you can read it on the website of the WSJ. It is a review of his demented, and highly entertaining show off Broadway, which everyone should see when in New York. Bravo to Simon.
TOP
MAGIC FOR BEGINNERS
Looy Simonoff, longtime UNLV Mathematics Professor, has stepped out of retirement to teach once again a "Magic for Beginners" class through UNLV's Educational Outreach program. The six-week course will run from September 28 through November 2 on Wednesday evenings from 7 to 9.

By the holidays, Simonoff, who has been teaching the popular classes for more than 25 years, hopes to have interested adults amazing their friends and family members with tricks utilizing cards, coins, and other everyday objects. Learning to do some magic enhances ones appreciation of the art.

Parties interested in the magic classes may register by mail or phone, using a major credit card. For additional information, call (702) 895-3394.
GREAT RESPONSE
Thanks for all the letters, calls and emails from so many of you about my experience and performance on the Jerry Lewis Telethon. It was a very special experience for Jan & I, as I talked about in my last column. We are making plans to put my performance up here on the website for all to see, in case you missed the show.
For more of Jan's wonderful photos, click here.
The show may be history, but your donations are always welcome. If you wish to donate, click here and help. Also, hurricane relief efforts still need your donations, which can be made here.

And so it goes...
Magically yours,
Steve

TOP


Last Week's Article

PREVIOUSLY:
Jerry Lewis Telethon and photos
IBM Reno Convention highlights and photos
Jay Marshall has left the building
RIch Thomas new baby tiger steals the show
Dublin Invasion

Johnny Carson says his final good-night

Johnny Thompson Gala Event in Vegas
Gerry & The Pacemakers

Previous AbracaDACRI Columns