Channing Pollock with his friend Pam Thompson
to by Jan Dacri)
LAS VEGAS, NEVADA - Here we are again, been on the road for a while (could ya tell?) and now catching up on things here, and repacking the bags for another road trip TONIGHT.

We head to Boston and parts colder. Jan is speaking at a convention up in New Hampshire, in the beautiful mountains, we'll have a few days to relax there amid the quiet nature and possibly snow-covered montains and lakes.I have a show not too far away from there, and we have a lot of Jesse-related things to do. It will be a fun week, and I will report back when I return. I have some really exxciting things to talk about, but that will all have to wait, because I gave my word that I would not say anything yet.
CHANNINGPOLLOCKBIDSFAREWELL
Sad news, another giant of magic is gone. CHANNING POLLOCK, age 79 died of cancer. He was one of the most influential magicians of our time. When he walked out on stage his charisma electrified the audience. Handsome and with his technical perfection, he began the trend of dove magic as we know it today.
We spent time with him during the Johnn Thompson night, and as always, he was full of life and happiness.
He became a movie star in Europe and later retired in California where he mentored some of our best magicians, like Shimada and James Dimmare. He was a strong influence on Johnny Thompson, Lance Burton and so many others. He was above all a great friend to all those who were close to him and an outstanding human being. We will all miss him. He is survived by his wife, Joann and his son, Russell.
A special memorial is being planned by Peter Reveen and Lance Burton. We will have details next time. It happens here in Las Vegas in May. Good bye, Channing...we will miss you.
CELEBRITYHOMESHOWCASEDONTV
THE HOME OF ILLUSIONIST STEVE WYRICK TO BE FEATURED
ON HGTV'S OFFBEAT AMERICA
Steve Wyrick, International Magician of the Year and current headliner at Aladdin Casino in Las Vegas, will be appearing on HGTV's award-winning show Offbeat America at 7:00 p.m. CST on Sunday, April 16, 2006.
After many visits to this house in the desert, Jan and I can confirm that it is one of the most beautiful residences in Las Vegas, with art and neon all over the place. Don't miss the TV show, for a rare visit inside the magical mansion of Steve Wyrick. It's only one of a dozen or so palaces he owns all over the world I guess magic's been good to him..
At left, Steve and the the show's host filming in the living room of Steve's Vegas mansion.
Steve called to say the construction is moving on schedule, a magic trick in itself. He will be moving his illusions and stage in about a month, after his enagement in Atlantic City. And his new show will finally open.
We are all very excited for him. This is the biggest gamble of his career, dollar-wise, and there's a lot at stake for him. I predict it will quickly become one of the most talked-about productions in Vegas history.

Offbeat America takes a head-turning look at the lives and creations of some of our nation's most awe-inspiring individuals, whose creations will leave you scratching your head and saying, "How'd they do that?" Think "unconventional, unusual and infamous," including a gigantic dinosaur sculptures crafted from discarded farm machinery, people who live in trees, giant shoes and gingerbread houses.
At right: Wyrick and the show's host, Patrick Clark, who had his hair cut specially for this show. Here, Steve is secretly removing Patrick's wallet while posing for this photo...

Wyrick was invited to appear on the show due to the incredible one-of-a-kind collections that hang on the walls of his Las Vegas mansion. Wyrick has a unique interest in the historical neon signs that once adorned the streets of Las Vegas. In fact, Wyrick now has one of the world's largest private collections of such signs.
His collection includes the original neon that once welcomed visitors into casinos such as Caesars Palace, Algiers, Landmark, and many more. Wyrick's personal favorite in his collection is the original Vegas Vick, which is the famous cowboy icon that has become synonymous with Las Vegas. The only other Vegas Vick sign in existence is still displayed on Fremont Street in downtown Las Vegas. Each sign in Wyrick's collection has been carefully restored to full working condition with all-new electrical wiring consistent with today's safety standards.

In addition to the historically significant Las Vegas signs, Wyrick also boast an impressive collection of antique magic stone lithograph posters. Most of the magic posters Wyrick collects are extremely rare, and include masters of the art such as Harry Houdini, Carter the Great, Harry Kellar, Howard Thurston, and Alexander. As one of the most successful magicians currently performing, Wyrick views these posters, which are displayed throughout his home, as a fitting tribute to those who preceded him in the magic world.

Find out why Wyrick is an "Offbeat American" as he gives a personal tour of his home on HGTV's Offbeat America next Sunday. For more information about Wyrick and his show at Aladdin Casino in Las Vegas, go to www.SteveWyrick.com.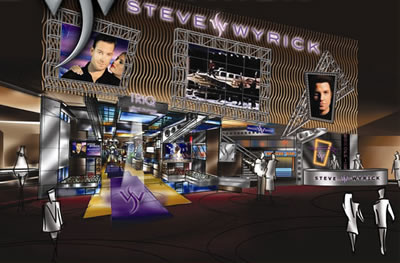 This summer, plan to visit the Steve Wyrick Enterainment Complex, here in Las Vegas, and home to the all-new Wyrick production...more details coming soon...
THEAMAZINGBALLANTINETRIBUTEDVDISAHIT
FINALLY...this labor of love is complete, and we shipped out the first copies and already we are getting feedback from as far away as New Zealand. Thanks for the kind words, and thanks to all of you who purchased this special DVD already, and for the rest of you, get with it! Everyone in show business (not just in magic) should want to own this program. It looks great, and has lots of
Ballantine moments from the past and from his recent appearances at the IBM conventions in San Diego and Reno.
DENNISREGLINGLATESTCOLUMN


Dennis talks about the big and little secrets of marketing that the experts don't tell you about. Another practical article for you to ponder and learn from.
Check out his latest here..
Magically yours,
Steve