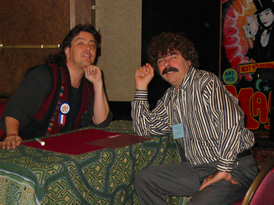 Longtime friends Jeff McBride and Steve Dacri at a recent convention...
"My grandkids think I'm better than David Blaine, thanks to Steve's amazing course." - CR, Tucson, AZ
NEXT CLASSES BEGIN: ON YOUR SCHEDULE...
Online, convenient, hundreds of photos and movie clips - world class intructions and coaching
and...LIVE COACHING WITH STEVE DACRI
VIA SKYPE MAGIC SESSIONS
Based in LAS VEGAS, NEVADA , home of Jeff McBride's famous school and Master Classes, the Global Online Magic School provides instuction and coaching online, for those who cannot attend in-person classes. All courses are conducted by Steve Dacri, and all materials are personally written by Steve as well.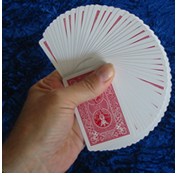 It's like attending a series of lectures on every aspect of magic. Whatever your skill level, you will enjoy these courses and learn some great magic that you will be able to share with others. For personal coaching and in-person study with Steve, click here.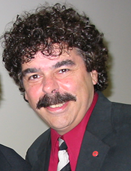 DISTANCE LEARNING WITH STEVE DACRI
The problem with online learning in the past has been the lack of quality material and the inexperience of the instructor. The person who is giving advice and instruction had better be a solid performer with tears of experience in "the trenches" or else the advice is not valid.
After 33 years and going strong, Steve continues to perform, teach, and coach others in the fine art of magic. He has been branded one of the most effective teachers in magic today, with his rare lectures always well-attended and in great demand. He has lectured at the famed headquarters of The Magic Circle in London an unprecedented THREE times in TWO years! He has been honored with a Merlin Award - the highest honors a magician may recieve for his sleight of hand performances.
Steve's material is tailored to the magic lover, the avid enthusiast, the hobbyist, as well as the semi-professional and seasoned performer. He personalizes each lesson with his own writings and advice, based upon your personal level of interest. The result is a custom-tailored version of his mentor program, and his Skype sessions are designed for the needs of each student.
INFORMATION IS ALWAYS CURRENT

Our online programs are taught by practicing professionals, written by Steve will occasional assistance from others from the Panel of Magic Advisors and from the Planet Mars where Simon Lovell (Steve's brother resides..)Because they work in the field they teach, you're sure to acquire the most curr
ent knowledge and skills. That's an important benefit when it comes to online learning; a book is only current at the time of it's first publication, whereas, we are constantly revising the material in these lessons to reflect new information.
Hundreds of detailed photos and MagicMovie clips of Steve performing many of the moves. It's like a personal session with Steve.
We regularly add new content such as enhanced ideas and advice on the inner workings of the magic business, marketing techniques, business practices, promotiontal tools and invaluable performance tips. In every course we offer, the information is constantly evolving. .

TOP

We also offer many of these classes in various parts of the world, on a very limited basis.
And of course, private and group instruction and coaching is always available, either here in Las Vegas, or at a location close to your home. Call us for details at 702.253.9392
This Master List of Classes describes all of the courses offered onlne..
The formats are the same for all classes: a new lesson is offered every week, for a specified number of weeks, usually 4 to 6 weeks per subject.
At the conclusion of each course, a one time telephone consultation with Steve takes place, and all classes (for a limited time only) include a complimentary 6 month email consultation package, which allows the student to ask an unlimited number of questions via email, and Steve or one of his team will provide answers and advice.
And for a limited time only, we are giving away a free Skype Magic Session with Steve with the purchase of any online course. When you see how helpful this session is, you will probably want to sign up for a series of personal instruction and act coaching sessions with Steve. Details.
Many of the courses include a Video Evaluation option. This invaluable tool is worth more than the price of any of these courses. To participate, the student sends a video of his (or her) act, or a portion of the act (up to 6 minutes). Steve views it and tapes a personal, comprehensive commentary which offers coaching advice for enhancing your presentation.
"Since studying with Steve and using his online courses, I've gone from occasionally perfoming magic for friends to a part time performer, earning almost as much as my "day job" pays me. - FP, Los Angeles, CA
"I love the business advice and solid marketing tools,
and the monthly follow-up with Steve." - JR, Jacksonville, FL

FOR ENROLLMENT INFORMATION, CLICK HERE, OR CALL (702) 253-9392