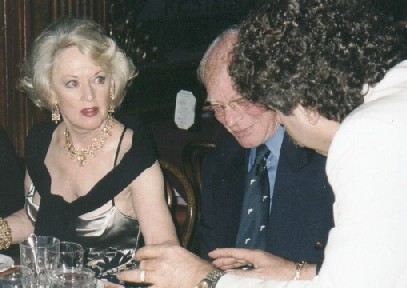 Actress Tippi Hedron can't believe the magic at her table...
Next Class begins: Start Anytime. Classes are ongoing at your own pace.
Skill Level: For all skill levels, with one or more grandchildren.
Call or email to enroll.
FOR ENROLLMENT INFORMATION, CLICK HERE, OR CALL (702) 253-9392
Description: Performing magic at a restaurant is one of the most enjoyable forms of magic. It can lead to many referals and repeat engagements. The magician performs while standing, at the table, and moves about the restaurant in a specific manner, for a 3 or 4 hour period.
The magic happens either in the magician's hands or on a table.
Steve covers extensively the most vital elements of the potentially lucrative performing situation, with emphasis on the tableside act, how to structure it properly, how to begin and end it, and how to create a memorable experience for the guests.
During the course, Steve teaches his favorite, most effective routines, and provides you with many show run-downs that will be ready for you to use. The unique misdirection elements that must be taken advantage of, the list of tricks to avoid, spcial birthday routines, and recommended props and tables that will make you look good.
Steve began restaurant magic performing in the seventies, and he pioneered many techniques in use today by some magic's leading restaurant magicians. He worked many of the top restaurants in New Engand, and eventually landed a 3 year contract with Holiday Inns, Inc. and presented a weekly magic show in several of their prime Boston-area restaurants.
The business end is therefor covered extensively as well, with little-known secrets for booking yourself into the finest restaurants, how to structuer the deal, the best advertising and marketing concepts, how to promote the shows, and how to guarantee a long term contract, among the many topics covered in detail.
In short, everything you need to know to begin performing at restaurants for money.
CLASS FORMAT: 6 Lessons are sent via email (and also available online) during a 7 week period.
Special Offer: At the conclusion, students are invited to send in a video tape for a free evaluation and personal coaching session with Steve (a $100 value). Steve watches and critiques your performance, then tapes a personal coaching session for you, and returns the tape to you.
Price includes a free 6 month email consultation plan (a $100 value alone) which allows unlimited email consultation (on the business and performance aspects of these venues) with Steve after completing the course.
Restaurant Secrets - Price: $299.
Special Sale Price Until Feb 14, 2009 - only $199 - Save $100.- Purchase Now
Video Evaluation Option: Free with this course (for a limited time only)
Many of the courses include a Video Evaluation option. This invaluable tool is work more than the price of any of these courses. To participate, the student sends a video of his (or her) act, or a portion of the act (up to 6 minutes). Steve views it and tapes a personal, comprehensive commentary which offers coaching advice for enhancing your presentation.