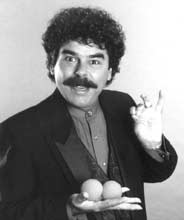 Magic with cards and close-up props is featured
Next Class Starts: Start Anytime. Classes are ongoing at your own pace.
Description: The most popular form of magic is close-up magic.
It is performed in a situation that does not include a stage. Rather, the magic happens either in the magician's hands or on a table.
(See Mix & Mingle Magic)
Steve teaches a few great routines that are highly effective for almost any situation.
The focus is on presentation of mind-blowing magic in a close-up situation. Parties, restaurants, in someone's home, on a date, or before dinner, everything is covered, with specific routines and effects for each situation.
Format: 4 lessons send via email and available online over a 5 week period.
Easy CloseUp and Card Magic - Price $299.
Special Sale Price Until Feb 14, 2009 - $199. (save $100). - Purchase Now