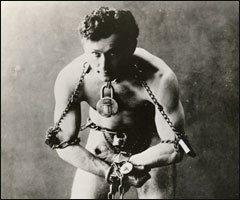 Harry Houdini is still the most recognized name in magic
Next Class begins: Start Anytime. Classes are ongoing at your own pace.
Skill Level: For all skill levels.
Call or email to enroll.
FOR ENROLLMENT INFORMATION, CLICK HERE, OR CALL (702) 253-9392
Description: The focus of this course is the background of Harry Houdini, with emphasis on the man, the myth, the legend, as told through the words of people who knew him. Each lesson covers a portion of Houdini's life, with such experts as Sydney Radner and Roger Dreyer providing insights and little know facts about the man and his life.
CLASS FORMAT: 4 Lessons are sent via email (and also available online) during a 5 week period.
Houdini Secrets - Price: $199.
Special Sale Price Until Feb 14, 2009 - $149. (save $50) - Purchase Now